January 14, 2010
[Topics / DAKAR] The Dakar 2010 Race Report (Stage 11)
January 13, Santiago (Chile) - San Juan (Argentina)
Connection 211km, SS 220km, Connection 3km, Total: 434km
The rally once again crossed the Andes Mountain range and entered Argentina.
Now a team with only one vehicle, Car 2 aims at winning in the Production Vehicle Division.
The course on the 13th was set to drive from Santiago to San Juan in Argentina. After crossing the border using the connection over the Andes Mountain range, the 220 km SS was driven to the bivouac in San Juan. Although most of the road surfaces were hard gravel, there were also regions of fesh-fesh (very fine powdery sand) and rock. Moreover, the course contained winding roads in the mountains climbing to the altitude of approximately 3,000 meters, sections along waji (dry river beds), and rivers to cross, so there were many areas where there was a risk of damaging the vehicles drastically if wrong routes were taken.
Car 2, driven by Teruhito Sugawara and Seiichi Suzuki of Hino Team Sugawara, that continues its course alone after Car 1 was sidelined by yesterday's stage, prudently drove the SS, determined to finish the rally in Buenos Aires at all costs. It reached the goal in 18th in the overall Truck Division, 8th in the Production Vehicle Division and 2nd in the class with an engine displacement of below 10 liters, with its cumulative results 7th, 1st and 1st, respectively.
The bivouac in San Juan, located on the eastern side of the Andes Mountain range opposite Santiago in Chile, uses a circuit through the mountains. As the sun was strong in the daytime, it grew very hot, with an ambient temperature exceeding 40 degrees Celsius. Car 2, which arrived at the bivouac without any trouble, was thoroughly inspected and serviced by all the mechanics including those formerly in charge of Car 1, and prepared for the longest course of this rally tomorrow, extending 796 km to San Rafael. As no malfunction was reported, most of the work involved inspections, such as tires and cracks, and tightening any loose bolts. The air-conditioning compressor was repaired, switching it with the one fitted for Car 1, so that the team could concentrate on the best performance possible for Car 2, and be ready to win the victory in its division at all costs.
Yoshimasa Sugawara (Car 1 Driver)
We drove here after confirming the drivability of Car 2 at the start of the SS or the Check Point. We want to support Car 2 in every way possible.
Katsumi Hamura (Car 1 Navigator)
When we drive with them as we ourselves have been sidelined, we can understand well what kind of work the assistants and organizer members have been doing. Although our result was mortifying, this is also a good experience.
Teruhito Sugawara (Car 2 Driver)
We have been driving at a pace with composure, and even hard gravel and bumpy roads were driven extremely well, as the suspension matching was good. We incurred no damage. Although tomorrow is a long day, we are most concerned about the last dunes scheduled for the day after tomorrow.
Seiichi Suzuki (Car 2 Navigator)
We unfortunately made a course detour by mistake after the Check Point today. We might have lost approximately 30 minutes, we have incurred no damage to the vehicle. Moreover, although we drove through high altitude areas today, I did not suffer a headache nor ringing in my ears due to oxygen deprivation.
Takayuki Monma (Mechanic, Hino Motors, Ltd.)
After doing a brief inspection and cleaning of Car 1, 4 mechanics are scheduled to do the servicing of Car 2. These will be mainly inspections, but we want to be sure that we cover everything.

RANKING TRUCK (SS)
Pos.
No.
Driver
Make
Time
1
500
KABIROV (RUS)
KAMAZ
3:02:53
2
501
CHAGIN (RUS)
KAMAZ
3:03:25
3
507
ADUA (FRA)
IVECO
3:07:38
4
503
VAN GINKEL (NLD)
GINAF
3:17:59
5
505
MARDEEV (RUS)
KAMAZ
3:20:51
6
517
BORRERO GOMEZ (ESP)
MAN
3:35:37
7
523
OLIVERAS (AND)
MERCEDES
3:38:57
8
511
JUVANTENY (ESP)
MAN
3:41:49
9
547
ASURMENDI (ESP)
MAN
3:42:35
10
543
VERHEYDEN (BEL)
DAF
3:47:37
16
(1)
544
VAN PELT (NLD)
MERCEDES
3:51:25
18
(2)
514
SUGAWARA (JPN)
HINO
4:05:00

RANKING TRUCK (Overall)
Pos.
No.
Driver
Make
Time
1
501
CHAGIN (RUS)
KAMAZ
45:12:38
2
500
KABIROV (RUS)
KAMAZ
46:25:01
3
508
VAN VLIET (NLD)
GINAF
54:33:40
4
506
MACIK (CZE)
LIAZ
56:21:01
5
503
VAN GINKEL (NLD)
GINAF
58:10:04
6
505
MARDEEV (RUS)
KAMAZ
59:38:41
7
(1)
514
SUGAWARA (JPN)
HINO
60:14:47
8
518
CLAUDIO (ITA)
GINAF
63:22:14
9
523
OLIVERAS (AND)
MERCEDES
65:50:28
10
511
JUVANTENY (ESP)
MAN
66:02:36
(The rankings in parentheses are in the class with an engine displacement of below 10 liters.)
*The rankings at the time when the report was written might be adjusted afterwards.
Refer to the latest ranking list.
http://www.dakar.com/us/DAKAR/2010/live.html
Try to track the competitors by Iritrack.
(how to use)
http://www.hino-global.com/news_release/160.html
(URL of Iritrack)
http://tracking.dakar.com/ASO/index_us.html
Send the message to HINO TEAM SUGAWARA
http://www.teamsugawara.jp/cgi-bin/tsbbs10.cgi
HINO Dakar official site
http://www.hino-global.com/dakar/index.html
Refer to the Terminology page
http://www.hino-global.com/dakar/about/terminology.html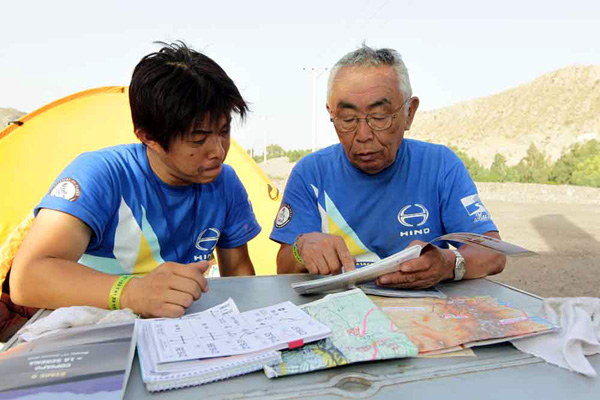 Yoshimasa Sugawara and Katsumi Hamura confirming tomorrow's route.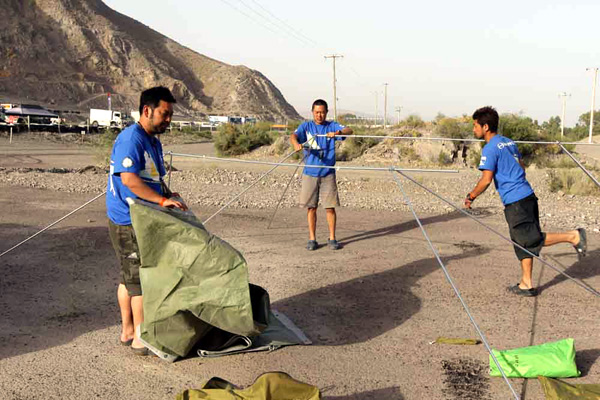 Mechanics putting up tents at the bivouac.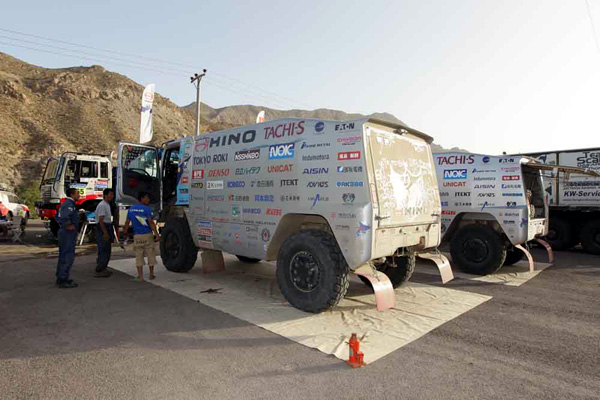 Car 2 arrived at the bivouac in San Juan which is surrounded by rocks.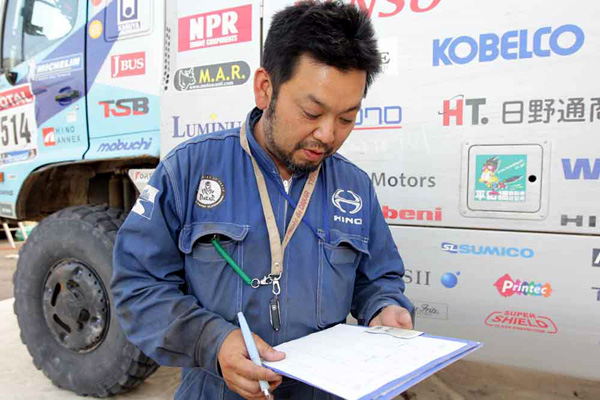 Takayuki Monma Mechanic considering the servicing items for today.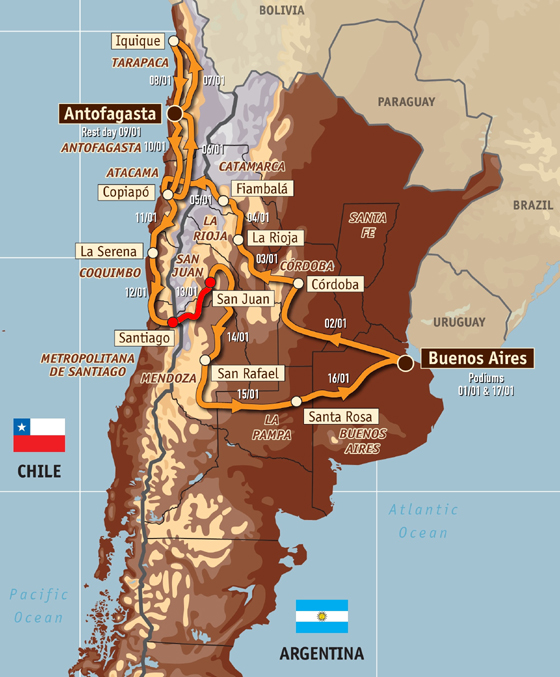 Santiago (Chile) - San Juan (Argentina)