Hino & the Toyota Group
Under the HINO brand, we represent the Toyota Group in the global market for heavy-duty trucks and buses. We also produce Toyota-badged vehicles on commission, including the popular sport-utility vehicle, the Land Cruiser Prado and Dyna trucks.
We use the Toyota Production System to achieve continuing gains in productivity and in quality throughout our operations. We have adapted that system to our model line to offer customers the best-possible products at competitive prices.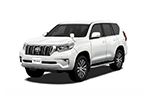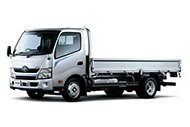 Our operations are growing globally in step with the globalization of the Toyota Group. One of the largest Hino plants outside Japan is a Thai manufacturing operation established in 1964. It produces axle assemblies for Toyota's lMV model line, which includes pickup trucks and utility vehicles, as well as producing trucks under the HINO brand. Similarly, we manufacture parts in the United States for installation in Toyota vehicles produced in North America.