HINO TEAM SUGAWARA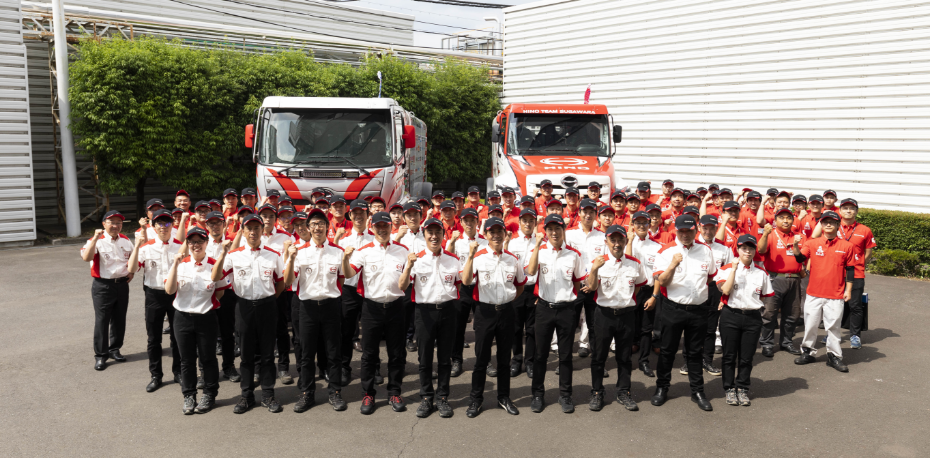 HINO TEAM SUGAWARA is a select team of individuals who carry the name and hopes of the Hino brand. The team uses the "Little Monsters", based on the HINO500 Series trucks that are known for their world-class durability, to win Dakar Rally, one of the toughest races in the world.
Members
A select team of individuals who carry the name and hopes of the Hino brand
Hino Motors has teamed up with Team Sugawara―led by the father-and-son driving duo, Yoshimasa Sugawara, who has a Dakar Rally-record 35 consecutive entries under his belt, and his son Teruhito Sugawara―to enter two HINO500 Series trucks in the Dakar Rally as HINO TEAM SUGAWARA. Team members include navigators and a mechanic leader who have the full confidence of the Sugawaras, as well as Hino employee mechanics who bring to the team their deep expert knowledge that they have developed in their involvement in vehicle development at Hino Motors' head office, and a crew of expert mechanics chosen from applicants from Hino dealers nationwide. In addition, a dealership in the rally's host country has set up a truck servicing base for the team to service their trucks. As you can see, the entire Hino group has come together as a team to take on this challenge.
Yoshimasa Sugawara
Team director and driver of Car 1
Chairman, Japan Racing Management Co., Ltd.
Born on May 31, 1941 (Otaru, Hokkaido)
After numerous races in Japan and expeditions including a trans-Sahara Desert run, Yoshimasa started in the Paris-Dakar Rally for the first time in 1983 (age 41) in the Motorcycle category. He then raced in the Cars category for seven events, and has been racing HINO500 Series trucks since 1992. He has had six second-place finishes in the Trucks category, and won seven championships in the Under 10-litre Class. He holds the Dakar Rally record for 35 consecutive starts. His records for Most Consecutive Finishes in the Dakar Rally at 20 Finishes were recognized in Guinness World Records 2009, and Most Consecutive Entries in the Dakar Rally at 35 Entries were recognized in Guinness World Records 2018.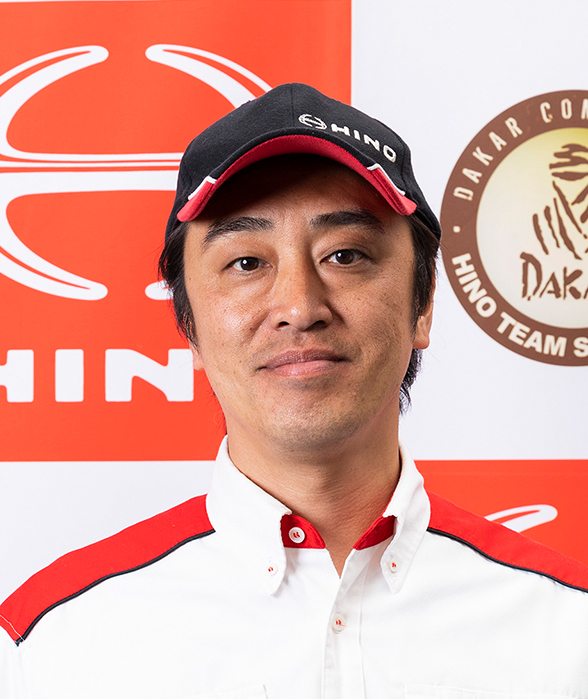 Teruhito Sugawara
Driver of Car 2
President, Japan Racing Management Co., Ltd.
Born on July 13, 1972 (Minato-ku, Tokyo)
Teruhito Sugawara, Yoshimasa Sugawara's second son, first joined the Dakar Rally team in 1998 as a mechanic, and subsequently navigated for his father. During this time, he also gained racing experience in off-road races in Japan, as well as in Rally Mongolia. In 2003, he raced a HINO500 Series truck to a Trucks category win in the Pharaoh Rally in Egypt. He began racing alongside his father in a two-truck lineup in the Dakar Rally in 2005, and won his first championship in the Under 10-litre Class in 2007. His 2018 win was his nineth straight championship in the Class.
Racing Trucks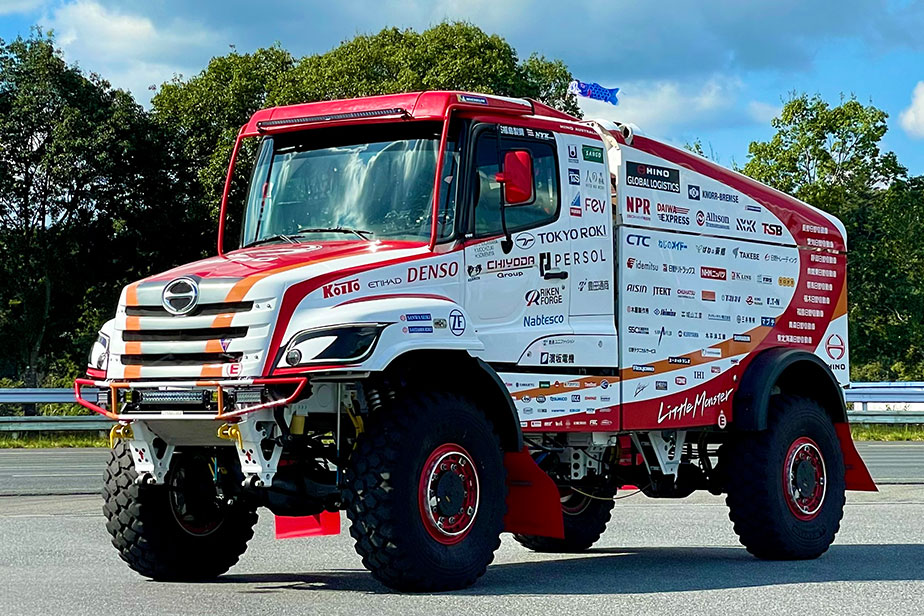 Hino's Dakar Rally Trucks, the "Little Monsters"
Hino Dakar Rally trucks are developed based on the "Hino Ranger" (English name: HINO500 Series) truck, a medium-duty truck model that serves logistics businesses worldwide. In the context of the Dakar Rally, medium-duty trucks deliver excellent mobility but hardly have an advantage over their rival heavy-duty trucks in terms of absolute power. Against these odds, Hino has consistently braved this rally with its lightweight and agile medium-duty trucks since the company first entered the race. And these trucks have come to be known as the "Little Monsters" for the intense competition that they put up against their larger rival trucks that are powered by larger-displacement engines.
For the 2019 rally, the team has built a new Car 2 truck for driver Teruhito Sugawara with the aim of winning their 10 straight championship in the Under 10-litre Class, and finishing at 5th place or above overall in the Trucks category. With upgrades such as greater maximum engine output (up from 700ps in the previous race to 750ps), a more rigid frame, longer wheelbase, and a new cab suspension for reducing lateral cab shaking and vibrations, the team has been able to dramatically improve the truck's stability and vibration absorption performance at high speeds.
Yoshimasa Sugawara, driver of Car 1, will be racing in the same truck that he drove in the previous event. The team has refreshed the truck's chassis and fitted it with an improved multi-leaf spring suspension―a reliable type of suspension that Hino has consistently used since its first entry in the Dakar Rally―to build a truck that will respond even better to the driver's intent.
Hino engineers have come together with their knowledge and ingenuity to squeeze the maximum amount of potential from these trucks that wear the "Hino" brand―one of the iconic brands from Japan―and have constantly evolved these racing trucks that the team enters in "the most grueling rally on the planet."
New Truck Development
The following is an overview of some of the new mechanisms that were incorporated in Car 2 for Dakar Rally 2019.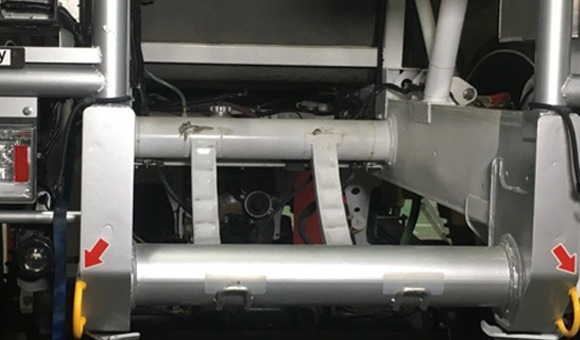 Chassis Frame Upgrades
Based on results from the 2018 event, the torsion rigidity of the truck's chassis frame was improved to make the truck even stronger. Its structure was modified to one where both of its side rails, right and left, use closed cross sections, and are weld-bonded to each other using cross pipes. This gives the chassis frame more than twice the torsion rigidity of its 2018 iteration at essentially the same mass. This major improvement in torsion rigidity dramatically improves high-speed stability over rough terrain and hence helps reduces driver fatigue.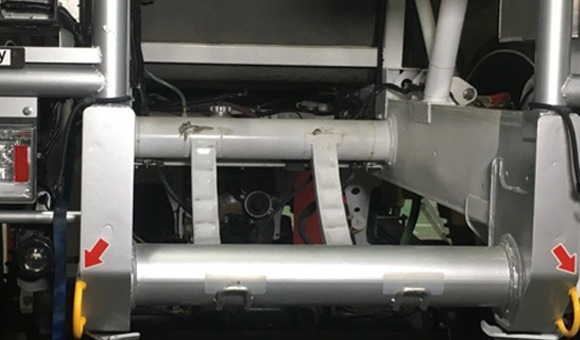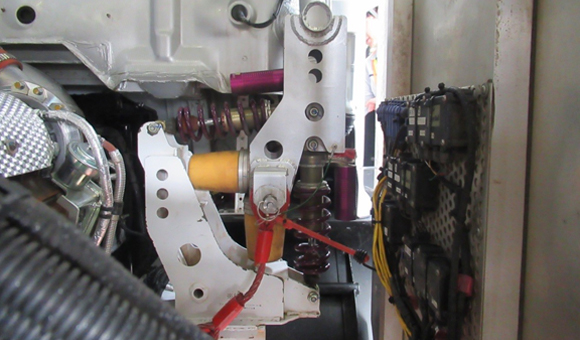 Cab Suspension
To reduce lateral vibrations, the cab is now fitted with a spring and damping system on the rear side of the cab suspension to directly support lateral movements. The mechanism also comes with a function for varying its damping force. Whereas the 2018 truck's cab suspension was primarily designed for supporting the cab in the vertical direction, the new mechanism for the 2019 truck features fully independent vertical and lateral support. This setup dramatically reduces lateral shaking and vibration that are caused by body rolls.
Dakar Rally 2019 HINO500 Series Truck Specs
You can scroll horizontally
Car1
Car2
Engine
Engine medel
A09C-TI (with turbo intercooler)
Engine type
4-cycle, in-line 6-cylinder diesel
Displacement
8.866L
Max output/rpm
670ps / 2,300rpm
750ps / 2,600rpm
Max torque/rpm
236kgm / 1,200rpm
236kgm / 1,200rpm
Power train
Drive system
Part-time 4WD
Full-time 4WD
Transmission
6-speed forward, 1-speed reverse
Transfer
with Hi-Lo range switching
with Hi-Lo range switching and center differential lock
Tires
XZL+ 14.00R20
Chassis
Gross vehicle weight
7,300kg
7,900kg
Length
6,290mm
6,700mm
Width
2,500mm
2,500mm
Height
3,150mm
3,000mm
Wheelbase
3,890mm
4,170mm
Fuel tank
700L
760L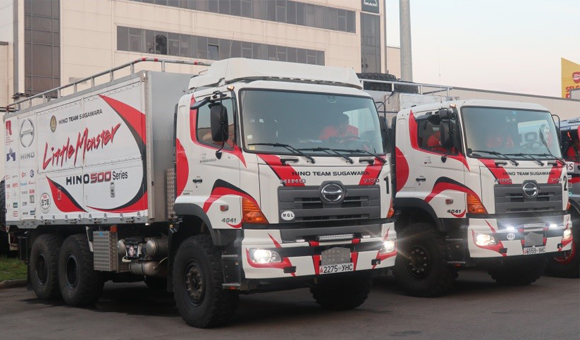 HINO700 Series ZS Assistance Trucks
Supporting the team's racing trucks are two HINO700 Series ZS heavy-duty trucks―Hino's pride―that shoulder the bulk of the work in transporting essential spare parts and mechanics during the rally. To travel from bivouac to bivouac, mechanics split up into groups and ride on the support vehicles that they are in charge of. How these mechanics perform during the rally will also be something to keep an eye out for.
More Information