HINO TEAM SUGAWARA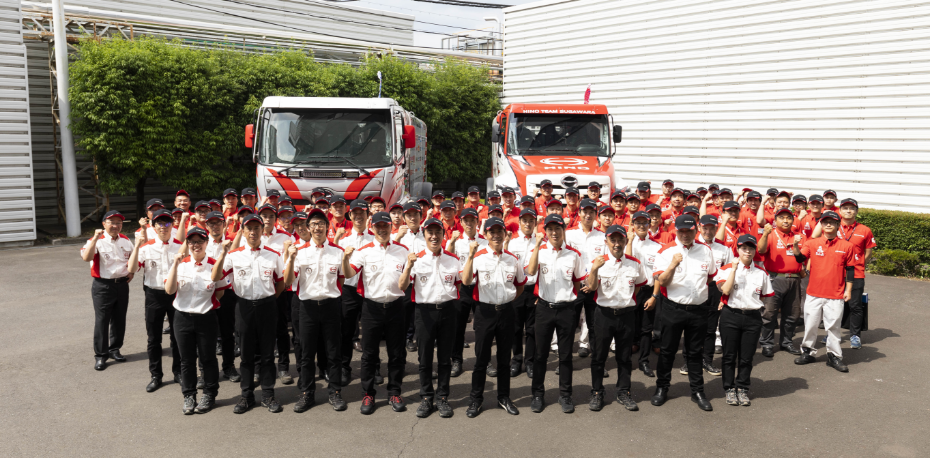 Hino Team Sugawara is a joint team formed by Hino Motors and Japan Racing Management to race in the Dakar Rally. The team has been reorganized in the spring of 2019 to aim for greater heights under the direction of team director Teruhito Sugawara.
Members
Teruhito Sugawara―the team's ace driver who has delivered stellar performance for Hino Team Sugawara over the years and second son of Yoshimasa Sugawara, the "Iron man of Dakar"―was named the new director of the team. The team also welcomes as its new driver Ikuo Hanawa who continues to enjoy success in numerous off-road races in Japan and internationally. The team roster also includes a mechanic under Hino employ who has been engaged in truck development at Hino HQ, as well as the best and brightest mechanics who were screened from Hino dealerships nationwide, and support members.

Additionally, in the spring of 2019, Hino for its part has appointed a dedicated chief engineer and brought together engineers working at the cutting edge of truck development to form its "New Team Dakar" within the company. A Hino dealership in the rally host country has also set up a servicing base for the trucks, making this a group-wide effort by the Hino group as a whole.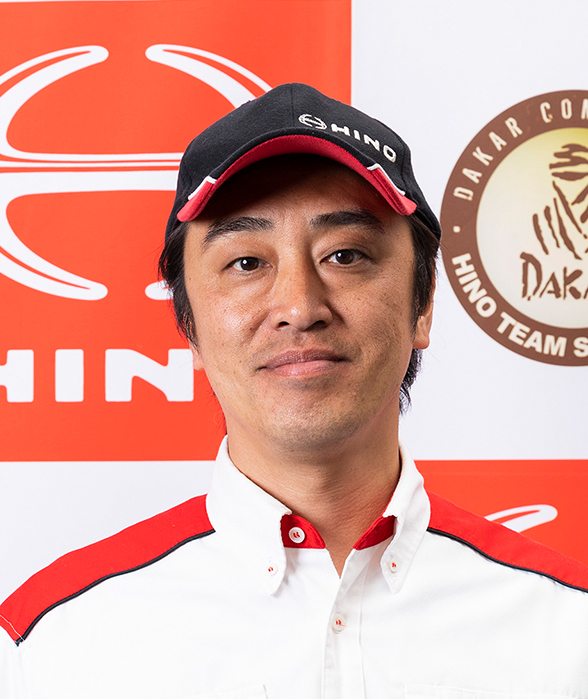 Teruhito Sugawara
Team Director and Driver of Car 1
President, Japan Racing Management Co., Ltd.
Born Jul 13, 1972 Minato-ku, Tokyo
Teruhito Sugawara is the second son of Yoshimasa Sugawara, the "Iron Man of Dakar." He first joined the Dakar Rally team as a mechanic in 1998, and began navigating for his father the following year. During the same period, he built up his experience in races including off-road races in Japan and Rally Mongolia before racing a HINO500 Series truck in the Pharaoh Rally (Egypt) in 2003, in which he finished with an overall championship in the Trucks category. Since 2005, he has been racing the Dakar Rally alongside his father as a father and son duo on two trucks, and won his first class championship in the Under 10-litre Class in 2007. In 2019, he won his tenth consecutive championship in the class. His father Yoshimasa Sugawara announced his retirement from the Dakar Rally after this event, and Teruhito Sugawara has taken up his position as team director.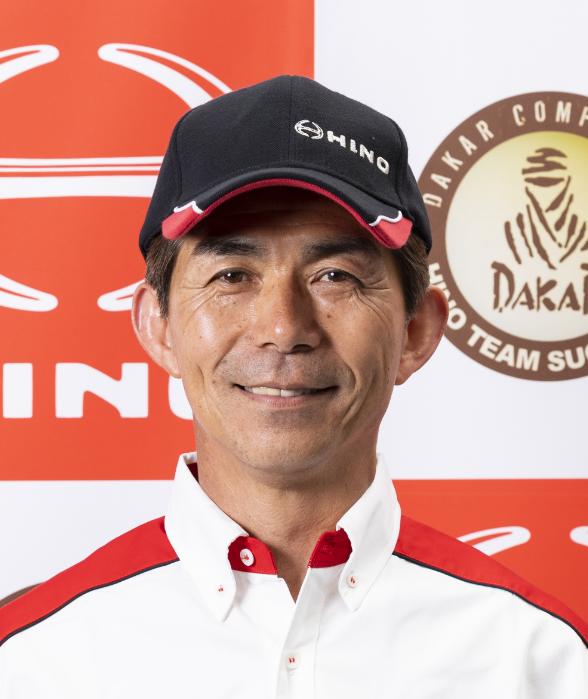 Ikuo Hanawa
Driver, Car 2
President, Summit Racing Promotions
Born Jun 9, 1960 Kasama city, Ibaraki
Ikuo Hanawa made his debut in the "All-Japan Off-Road Racing Grand Prix" when he was a third grade in high school. He has continued rack up racing achievements since his student years, and in 2001, reached his milestone of 100-plus wins in official races. Internationally, he has raced the "BAJA1000," one of the major off-road racing events in the US, and in 1991 became the first Japanese to become a 5th place finisher in the event. In 2002, Hanawa won the class championship in the race and has established his position as an off-road racer in Japan as well as internationally.
Racing Trucks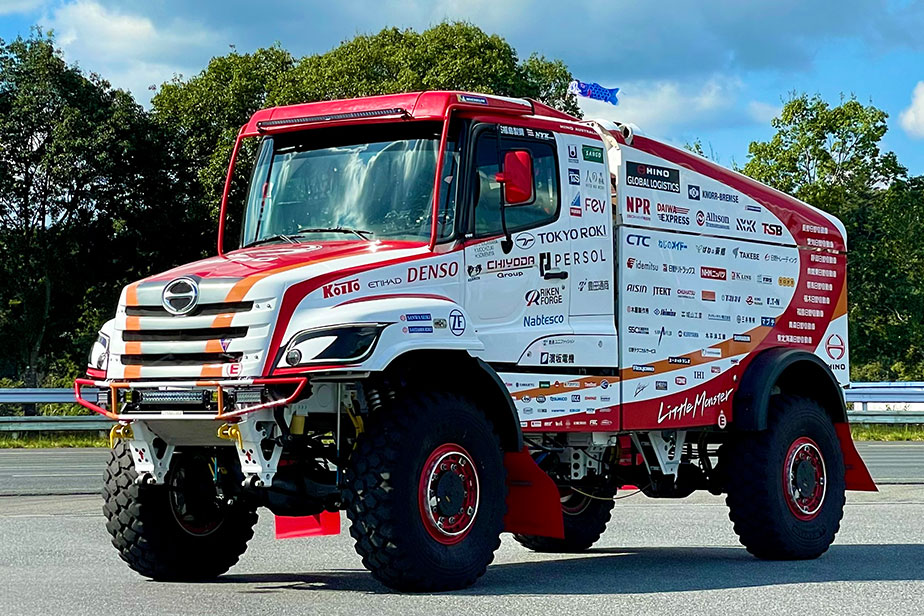 Hino's Dakar Rally racing trucks, the "Little Monsters"
Hino's Dakar Rally truck Car 1 was developed based on the "Hino Ranger" (English name: HINO500 Series) truck, a medium-duty truck model that serves logistics businesses worldwide. In addition, the team has developed a new Car 2 based on the North America-exclusive model (English name: HINO600 Series) starting in 2019. In the context of the Dakar Rally, medium-duty trucks deliver excellent mobility but hardly have an advantage over their rival heavy-duty trucks in terms of absolute power. Against these odds, Hino has consistently braved this rally with its lightweight and agile medium-duty trucks since the company first entered the race. And these trucks have come to be known as the "Little Monsters" for the intense competition that they put up against their larger rival trucks that are powered by larger-displacement engines.
Car 2 built in 2019
In taking on the challenge of finishing in the leading group, the team's new Car 2 was built with meticulous attention to its driving performance to upgrade its fundamentals as a truck. Carried over from previous Dakar Rally racing trucks are its box-type cross sections and cab suspension system that covers vertical and lateral movements independently. The truck also features a bonnet type cab to improve its high-speed driving stability over rough terrain and mitigate crew fatigue by way of reducing vibrations, as well as a torque converter AT to boost its acceleration performance.

As a result of Hino engineers devoting their wisdom and ingenuity to maximize the potential of these trucks crowned with the Hino brand―one of Japan's leading brands―these racing trucks built for the "world's most grueling rally" continue to evolve day by day.
You can scroll horizontally
Car1
Driver: Teruhito Sugawara
Car2
Driver: Ikuo Hanawa
Base truck
Hino Ranger(HINO500 Series)
North America-exclusive model(HINO600 Series)
Engine
Engine model
A09C-TI (w/Turbo intercooler)
Engine type
6-cylinder, 4-cycle inline diesel
Displacement
8.866L
Max output/rpm
750PS/2600rpm
Max torque/rpm
236kgm/1200rpm
Power train
Drive type
Full-time 4WD
Transmission
MT
(6-speed forward, 1-speed reverse)
Torque converter AT
(6-speed forward, 1-speed reverse)
Transfer
w/Hi-Lo range switching, w/Center differential lock
Tires
XZL+14.00R20
Chassis
Gross vehicle weight
7,950kg
8,200kg
Length
6,700mm
6,620mm
Width
2,500mm
Height
3,000mm
3,100mm
Wheelbase
4,170mm
Fuel tank
760L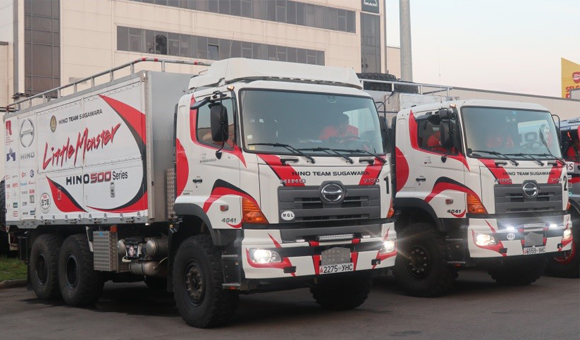 HINO700 Series ZS Assistance Trucks
Supporting the team's racing trucks are two HINO700 Series ZS heavy-duty trucks―Hino's pride―that shoulder the bulk of the work in transporting essential spare parts and mechanics during the rally. To travel from bivouac to bivouac, mechanics split up into groups and ride on the support vehicles that they are in charge of. How these mechanics perform during the rally will also be something to keep an eye out for.
More Information