Team Finishes in 12th Place in Silk Way Rally 2017!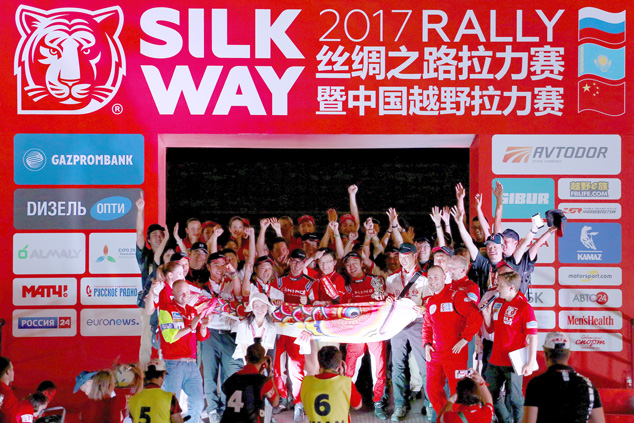 Silk Way Rally 2017 finished in China on July 22nd. The rally first started off in Russia on July 8th and on to Kazakhstan and then en route to the finish line in China. HINO TEAM SUGAWARA entered with its Car 2 HINO500 Series truck and finished the rally at 12th place in the overall trucks category. In this issue of the Dakar News, we cover the highlights of the first half of the rally, and speak with team members after the finish.
Jul 17: The HINO500 Series truck was fully refreshed during the rest day on the 16th, and took on the full-fledged dune stages this day. Contestants raced on a course that they had experienced the previous year and was followed up by segments of tough ups and downs for a total travel distance of 300 plus kilometers. One of the team's objectives in this real-world test was to understand the feeling of the suspension and this stage proved to be the ideal setting.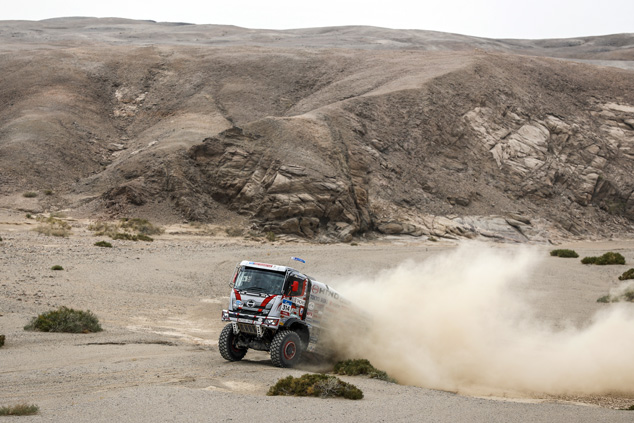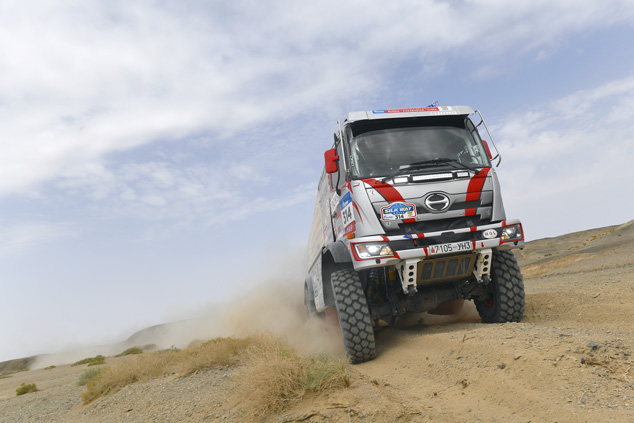 Jul 18: This day, contestants raced on Roadless roads which challenged them with rough road surfaces that included dried up riverbeds along the way. This was a high-speed stage where racers had to push for speed. The team's driver and navigator crew worked very well together to bring their truck to the day's finish line with no problems.
Jul 19: While two SSs were originally planned for the day, the first SS had to be canceled due to concerns for the preservation of ancient ruins and ecological preservation. As a result, the race was carried out on the second SS only. With dried up riverbeds and sandy areas, the rough road surfaces were similar to that of the previous day.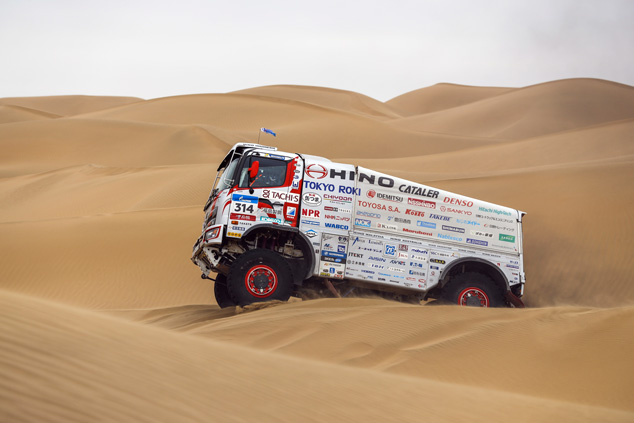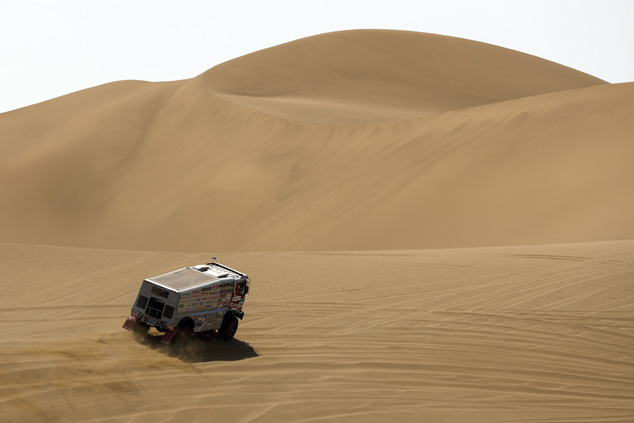 Jul 20: The day's stage featured a very difficult course that faced racers with back-to-back dune areas, making this one of the toughest stages of this rally. Crews had to cover long distances on off-piste terrain( terrain with no roads guidelines). This meant that they had to be alert or they will lose their bearings, making this a very difficult stage where navigators predominantly took the helm in course selection. The HINO500 Series delivered great performance and reached the finish line for the day without any problems.
Jul 21: This day featured two SSs, both of which challenged racers with extremely steep, fully-fledged dunes. And while the HINO500 Series truck suffered damage to its front bumper, the crew was able to finish the day safely at 9th place for the day's SS.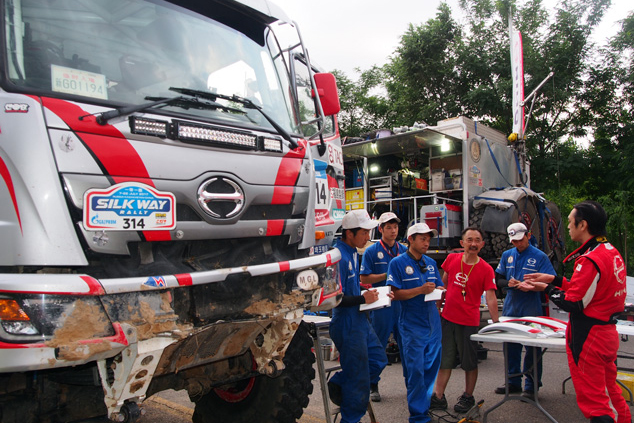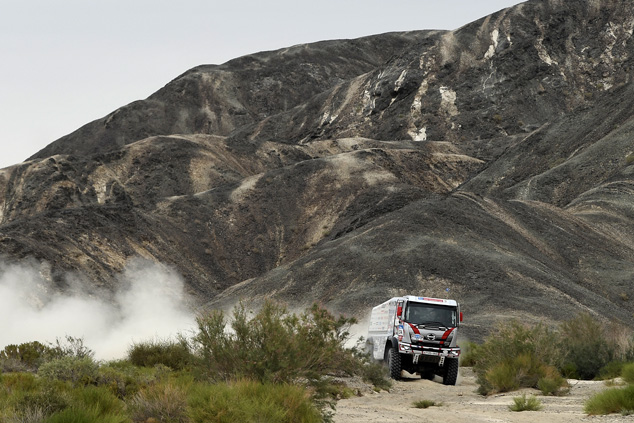 Jul 22: A 100km SS was scheduled for Stage 14, the final day of the rally, but the SS had to be canceled due to inclement weather. All racing vehicles traveled to the Parc-Fermes where they were then parked. Later in the afternoon, a goal ceremony was held in Xi'an where the cars and trucks that finished the tough Silk Way Rally were introduced to the crowd at the podium. The HINO500 Series also finished the rally, and the team shared their joy and celebrated with guests who arrived at the podium.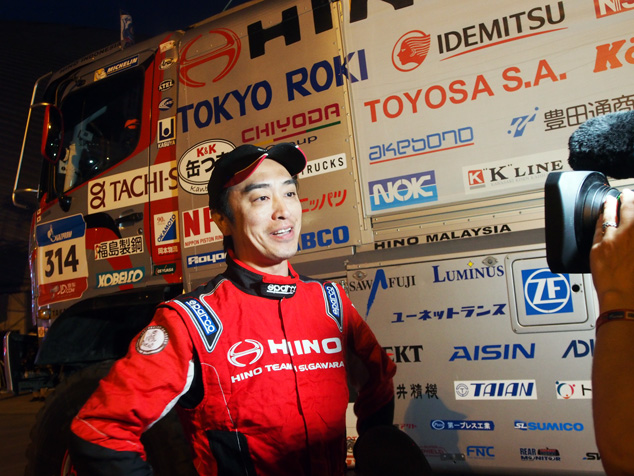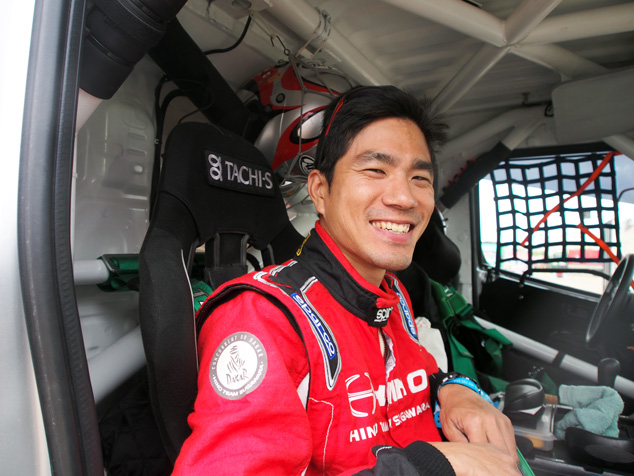 Teruhito Sugawara, Driver:
We had a tough time with the rain from the very start of this rally, and we faced a situation on the second day where we came close to having to withdraw from the race. I know that this incident made things very difficult for our mechanics, and had our supporters on the edges of their seats. That being said, in terms of the primary purpose of entering this race― to be the testing grounds for our truck―we were able to test everything we had on our list so it was all very meaningful. The courses in the Silk Way Rally are just as tough as the courses in the Dakar Rally, so there was much that we were able to gain from being able to test a range of things in the real-world racing conditions, such as making changes to suspension settings and getting a feel for how they performed. Just as our HINO500 Series trucks are getting faster and continuously getting better, our competitors are also constantly evolving their trucks, so I think the fact that we were able to take on a new challenge in entering this race will benefit us in our future development efforts.
Hiroyuki Sugiura, Navigator:
The truck is driving faster than before, so I made major changes to the way that I navigate. I think our near-miss with a tip-over in Stage 2 and the problem that we had in Stage 4 were a result of how our HINO500 Series truck drives differently now. That is, these problems were a result of how the truck now allows us to push it to its limits day in and day out, and racing for time as opposed to having to drive it at a stable pace, so it was great that we underwent that experience. It was also a very stimulating race from a navigator's perspective.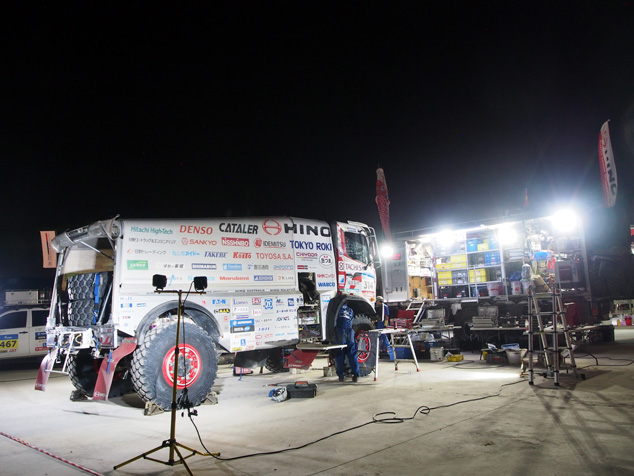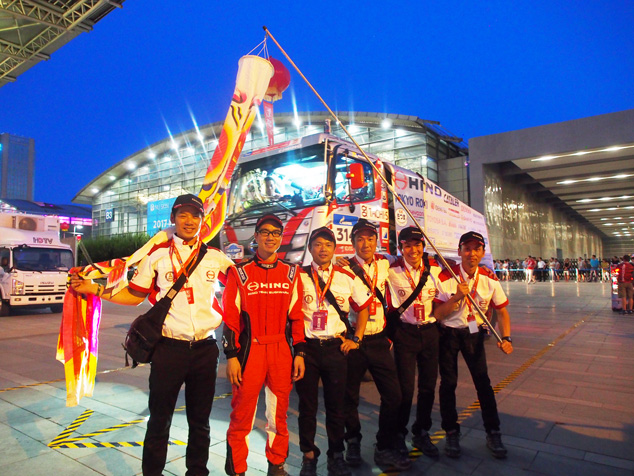 Seiichi Suzuki, Mechanic Leader:
I think we were able to run excellent tests here at the Silk Way Rally as we were able to verify, among other things, the conditions of the suspensions and transfer. We were able to clearly identify issues leading up to the Dakar Rally, so I will get busy coordinating these factors.
Yoichi Okabe, Mechanic Sub-Leader:
The race felt long in some ways, and short in others. We had to fight the rain from day one so we had a tough time running our servicing operations smoothly. Our truck nearly tipped over on day two, and we had other major problems that made things more difficult than last year. But I think this gave our mechanics the perseverance and mental strength to continue to work even in the rain. I also want to thank the crew for trusting us enough to go full out on the truck. This really solidified our ties as team members so it was great.
Yuki Takano, Mechanic (Hino Motors Gunma):
This was my first time on a rally team, and I have to confess that things got so tough at times that I came near to throwing in the towel. But thanks to support from Mr. Suzuki, our mechanic leader, and Mr. Okabe, our sub-leader, as well as all other team members, I was able to push on as a member of the team to the end. To the degree that I was on the receiving end of support from others in this rally, I would like to support other team members in Rally Mongolia next month. I will give it my best!
Hiroki Kinoshita, Mechanic (Hino Motors Yokohama):
This was my first experience on a rally team, and it was tough having to work under harsh conditions in the rain and what not, but the goal ceremony was a very emotional experience for me, and looking back at the rally, I had a great time. I am going to make use of everything that I've learned next month in the Rally Mongolia, and at the Dakar Rally which will be our main event.
Aiichiro Yamauchi, Mechanic (Hino Motors Toyama):
This was the first time that I had been abroad, and the first time on a rally team. Everything was new to me and it was almost constantly raining during our servicing work. Things were quite tough for me as there were a lot of surprises, and I started to have some minor health issues midway through the rally. I will be building on this experience and do my best in Rally Mongolia next month and Dakar Rally next year so that I can make a contribution to the team!
Ryota Shibutani, Mechanic (Hino Motors Kobe):
This was my first time on a rally team and there were many things that were new to me. The rain continued for days and we had to work under muddy conditions. Once we were in China, the temperature was much higher and we had to work under the harsh heat. So I think this experience has helped me develop quite a bit of tolerance for tough conditions. I will build on this experience to give it all I've got in Rally Mongolia next month and the Dakar Rally.
Koji Tanaka, Support Car Driver:
The support car had about 10,000 more kilometers on its odometer at the end of the Silk Way Rally. We essentially traversed the Eurasian continent, went through two time zone adjustments, and had to work under conditions of cold rain. So it was a tough race for me and I think for the mechanics too in terms of staying in good physical condition. That being said, I think I was able to experience some scenarios that I might actually encounter at the Dakar Rally, for example, what actions to take when the HINO500 Series runs into trouble during the race. I was also surprised by the heat at Xi'an where the finish line was, as it rose to 46ºC during the day―a huge different from the cold that we had been working under.