Teams undergo vehicle inspections in Lima where the race is to kick off.
HINO TEAM SUGAWARA's two HINO500 Series trucks pass inspections without event and are ready to take on the race.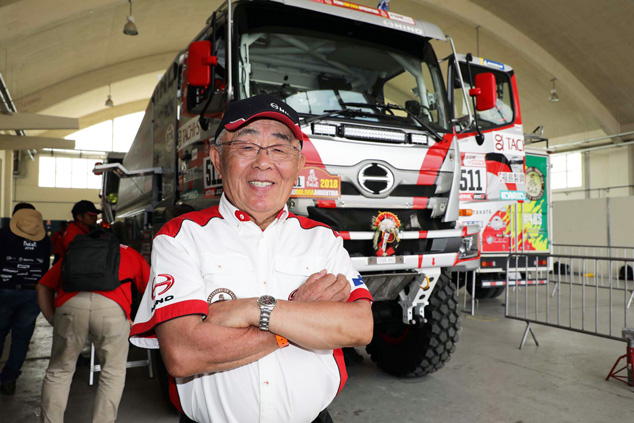 The first day of Dakar Rally 2018's official itinerary kicked off on Jan. 3 with vehicle inspections in Lima, the capital city of Peru. This will be the first time in five years since 2013 that Peru will be hosting a segment of the rally. Lima was also the starting point in 2013 when contestants staged fierce competition in the deserts along the Peruvian Pacific coast in the early parts of the rally. This year, pre-start checks for vehicles and team members were carried out at the "Las Palmas" airbase on the outskirts of Lima. Checks for documentation were carried out in a building on the base, and vehicle inspections were performed in hangars. While the mid-summer January sun in Lima was fairly intense, cool breezes made for a comfortable ambiance. The many teams and associates that came together on the first day of the official itinerary created a heated atmosphere at the inspection site.
The advance staff from HINO TEAM SUGAWARA―which will be fielding two HINO500 Series trucks in the trucks category―had been here in Lima since early December. Once they received shipment of the trucks from Japan, they got to work on servicing and making final adjustments on the trucks on a site that they borrowed from Peru Toyota in Lima. Throughout the day's inspections, organizers measured the weights of vehicles, their suspension strokes, and other specifications to verify that they met regulations before sealing all of these components. Inspections for the Hino team's trucks were complete in five hours due to the fact that no problems were found and that they arrived at the venue earlier than the specified time. The trucks were then parked at the Parc-Fermes (vehicle storage area) adjacent to the start off venue 10+ kilometers away, awaiting the start of the race on Jan. 6.
Yoshimasa Sugawara:I arrived here on the 13th to perform altitude training and other exercises to physically acclimatize myself. So I am feeling quite well with no jet lag. It seems like we will have the opportunity to race over a lot of dunes in the Peruvian segment in the early part of the race. I can't wait for the race to start.
Katsumi Hamura:This will be the first time in three years for me to race the Dakar Rally, and everything is going well so far. I will be giving it my best to race our best race as this will be a reunion of sorts for me with Mr. Sugawara (Yoshimasa) that I've navigated for many rears.
Teruhito Sugawara:I don't think there is that much difference in the potential of our HINO500 Series trucks with trucks in the leading group. I think good results will follow if we are able to finish the race by making as few mistakes as possible. Race management will be key because the second half of the race will be as long as the dunes in the first part will be challenging.
Mitsugu Takahashi:This will be first time for me to navigate for Mr. Teruhito (Sugawara) on Car 2. A lot of thoughts ran through my mind last night which made be tense but I feel much calmer now. All I have to do is be my usual self and deliver solid performance.
Seiichi Suzuki:Since we arrived in Dec. 13, we've been attending to the customs clearance of the trucks shipped in from Japan and making other preparations. We are ready for the start of the race as our servicing work has been going very well and we are all well rested.
Yoichi Okabe (Hino Motors):I'm from the Vehicle Planning & Production Engineering Div. and my role on the team as mechanic sub-leader is to make sure that the mechanics from different dealerships are able to work as a coherent team. They've actually made things easier for me as they are all highly skilled and easy to get along with. I'm sure we will be able to deliver great teamwork even when the going gets tough.
Yuki Takano (Gunma Hino Motor):We've been able to learn a lot before Dakar as we were on the team for the Silk Way Rally and Rally Mongolia. There are four of us mechanics who come from different dealerships, and my role will be to attend to both trucks as a reserve mechanic.
Hiroki Kinoshita (Yokohama Hino Motor):I'm also a reserve mechanic along with Mr. Takano. The feeling that the race is actually about to begin is really starting to build up being here at the vehicle inspection venue. I will give it my best.
Aiichiro Yamauchi (Toyama Hino Motor):I'm in charge of Car 1. Mr. Sugawara's (Yoshimasa) instructions can be quite exacting at times, but I intend to deliver what I'm asked so that he is able to drive the truck comfortably.
Ryota Shibutani (Kobe Hino Motor):I feel a great sense of responsibility now that I have been put in charge of Car 2. We've left no stone unturned in our preparations to make sure that the crew is able to deliver a solid performance. I can safely say that we've been able to service the truck to quite a high standard.
Koji Tanaka: In this race, I will be driving one of the two assisting cars, the lead car. There are quite a few people who will be experiencing the Dakar Rally for the first time. That being said, all preparations are going very well.
Masaki Satoh (Hino Motors):Mr. Okabe was one year senior to me in school and he's also been helpful in teaching me a lot of things for this rally. I will be driving one of the assistance cars and supporting the mechanics at the bivouacs. I used to drive a lot in North America when I was in the QA div., but this will be the first time for me to drive in South America so I will make sure to drive safely.
Daigo Maruta (Hino Motors): I will be driving the camper. My day work is in the evaluation & engineering div. and I've always wanted to make the Dakar Rally team since I joined the company so I am very excited.
Mayumi Kezuka: I joined Japan Racing Management (the team's parent organization) because it's always been my goal to enter in the Dakar Rally. This year, my main task will be to support the mechanics at the bivouacs.