Car 2 Finishes the SS at 11th Overall in a Full-blown Dune Stage
Car 1 gets stuck in sand and crew is currently working to break free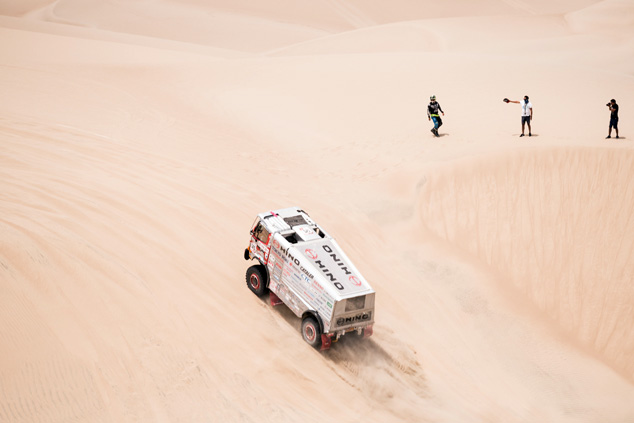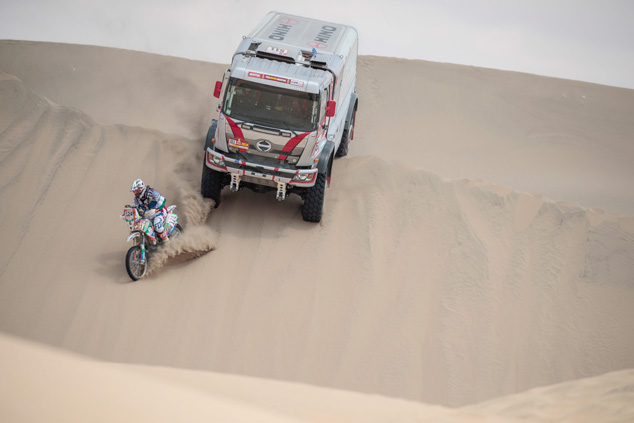 Jan. 7, racers were taken on a looped course based out of Pisco. A 267 km SS was set on the sandy hills, signaling the start of full-blown competition. HINO TEAM SUGAWARA's Car 2 piloted by the Teruhito Sugawara and Mitsugu Takahashi crew finished 11th overall and top in the Under 10-litre Class. With these results, Car 2 rose to 11th place overall in accumulated rankings from Jan. 6. Meanwhile, Car 1 piloted by Yoshimasa Sugawara and Katsumi Hamura got stuck in a steep sand dune midway through the stage. While they have yet to cross the SS finish line as of 7 pm local time, the crew is currently working to break free.
The day's SS began on dunes that were 4 kilometers away from the Pisco bivouac. This was a 267 km long looped SS that took teams up and down the same area as yesterday to reach the coast where a finish line was set up near the bivouac. After crossing the finish line, racers took a 7 km liaison to the bivouac.
While the day's course mainly featured sandy terrain, there were also spots with exposed rock formations. We have been told that that there were many new segments that have not been raced on in previous Dakar Rally events. The sand was soft, and contestants were faced with a variety of terrain including chains of sand hills, steep cliffs, and bowl-shaped sand pools. The relatively high level of difficulty of this stage made this the first challenging day of this year's rally.
The stage was also very challenging for navigators since crews had to trace all of the GPS waypoints designated by the organizers even though most of the stage consisted of road less off-road segments. As expected, this caused some notable changes in position orders.
Starting at 12th place this day, Car 2 kept up its brisk pace moving up to 10th place by the time it reached checkpoint 1. While the crew made some course errors later in the stage, they delivered stunning performance finishing at 11th place overall and top in the Under 10-litre Class. Partially due to the fact that starting times for all contestants was early, Car 2 arrived at the bivouac in Pisco before 4 pm. The truck had a slow leak on its right-rear tire but no other problems. The mechanics were anxious to see Car 1 return as they inspected and serviced Car 2. On Jan. 8, teams will be racing on a 296 km SS on their way from Pisco to San Juan de Marcona.
Teruhito Sugawara: I am very happy with the way we raced in this difficult stage with widely varying terrain. At this level of difficulty, minimizing mistakes becomes the key to winning. We're told that the SS for tomorrow (Jan. 8) is also set in the same area, and we intend to deliver a solid race as our truck is doing very well.
Mitsugu Takahashi: It could be that I'm still not used to Mr. Teruhito' s (Sugawara) speed, and we lost about ten minutes on the dunes. I also made an error checking the waypoint before the finish line. I will be putting all of that behind me and do my best from tomorrow onward.