Car 2 Finishes the SS at 4th Place. Climbs to 5th in Accumulated Rankings Overall (provisional).
Car 1 undergoes repairs and safely arrives at the bivouac at San Juan de Marcona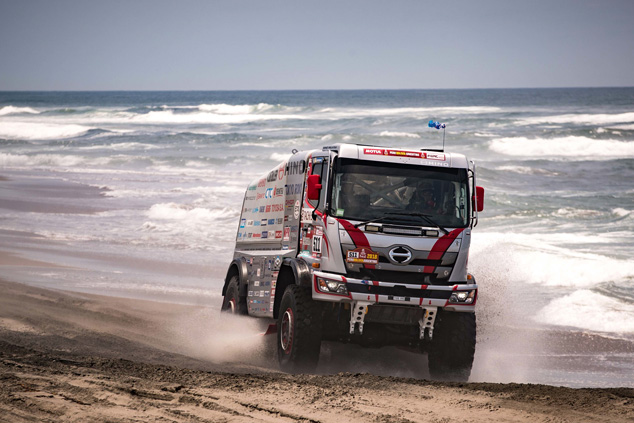 A looped course based out of San Juan de Marcona was scheduled for day 4 of the Peruvian stages which has been extremely challenging so far. Car 2 crewed by Teruhito Sugawara and Mitsugu Takahashi―which climbed to 9th place in the overall trucks category on Jan. 8―delivered solid performance again on this day's SS. The truck finished 4th overall and moved up to 5th place overall in accumulated rankings (results are provisional). Car 1 piloted by Yoshimasa Sugawara and Katsumi Hamura―which encountered problems and was rendered immobile―underwent repairs on site, and arrived safely at the bivouac in Marcona at about 3 am on Jan. 9 local time.
This day, contestants headed for the coast to the east of the bivouac on a 108 km liaison where they started the SS in grid starts. There were 15 motorbikes in each start for the motorbikes category, four cars each in starts for cars, and two trucks each in starts for trucks. After racing for about 15 kilometers along the coast, the SS took racers inland and then through intermountain areas, finishing near the bivouac for a total SS distance of 330 km. Teams were faced with a variety of conditions including rough terrain with hard surfaces that could potentially damage vehicles, huge dune crossings, and fesh-fesh on dried riverbeds. The stage also proved to be very challenging for navigators.
The Car 2 crew completed this difficult stage at a cautious but brisk pace. Partially owing to the fact that they were able to trace GPS waypoints that were difficult to find, the crew delivered stellar performance in this SS, finishing 4th overall in the trucks category.
The SS was followed by a 6 km liaison to the bivouac in Marcona where damage was found to the truck's exterior, under guard and other components. As of this writing, mechanics were busy carrying out thorough inspections and servicing in preparation for Jan. 10, the last of the Peruvian stages which would take them to Arequipa.
Early in the afternoon of Jan. 7, Car 1 sustained damage to the wheel hub and drive joint on the left-front wheel while racing the Pisco-Pisco SS. The wheel locked up, causing the truck to veer off course and get stuck on a sandy slope in a tilted position. After the crew dug the truck out, it was towed out by an organizer's rescue truck (Camion Balai) to a drivable road. However, the truck's left-rear hub had also been damaged (gear damage in the planetary gear reduction mechanism) and was not able to run under its own power. Mechanics rushed to the site on their assistance car from the bivouac in Marcona. They replaced the left-front wheel joint and hub, and took the emergency measure of cutting the rear axle off from the drive train and have the truck drive in front-wheel drive to the bivouac under its own power. While the crew was doing fine, Car 1 was not listed on the starting list for Jan. 9 and this finalized its withdrawal from the race much to the chagrin of all concerned.
Yoshimasa Sugawara: I want to thank everyone for their concern for how we were doing. Mr. Hamura and I are doing fine physically. The steering suddenly whipped as I was driving and we got stuck on a sandy slope. We spent eight long hours digging the truck out. This is the first time I've experienced anything like this. I am very disappointed at having to retire from the race, but I hope Teruhito's crew will keep going and make up for that.
Katsumi Hamura: At first, we couldn't figure out why we got stuck. We wouldn't have been able to move the truck without the parts that our support mechanics brought in, so I'm very grateful to all of our team members. While this was the second time that I experienced getting stuck from a drive train issue, trucks are really tough to dig out because they are so big.
Teruhito Sugawara: We've made SS finishes at 4th place in the past, and I think this is a great result for where we are at right now. It just goes to show how good the truck is. It's unfortunate that we've only got one truck left in the race, but we will keep up our pace and fight on.
Mitsugu Takahashi: The GPS waypoints towards the end of the SS were difficult to find, and in one particular area, we saw many vehicles that seemed to be lost. We decided to go a bit further ahead which turned out to be the right decision as we were able to trace the waypoint successfully and climb up to 4th position. I think there was an element of luck too.