Team Makes the Best of Rest Day to Fully Refresh their HINO500 Series Truck
They are fully prepared for the second half of the rally where they will be facing 4000+meter highlands and the Fiambalá desert.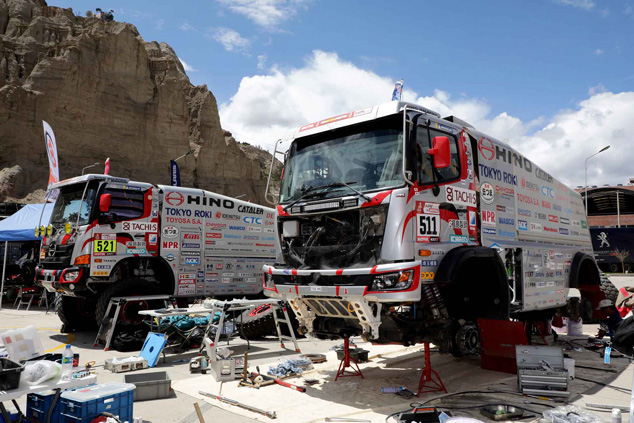 Dakar Rally 2018 had its rest day on Jan. 12 in La Paz, the Bolivian capital. Since the start of the event in Lima, the early part of this year's rally challenged teams with brutal stages back to back in the deserts on the Pacific coast of Peru. In the second half of the race, which is to kick off tomorrow, teams will continue to face harsh racing conditions in the high-altitude mountain paths of Bolivia, the Fiambalá desert in Argentina, and intermountain areas on the foothills of the Andes. HINO TEAM SUGAWARA―which fields their HINO500 Series truck in the trucks category―carried out thorough servicing on their truck here in La Paz. The crew has also had time to refresh and the team is now fully prepared for the second half.
Starting tomorrow, teams will be racing two days of marathon stages (cars and trucks categories only) in the Bolivian highlands that will take them from La Paz to Uyuni and then onto Tupiza. In the marathon stage in Uyuni, which is famed for its salt flat, crews must race without the assistance of mechanics and take care of any problems that they encounter on their own using only the parts that they have on hand. This will be a critical stage that will require crews to be extra alert as it may result in major changes in standings depending on the nature of potential problems or accidents that they may encounter. Members of the Hino team have brought their truck fully up to speed and also renewed their resolve to stick to risk-aversive driving.
Teruhito Sugawara: They say this is the midway rest day, but it feels like we've only come about a third of the way. I'm excited to start the second half. So far, we've been up against a string of harsher conditions than in previous events, so I asked the mechanics to be extra careful in their preventive servicing to ensure that we don't have any problems along the way. We will be racing at high altitudes starting tomorrow, and things will be very different depending on whether it rains or not.
Seiichi Suzuki: Our plan calls for replacing Car 2's rear leaf spring twice during the event, including once today on the rest day. We will also be replacing the front brake rotors today since they are worn. And while we are at it, we will be overhauling the hubs since we have to take them apart anyway to replace the brake rotors. As for the engine and transmission, inspections will be our main focus.
Yoichi Okabe: I've been feeling the effects of the thin air at these altitudes since we arrived at Arequipa. My head ached at first but I'm feeling fine now. I guess the only thing now is that my fingertips feel numb when I exert myself. We are all doing well and working hard.
Yuki Takano: The main effect that altitude has had on me was the headaches. I'm doing OK now, but earlier, I had a nosebleed when I blew my nose. While it's very unfortunate that Car 1 had to withdraw from the race, we are all focused on ensuring that Car 2 continues to deliver solid performance.
Hiroki Kinoshita: Driving out to rescue Car 1 was a great experience for me. Current conditions feel much more straightforward as we are able to work on a concrete surface as opposed to having to work on a sand dune like we had to do during the rescue. The altitude isn't bothering me. That could be because I used to be a swimmer.
Aiichiro Yamauchi: I think we've been able to work efficiently since we are all able to concentrate on Car 2. We will be disassembling and inspecting the reduction mechanisms (planetary gear) on the hubs just in case because Car 1 had a problem with this part.
Ryota Shibutani: Both reserve mechanics are working with us now so we can't ask for more in terms of manpower. There are lots to do, but my impression is that things are getting done that much quicker as we are able to take care of things in parallel.