Second Half of the Rally Takes Off in the Highlands of Bolivia
Car 2 delivers solid performance on the first day of the marathon stages, finishing at 13th overall.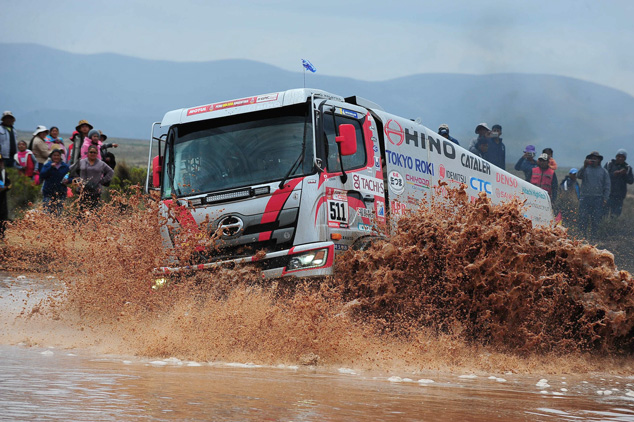 The second half of Dakar Rally 2018 kicked off on Jan. 13. Contestants raced a 368 km SS between La Paz and Uyuni in Bolivia, and the HINO500 Series truck Car 2 crewed by Teruhito Sugawara and Mitsugu Takahashi―entered by HINO TEAM SUGAWARA in the trucks category―delivered a solid performance finishing at 13th overall and 1st in the Under 10-litre Class.
The day's SS was held on hilly highlands at elevations approaching 4000 meters. Contestants travelled on a 291 km southbound liaison from La Paz that took them to the SS starting line that was set in an intermountain area near Oruro. The SS for trucks was 57 kilometers shorter than that for bikes and cars, with a finish line set near the Uyuni salt flat. This was then followed by a 9 km liaison that took them to the bivouac. The course was made up of a combination of high-speed pistes and off-road segments with grassy outcrops. Road surfaces were wet from the rain, confronting racers with puddles and mud puddles which called for absolute cautious driving on the part of crews. Elevations in this stage were roughly in the 3700-3900 m range.
The HINO500 Series truck's crew stuck to risk-averse driving to complete the stage at 13th place overall. This brought the truck's standings so far to 7th place in overall accumulated rankings, and top position in the Under 10-litre Class.
The camp at Uyuni was a marathon bivouac where teams were not allowed access to their assistance squads. While driving crews were allowed to service their vehicles with parts that they had on hand, they could receive no assistance from other team staff. The Teruhito Sugawara and Mitsugu Takahashi crew of the HINO500 Series Car 2 found no major problems with their truck. As such, in the servicing bivouac that was off limits to all but driving crews, they calmly proceeded to inspect and service their truck, as well as retighten the components that had been replaced the day before. On Jan. 14, the second day of the marathon stages, contestants will be racing a 472 km SS―including an intervening neutral zone―en route to Tupiza.
Teruhito Sugawara: Things are going pretty much as planned. I think the fact that we've been able to clock good time even with our risk-averse driving goes to show how good the truck is. Needless to say, we had no problems. We will continue at this pace tomorrow as well.
Mitsugu Takahashi: Navigation was actually not that difficult today. We essentially had no problems with the truck other than a slightly bent bumper and a minor oil leak on the front hub. We will be retightening all the parts in preparation for tomorrow.