Car 2 Finishes a Long Stage at 10th Place on Day-Two of the Marathon Stages
Organizers cancel the SS for Jan. 15 due to muddy conditions at the Tupiza bivouac.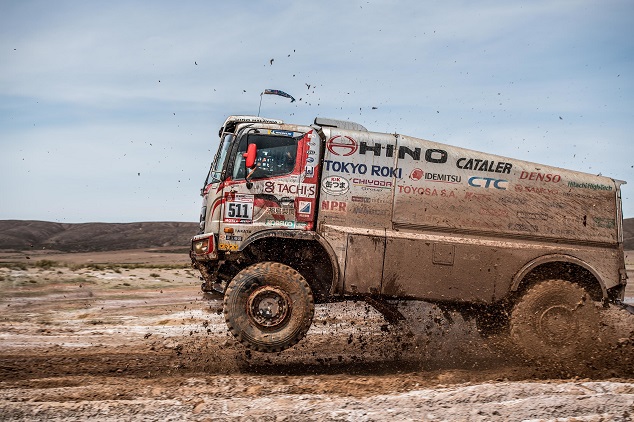 Day-two of the marathon stages took racers from Uyuni to Tupiza, Bolivia. Trucks competed on an SS made up of 240 km and 140 km segments where HINO TEAM SUGAWARA's Car 2, crewed by Teruhito Sugawara and Mitsugu Takahashi, put in excellent performance finishing at 10th place overall. Rain had transformed parts of the bivouac at Tupiza into mud pools, and due to this, organizers announced the cancelation of the SS for Jan. 15 where teams were scheduled to race en route to Salta, Argentina.
Day-one of the second half of the rally was a marathon stage, where driving crews camped at the marathon bivouac in Uyuni with no access to their support squads. Crews serviced their racing vehicles in preparation for a day of racing en route to Tupiza on Jan. 14. Upon leaving the bivouac, racers took an eastbound 33 km liaison to the SS starting line which was set up in the mountains at an elevation of 3800 meters. Trucks first raced a 240 km segment, the first of two segments of this day's SS, which was followed by a 92 km neutral zone before racing the second, 140 km segment of the SS. Similar to the day before, road surfaces mainly consisted of gravel pistes and hilly off-road terrain with grassy outcrops. Crews had to be on alert because the rain had created puddles and pools of mud in many areas throughout the course. The HINO500 Series Car 2 crew maintained cautious driving this day and finished the SS at 10th place overall. With this result, they maintain their 7th place position in accumulated overall rankings, and top spot in the Under 10-litre Class.
Upon finishing the SS, racers took a 53 km liaison heading for the Tupiza bivouac site, parts of which had been transformed into mud pools from the rain that continued through the previous night. While assistance crews from all teams had bypassed Uyuni and arrived at Tupiza earlier than the racers, organizers issued instructions at midnight to move out of the bivouac site. It was also announced that all competition on Jan. 15 en route to Salta, Argentina would be canceled.
Subsequently, the Hino team secured working space on a paved road on the side of the bivouac site as all other teams have done. As soon as Car 2 arrives, they will be inspecting and servicing the truck, and complete all customs formalities for entry into Argentina. The team, including Car2, will then head out to Salta on an assistance route.