Competition Canceled for the Day. Teams Drive to Salta on a Liaison.
Now in Argentina, the third host country, the rally enters its final stages.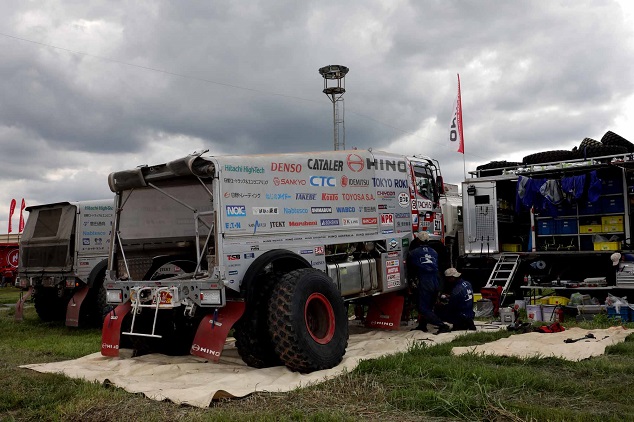 Competition for Jan. 15 was canceled due to the Tupiza bivouac being shut down from the effects of rain. Having completed day-two of the marathon stages on Jan. 14 with no problems, the Teruhito Sugawara and Mitsugu Takahashi crew of HINO TEAM SUGAWARA's HINO500 Series Car 2 took a brief breather as their truck underwent inspections and servicing near the Tupiza bivouac site. Soon thereafter, the team left Tupiza, crossing the Bolivian-Argentine border en route to Salta where they arrived after 2 am.
The SS on Jan. 14 was set on mountain roads at elevations of up to 4500 meters and confronted racers with a seemingly endless stretch of sandy off-road terrain with grassy outcrops. Even though the truck had to race over more than a few puddles and mud pools, which were created from the rain, inspections that team mechanics performed in their make-shift servicing area―set up on a road near the Tupiza bivouac site―revealed no major problems with the HINO500 Series truck. And so the team decided to move on to Salta as soon as they were ready.
The Hino team secured space at the Salta bivouac which was set up in one of the city's exhibition venues. In the morning, mechanics began working on all scheduled replacements of parts including the front leaf springs. The crew has had time to regain their energy at the bivouac and the Hino team is now ready to take on the final stages of this rally.
These final stages starting tomorrow are expected to confront racers with a chain of challenging stages in the mountain roads on the Andes foothills as well as sunbaked deserts near Fiambalá. Jan. 16 will feature a two-segment SS over 372 kilometers from Salta en route to Belén.
Teruhito Sugawara: It's not by virtue of luck or any mistakes made by the competition that we are at our current standing, but of our solid racing. We haven't been pushing ourselves too much either so I think that is testimony to how much more evolved our truck is now. The final stages starting tomorrow will feature highly challenging dune stages, and navigation will also be quite difficult. Conditions will be more punishing on the truck and this will inevitably raise the likelihood of potential problems, so we will need to remain alert. That being said, I think these stages will be a good opportunity for us.
Masaki Satoh: Team vehicles drove separately on their own to Salta and every one is finally here now. While there have been a string of unanticipated things that came up one after the other, I intend to fully enjoy the Dakar Rally, and make sure that I fulfill my responsibilities as assistance car driver.
Daigo Maruta: I'm in charge of driving the camping car, which has been having problems with its cooling system from the beginning of the rally. We've had to constantly refill its coolant. There have been tough moments so far but I intend to do all that I can to make sure that we make it to the finish line in Córdoba.