Crew Completes Demanding Dune Stage with Unflinching Driving
Smooth racing for the HINO500 Series truck in the Argentine intermountain areas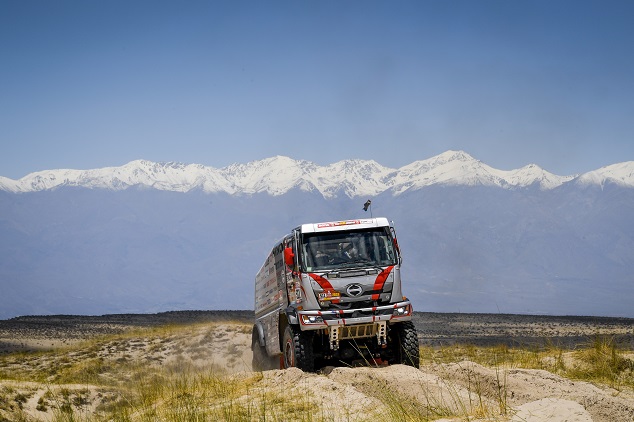 Jan. 16, Dakar Rally 2018 competition resumed this day on a two-segment SS between Salta and Belén with a total timed distance of 372 kilometers. HINO TEAM SUGAWARA's HINO500 Series Car 2 piloted by Teruhito Sugawara and Mitsugu Takahashi finished the SS at 11th in the overall trucks category.
This day, contestants first traveled a 320 km liaison from Salta to Catamarca before starting off their first Argentine SS in the intermountain area of the Andes foothills. The first, 243 km segment of this SS was set on sandy hilly terrain reaching elevations of up to 3100 meters. This segment consisted of bumpy courses with grassy outcrops―which were reminiscent of camel grass found in the southwestern region of Mauritania in Africa―and sandy pistes with straight line courses where racers could pick up relatively more speed. This was followed by a 167 km neutral zone that intersected with the assistance route to Belén, which meant that racers could hook up with their assistance squads for support if needed. Navigation was quite difficult throughout the entire SS and many vehicles were seen making course errors. The latter part of the second, 129 km segment of the SS confronted racers with dried riverbeds before they reached finish line near the bivouac in Belén.
The HINO500 Series Car 2 crew delivered a great race in this SS, and thanks to solid navigation, the truck finished at 11th overall and 1st place in the Under 10-litre Class. While they suffered a burst in the front-right tire just before reaching the finish line, the crew finished the SS without stopping. This brings the truck's accumulated ranking overall to 8th place as it maintains its 1st place position in accumulated rankings in the Under 10-litre Class. Tomorrow, on Jan. 17, teams are scheduled to race an SS in the Fiambalá desert, which is expected to be the highlight of the final stages to Chilecito of this event.
Teruhito Sugawara: There were quite a few areas that we had never raced on before, and the sections with bumpy, low-speed dunes were much longer than we expected. We had a hard time picking up speed as we couldn't get the gear ratio right, but other than that, things went pretty well.
Mitsugu Takahashi: Navigation wasn't as difficult as I had thought. Our tire sprang a flat in the dried riverbed just before the finish line but we kept going. Regardless, the truck is doing fine. Tomorrow's race looks to be very challenging so I will give it my best.