Dakar Rally 2018 Concludes at Cordoba
HINO500 Series truck finishes at 6th overall and snatches 9th consecutive win in the Under 10-litre Class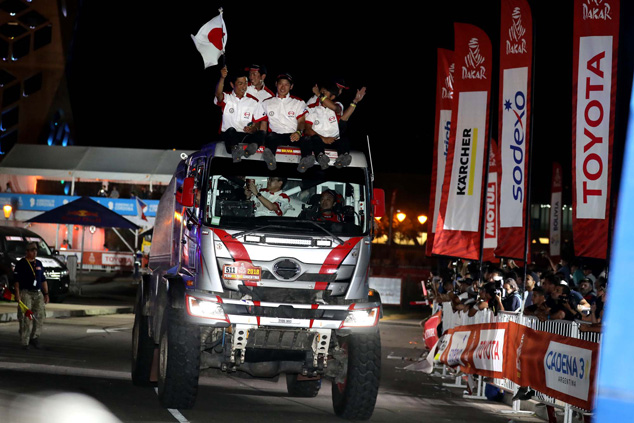 On Jan. 20, Dakar Rally 2018 contestants raced their final SS on the outskirts of Córdoba, Argentina on a looped course that took them to finish line back in Córdoba. This concluded all 15 days and 14 stages of the competition. In the early stages of the rally, HINO TEAM SUGAWARA was left with only one of the two HINO500 Series trucks that they entered due to an ill-fated problem which forced Car 1 crewed by Yoshimasa Sugawara and Katsumi Hamura to withdraw from the race. Nonetheless, the Teruhito Sugawara and Mitsugu Takahashi crew on Car 2 delivered stunning performance, achieving the team's 9th straight win in the Under 10-litre Class, and beating out many of its larger rivals powered by 10 litre-plus engines for a ranking at 6th place overall (accumulated).
It was around 1 am local time when Car 2 arrived at the bivouac in Córdoba at the end of an extra-long 900 kilometer stage that started off on Jan. 19. Mechanics inspected the truck with no sleep or breaks and prepared the truck for its last SS that was set to start off in the morning. Upon leaving the bivouac―which was set up in a stadium on the outskirts of Córdoba―racers first traveled northwest on a 71 km liaison, and then raced a 119 km looped SS at the base of the Córdoba mountains. This was followed by a 94 km liaison that took them back to the bivouac. Once there, the racing vehicles formed a line according to their finishing order before heading out at around 8 pm to the podium that was set up in front of the county office building. The course of this day's SS consisted mostly of twisty gravel roads and pistes (unpaved roads) in intermountain areas. While no major changes in ranking positions were expected to occur due to the short distance of the SS, any team that failed to finish the SS would not be recognized as a finisher. Nor would they be assigned a ranking position.
The Sugawara and Takahashi crew remained composed throughout the SS and finished at 10th place overall. After the SS, they returned to the bivouac in Córdoba without any problems, at which point their ranking was finalized.
Hino chairman, Yasuhiko Ichihashi, was present at the goal venue to congratulate the team's mechanics and staff members as well as show his appreciation for the work that they had put in over the past year. Once all racing vehicles were assembled at the podium, which was set up in front of the county office building, organizers put on a party to celebrate the success of the event and its 40th anniversary. This concluded all official proceedings of Dakar Rally 2018.
Hino Motors chairman, Yasuhiko Ichihashi: I am very happy that the team was able to fulfill their goal of winning their 9th straight win in the Under 10-litre Class. While Car 1 had to withdraw from the race, I'm glad that Car 2 was able to deliver the results that we had hoped for. We intend to continue our various activities as Hino Motors.
Yoshimasa Sugawara: Although this event turned out to be a huge failure for me, I am going to leave all of that behind and get to work to enter the rally again next year. I think Teruhito did really well this year considering the very difficult courses that we were all up against this year.
Katsumi Hamura: It was really unfortunate that we had to withdraw from the race, but Car 2 more than made up for that so that was great. I wasn't feeling very well in Bolivia but I'm doing fine now.
Teruhito Sugawara: I had a great time every day as we faced a succession of difficult courses back to back, and raced in many areas that we'd never been to before. This was the 20th Dakar Rally for me personally, and I'm glad that we were able to achieve the results that we aimed for. I think we were able to make the best of our current potential so it was very satisfying in that respect too. Right now, I'm just relieved.
Mitsugu Takahashi: We couldn't have asked for a better outcome. I think our 6th place ranking is pretty fitting for where we are. I was also happy to have been able to navigate for Mr. Teruhito. Today's SS, the last one in the race, required almost no navigation so I had a lot of fun pushing him among other things.
Seiichi Suzuki: This was the most fatiguing of all Dakar events that I've ever been on. I think that's a reflection of how challenging the courses were. I was particularly amazed at how other teams were also having problems already in the first half of the rally. That being said, I am very happy with Car 2's results.
Yoichi Okabe: I feel I've been helped by all the other mechanics. I've been reminded as to how good the mechanics at our dealerships are. The toughest thing for me personally was the thin air in La Paz. It was cold and our efficiency suffered in everything we did. I think I've come to appreciate the preciousness of water and oxygen.
Yuki Takano (Gunma Hino Motor): We were able to come together and fight as a team even under difficult circumstances. If I may say so myself, I think I did really well. I would like to thank everyone for their hard work.
Hiroki Kinoshita (Yokohama Hino Motor): In one word, elated. I think our HINO500 Series truck did exceptionally well and delivered stunning performance. Things were really tough during the rally, but all of that just evaporated once our truck was at the finish line.
Aiichiro Yamauchi (Toyama Hino Motor): I'm grateful for this great experience. I'm also glad that Car 2 achieved the results that we aimed for. It has been a fulfilling two weeks for me.
Ryota Shibutani (Kobe Hino Motor): I'd be lying if I said I'm not tired, but I am definitely up for doing this again. Personally, the toughest thing for me was getting altitude sickness in Bolivia. But I'm satisfied with myself as I was able to do everything that I came here to do.
Koji Tanaka: It was too bad for how things went for Car 1, but I'm glad that Car 2 was able to finish at a higher ranking than in previous years. Our trucks are racing faster now, which on the other hand means that they will take longer to service. I think the mechanics' workloads might be getting heavier.
Masaki Satoh (Hino Motors): Two weeks just flew by. I've familiarized myself with driving the assistance car in South America, which I was in charge of. Another precious experience for me was that I was able to give support to our mechanics. Thank you very much.
Daigo Maruta (Hino Motors): I was impressed at seeing the drivers and navigators studying for the following day once they were back at the bivouac. The camper that I was driving had a lot of problems, and things got difficult at times so I am glad that we were able finish without any major issues.
Mayumi Kezuka: The two weeks just zipped by for me. I had always dreamt of the Dakar Rally, but having actually experienced it, I think I have a better idea of how challenging this rally really is.