Team Hosts "Dakar Rally 2018 Reporting Event"
Mar. 26, 2018: With the cherry blossoms in full bloom under the bright spring sunshine, HINO TEAM SUGAWARA hosted their "Dakar Rally 2018 Reporting Event" at Hino Motors headquarters in Hino, Tokyo. This rally marked the 40th anniversary of the event and was widely considered to be the most punishing race since its relocation to South America. The team's drivers, navigators, and mechanics who battled through these grueling conditions were present this day to offer their impressions of the event.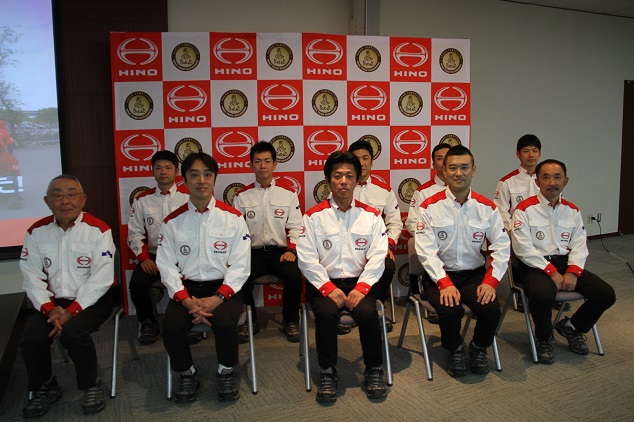 In Dakar Rally 2018, Car 1, driven by Yoshimasa Sugawara had a disappointing blow, being stuck in dunes, and was forced to withdraw from the race. Car 2, piloted by Teruhito Sugawara, finished in 6th place in the overall trucks category and extended the team's winning streak in the Under 10-litre Class to nine, at the same time delivering the 27th consecutive finish* for Hino since it first entered this rally. Present this day were the father and son driver duo Yoshimasa and Teruhito Sugawara, along with Katsumi Hamura, who navigated Car 1 for the first time in three years; Mitsugu Takahashi, who navigated Car 2 for the first time; Seiichi Suzuki, mechanic leader from Japan Racing Management, Hino Motors' Yoichi Okabe, who filled the role of mechanic sub-leader, and dealership mechanics Yuki Takano, Hiroki Kinoshita, Aiichiro Yamauchi, and Ryota Shibutani, who reflected on the 15 days of this grueling rally in a talk show format.
※:This was Hino's 27th finish in the race since 1991, not including 2008 when the race was canceled due to political instability.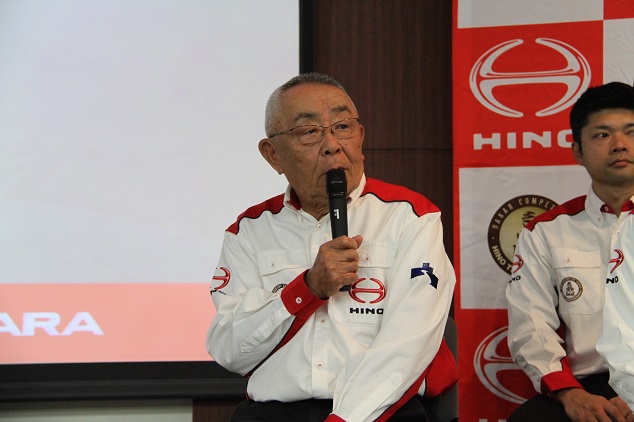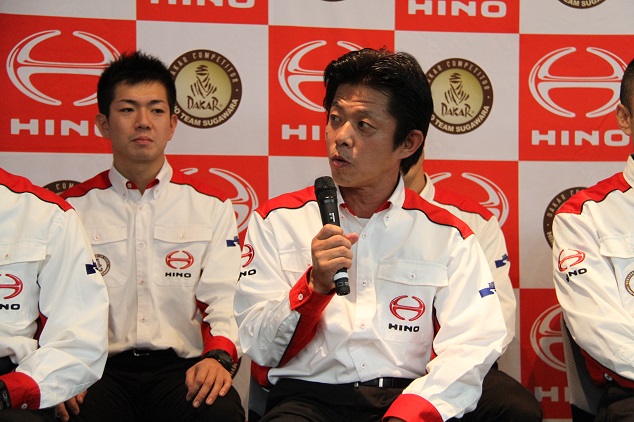 Yoshimasa Sugawara reflected on the extreme conditions when his truck got stuck in the sand in stage 2, "We were on an expansive dune area and slipped on a steep 15-meter climb. We tried to free the truck, but it became clear that we would be risking a tip-over if we continued doing so, so we awaited rescue for an hour. But help never arrived and we ended up spending the next 11 hours digging through sand to get the truck to stand straight up."
Katsumi Hamura, navigator of Car 1, remembers the situation when the truck got stuck saying, "The left side of the truck quickly got caught in the sand and I thought we were going to tip over. I immediately tried to get out, but Mr. Yoshimasa yelled at me 'Don't move!'"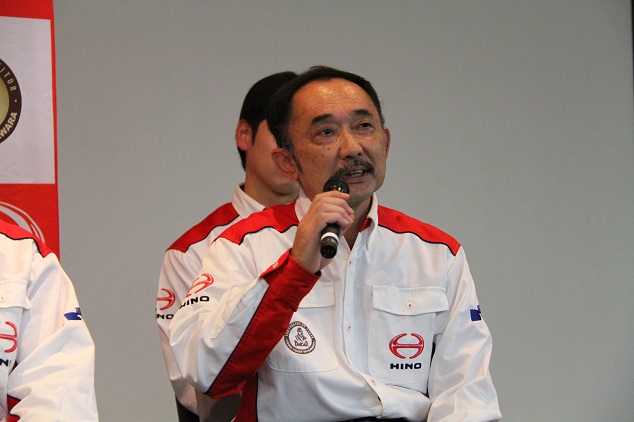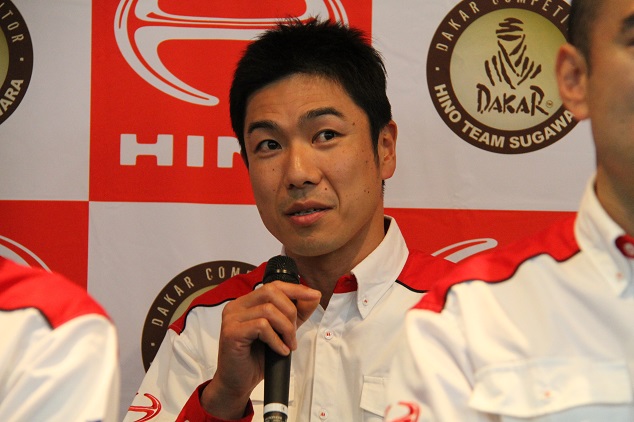 Mechanic leader Seiichi Suzuki was one of the team members who headed out to the site where Car 1 was waiting for help. He remembers what was going through his mind at the time, "We'd already received reports that the truck had retired from the race, but when I arrived on the scene and actually laid my eyes on the truck, the disappointment really hit home like 'Oh, it really is over.'"
Hiroki Kinoshita from Yokohama Hino Motor, who was also on site to rescue Car 1, reflected, "It was very disappointing to have Car 1 withdraw from the race. That being said, whereas race mechanics spend most of their time at camps servicing their racing vehicles, I actually got to get on the racing course to rescue Car 1. Taking in the 360º view of sand dunes extending in all directions, I got a sense of how extreme these SSs* actually were, so in a sense, it was an amazing experience for me personally," candidly reflecting on what he took away from this experience.
※:An acronym for "Special Stage" or the timed segments.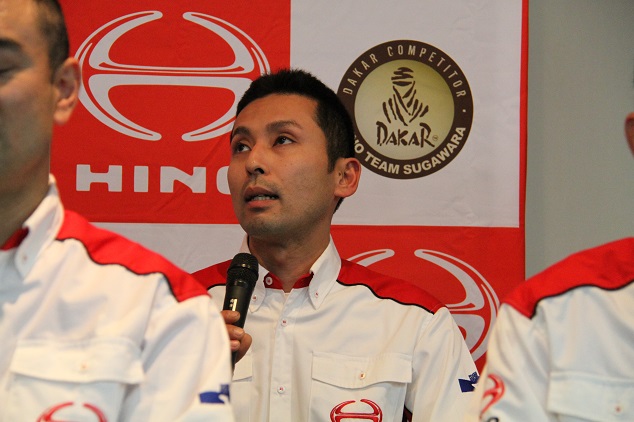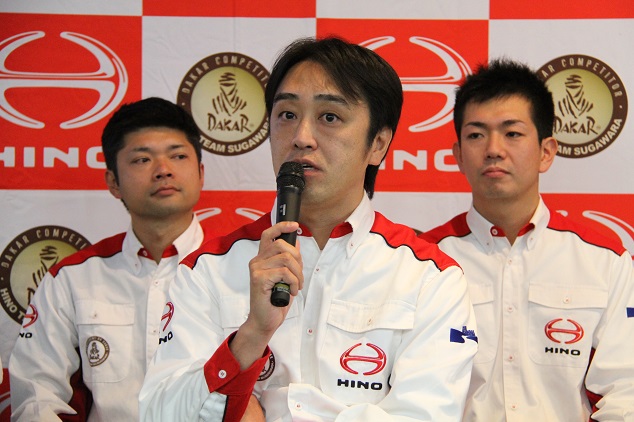 Aiichiro Yamauchi from Toyama Hino Motor remarked, "We knew from reports that Car 1 had been forced to withdraw, but the only thing on our minds as we worked under the scorching sun was that we wanted to get Car 1 back to the bivouac. We were able to do that and I was happy that I was able to use my skills as a mechanic to help achieve that."
Teruhito Sugawara, who steered his truck to a 6th place finish in the overall trucks category, offered his analysis on how they were able to race neck and neck against the leading pack of trucks, "Stages 2 thru 5 on this year's course featured brutal dunes and this forced many crews, including our Car 1 crew, to withdraw from the race. Conversely, these extremely difficult conditions were a huge factor in how we were able to maintain our position in the leading group. Also, our truck was able to deliver levels of power that were comparable to the competition thanks to the upgrades that we had made. I think the upgrades that we made to the engine and suspension systems were a major factor."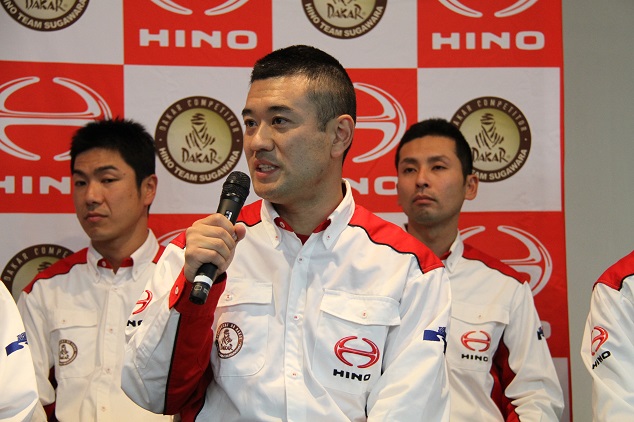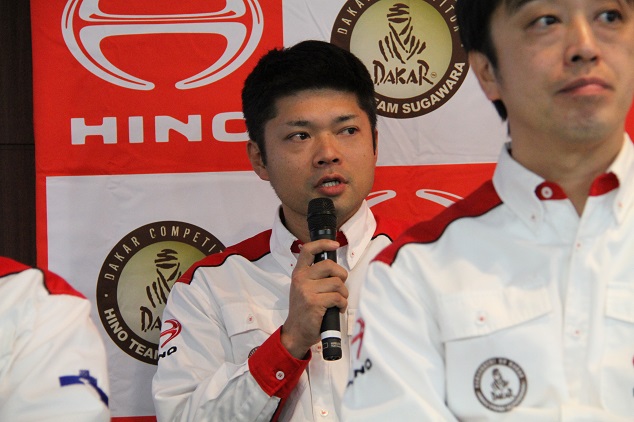 Mitsugu Takahashi, who navigated for Car 2 in this year's event, remarked, "Since dune driving was our forte, Mr. Teruhito and I agreed that we would keep our position in the leading group in the dunes-dominated first half, and maintain that momentum through the second half of the race. First and foremost on our minds was to avoid errors, so we made sure to stay alert all the way."
Mechanic sub-leader Yoichi Okabe was nonchalant as he shared, "It's true that I felt very down when I heard that Car 1 was forced to retire, but ultimately, I think things turned out really well as we were able to convert this disappointment into energy to work as HINO TEAM SUGAWARA, as one coherent team, to finish in the highest position since the event's relocation to South America."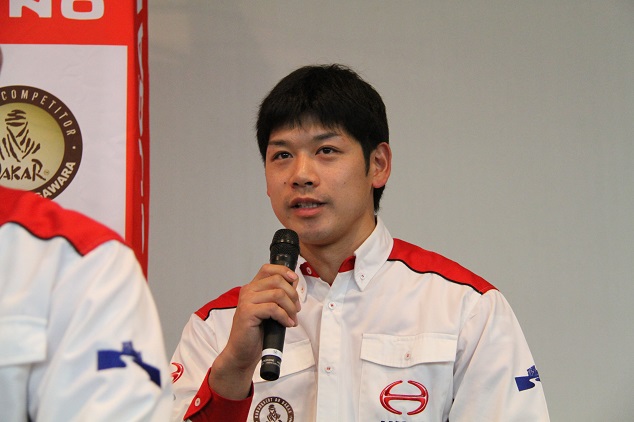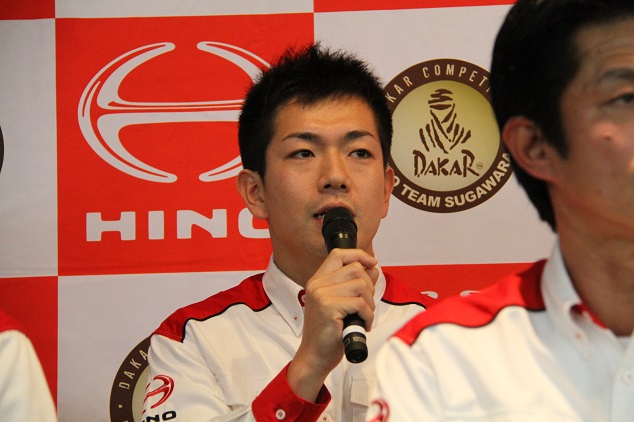 Ryota Shibuya from Kobe Hino Motor, who appeared misty eyed as Car 2 crossed the finish line, shared his sense of accomplishment, "I was in charge of servicing Car 2, and after Car 1 was forced to retire, I felt a lot of pressure that we had to make sure that Car 2 finished no matter what. So when Car 2 crossed the finish line without any problems, everything came back to me―the two weeks of servicing during the rally and all of the preparatory work that we had done before the rally―and the overwhelming feeling brought tears to my eyes."
At the goal ceremony, the mechanics rode on the roof of Car 2's cab for the parade. Yuki Takano from Gunma Hino Motor highlighted the teamwork between his team members saying, "The view of the goal ceremony from atop Car 2 was great. At first, we had disagreements on how to work, but that was simply because we were all serious in doing our work well. As we got to know each other better, and by the time we were at the Dakar Rally, we were able to work as tightly-knit coherent team."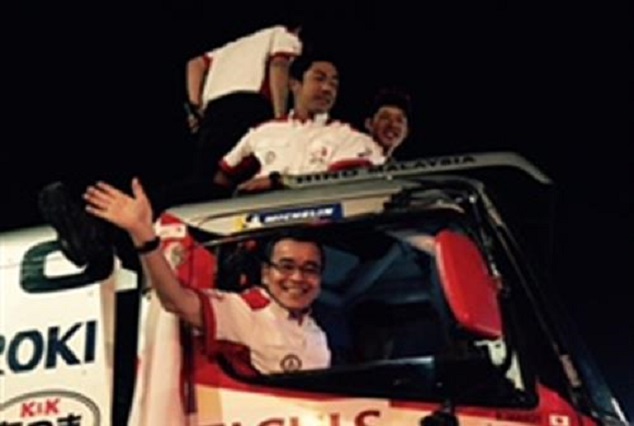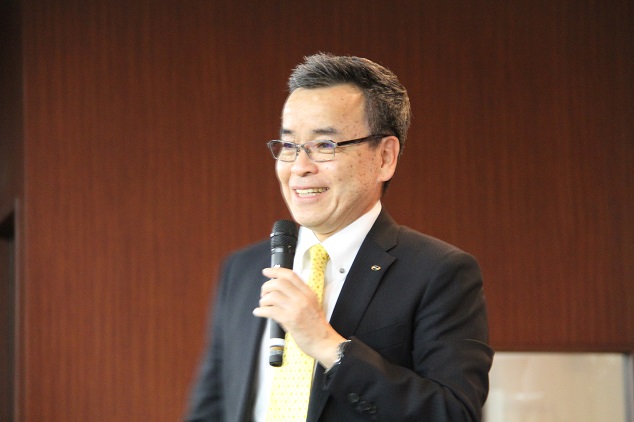 Hino chairman Mr. Ichihashi, who was on Car 2 for the goal ceremony, shared his impressions of it, "I actually wanted to join the mechanics on the cab roof but I decided not to since it was quite high up there (laughs). As I waved my hands at the crowd from the cockpit of Car 2, the fans waved back at me, probably mistaking me for Mr. Yoshimasa. I was able to feel the fan's passion and realized that this rally exists thanks to this passionate support, and also realized how great Mr. Yoshimasa was."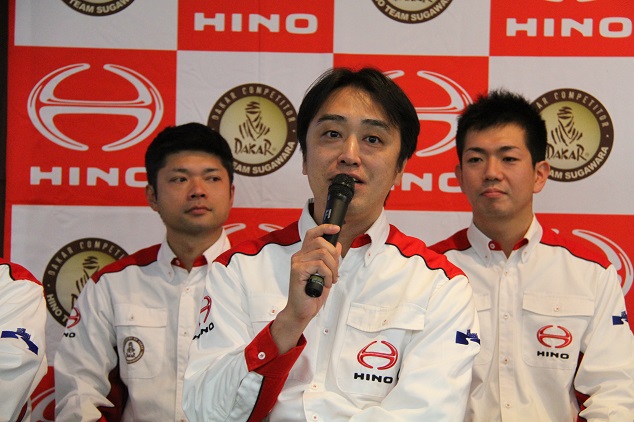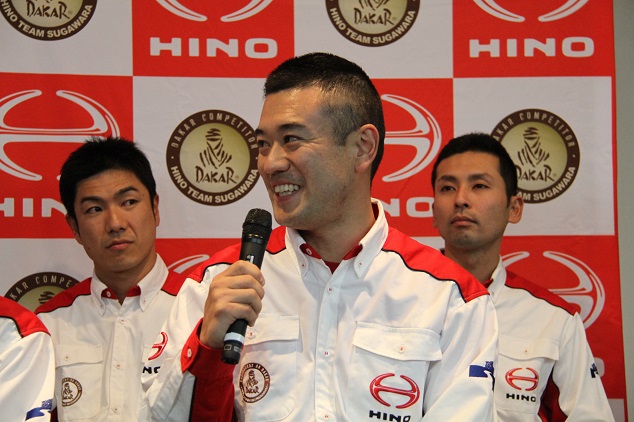 Having finished his 20th stint in the Dakar Rally in 6th place in the overall trucks category, Teruhito Sugawara shared his impressions of this year's event, "I am very happy that we were able to finish at a higher position than last year and extend our streak of class wins to nine. We are committed to making better trucks and putting together an even better team to aim for higher rankings. This is not something that one can do alone. We have received so much encouragement from so many people, and I can't begin to describe what this support has meant for us. We were also checking the SNS sites during the rally and were very inspired by the messages of support that we received in realtime."
Having navigated Car 2 for the first time in this year's event, Mitsugu Takahashi shared his aspirations for the future, "The navigator's job is the same whether you're on Car 1 or 2, but Car 2 drives faster so there was that much more strain on a physical level. While we were able to finish in 6th place overall, it's still frustrating to be tailing behind the 5th place truck. With your support, we hope to aim for a higher finish position."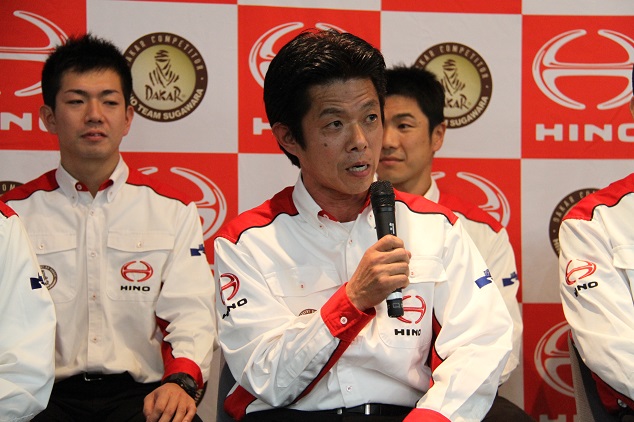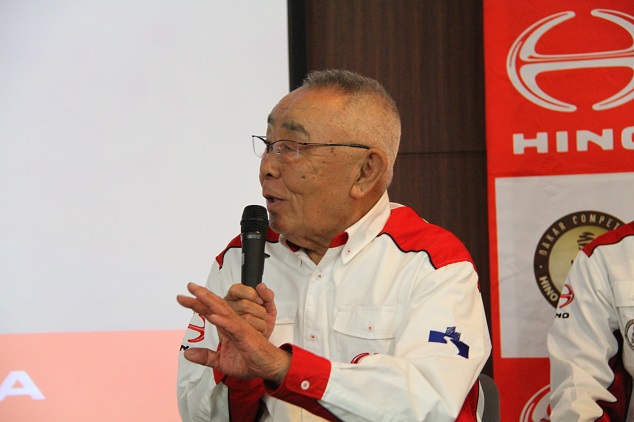 Katsumi Hamura, who navigated on Car 1, shared his impressions of this year's event, "While it had been three years since my last rally, I've navigated 15 times in the past. It was very disappointing that we had to withdraw from the race in stage 2. I felt that I wanted to navigate for longer and learn from the experience, and I also wished that I could have properly guided the truck to the finish line."
While his truck was forced to withdraw from this year's rally, Yoshimasa Sugawara, true to his iron man reputation, revealed that he and his team have already begun preparations for next year's event, "We have already begun preparations to vindicate ourselves next year. I entered a motorbike race just recently and finished the 800 km three-day race. I also work out once a week to prepare myself physically."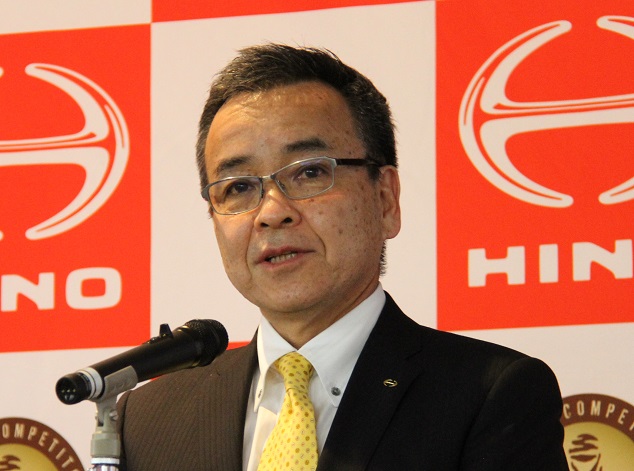 In expressing his gratitude to the many sponsors who were present at the event, Mr. Ichihashi, Hino Motors chairman, remarked, "Thank you very much for your continued support in our endeavor. There was a part of me that took for granted that we would finish these rallies and win the class championships, but this latest rally gave me a true sense of how challenging the Dakar Rally really is. I had a chance to visit the team's bivouac in Cordoba on the last day of competition. While the conditions at this camp were very good, I heard the stories of how things were very tough in other parts of the rally so it wasn't hard to imagine how difficult it must have been to service the trucks with all the rain and wind. We have had the pleasure of receiving support from 92 sponsors for this event and we are all very grateful for your support. I believe that precisely because this is such a challenging race, there is value in continuing to take on the challenges that it faces us with in order to improve our reliability and skills. We hope to continue to take on this challenge as an undertaking that symbolizes the Hino spirit, and I would like to ask for, and thank you again for your continued support."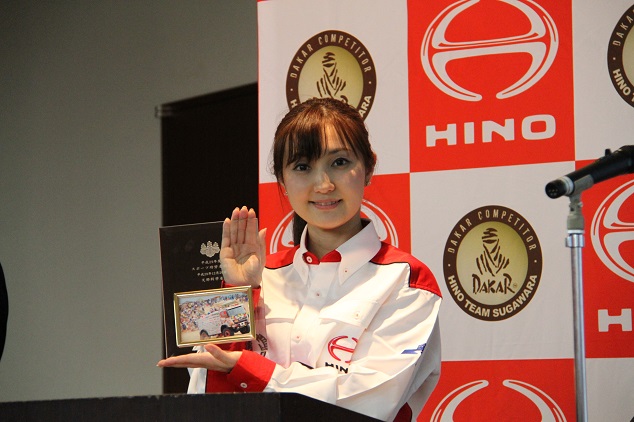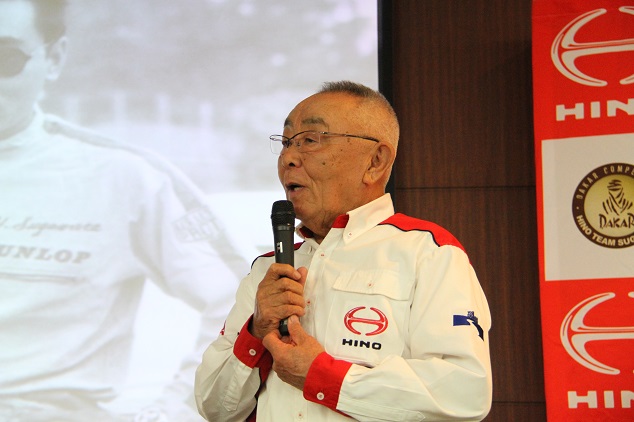 At the closing of the event, it was announced that Yoshimasa Sugawara was to be awarded the Ministry of Education, Culture, Sports, Science and Technology's Person of Merits in Sports award for this fiscal year. Yoshimasa Sugawara expressed his gratitude for this award saying, "I will be 77 this year. I started out in motorsports when I was 17, so it has already been 60 years. I wouldn't be holding this award if it were not for the support of Hino Motors, our 92 sponsor companies, and others who have continued to offer their support. I believe this award is a trophy for all the individuals and organizations that have lent us their support. Thank you very much."