"I think this will be the most interesting experience of my life" ― An interview with mechanics from dealerships
This year again, four mechanics from different dealerships have been chosen in a screening process held in April. We had a chance to speak with them on topics like what their goals were for the year ahead, what moved them to apply for a mechanic position on HINO TEAM SUGAWARA, and their thoughts on the Dakar Rally.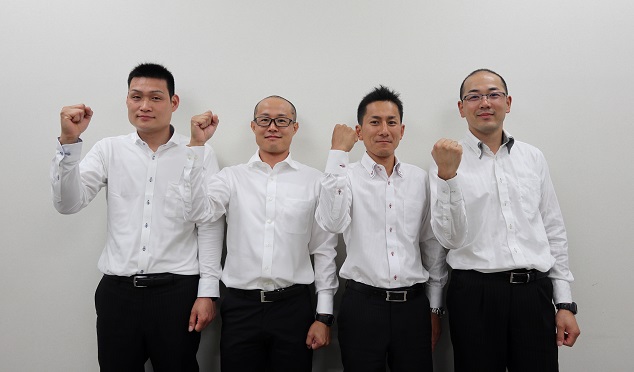 ― Please tell us what it was that made you apply for a mechanic position on HINO TEAM SUGAWARA.
Ishizaki: I had been interested in the Dakar Rally even before joining Ibaraki Hino Motor but I didn't know that dealership mechanics could apply for a spot on the team. I learned from one of our superiors that we could exactly two years ago, and I did apply, but I didn't make it back then. This year's screening was my second shot and I'm very happy that I passed. I was also inspired by two mechanics who were on the same *Service Master Course that I was on, Mr. Sakaguchi and Mr. Yamauchi who, respectively, served as team mechanics on the 2016 and 2018 Dakar Rallies.
* HR development program for dealerships
Nawa: One of the lecturers at a seminar I attended was Mr. Hashimoto who was a member of HINO TEAM SUGAWARA in 1997 when they made a 1-2-3 finish. I heard many stories from him which got me really interested in the rally. That was my first inspiration. Since then, I would bring this topic up with my superiors every now and then, letting them know that I wanted to join the team. I took part in the National Service Skills Contest, acquired the HS-1 servicing qualification, and studied hard for the Service Master Course to meet the criteria for applying for the Dakar Rally mechanic screening. And this year, my superior finally gave me the go ahead. But he also reminded me that this would be my first and only shot at it partly because running the dealership with one mechanic short would impact my colleagues' workload and could make things difficult for them at times.
Honda: The Pajero was my favorite car when I was a kid. I used to read a lot of magazines that carried stories of this car, and all of them associated the Pajero with the Dakar Rally. That's what got me wondering what the Dakar Rally was, and also got me studying a wide range of topics having to do with automobiles. My interest hadn't waned even after I enrolled in the automotive vocational school where I studied, so I chose to apply for a job at Hino because it was involved in the Dakar Rally, and here I am today.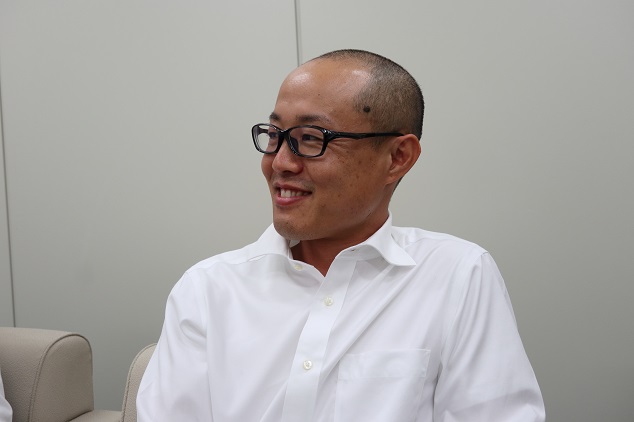 Oda: The Dakar Rally had been a dream for me ever since I was a kid. There wasn't a lot of entertainment back then as video games hadn't yet come out, and I remember staying up to watch the late-night Dakar Rally broadcasts. One time, when I was helping out with my father's work, I had a chance to ride on a refuse truck. Don't you think the Dakar Rally trucks look a bit like refuse trucks? As a little boy, I was inspired by the vision of trucks that looked like those refuse trucks racing through the desert.
When I was 18, I enrolled in a prefectural vocational high school for automobiles. I decided that if I were going to make a living working on automobiles, I would join Hino. So I studied hard for two years and joined Hino.
When I first joined the company, Mr. Ikemiya, general manager, from Mie Hino Motor was on the Dakar Rally team as a mechanic, and I remember how our office was buzzing with excitement. I have also been aiming to make the Dakar Rally team for many years now, but I just didn't have the opportunity until this year. This April, when I was offered a promotion to section manager, I expressed my strong determination to my superior that I would have to decline the offer if taking this post meant that I would be forfeiting my chance at making the Dakar Rally team. That's how determined I was when I applied.
― What did your colleagues and family have to say when they heard that you were chosen as a team mechanic?
Nawa: I got a call from our general administration manager who said, "You're in!" When I let my colleagues at our office know that I made the team, everyone was very excited for me and congratulated me. But I think there was a bit of anxiousness too because one of them asked me when I would be leaving.
Oda: The people at my workplace congratulated me saying "Omedeto!" And I don't take this opportunity to join the Dakar Rally team lightly because I will be riding on the support of my colleagues who are generously letting me go even with my responsibilities as section manager.
Honda: My family and colleagues are all very happy for me. Actually, before the screening event, one of my seniors coached me on things like the kinds of questions that I might be asked at the interview. Some of the questions that he briefed me on were right on the mark for the actual interview, so I was able to reply with confidence. I think that's why I'm where I am today. I'd like to take this opportunity to thank him. Thank you very much.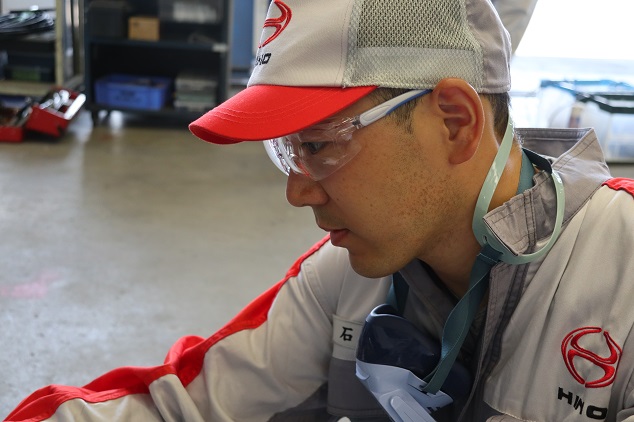 Ishizaki: It turns out that I'm the first mechanic to make the team from Ibaraki Hino Motor, so our senior managing director and my colleagues are all very happy for me. That being said, one of my seniors will be taking part in the regional preliminaries of the Service Skills Contest in June, which means our dealership will be short two people at the same time. I was a bit anxious about that but he encouraged me to go saying, "It's not something that you get to experience that often." Also, before the screening event, I proposed to my girlfriend, and she accepted. But I feel a bit sorry for her because we're going to have to put a lot of things on hold since I will be away working on the Dakar Rally team, like when to sign our marriage papers. Still, I'm very thankful for how she's sent me off saying "Gambatte (Give it all you got)."
― What are some of the strengths that you think you can personally bring to the team?
Oda: Experience. I've been involved in a wide range of different work over the 20-plus years with the company. While I don't know how much of my experience I will be able to feedback to the team, my hope is that I will be able to make good use of my strengths with support from the other mechanics.
Honda: To stay mindful of what is going on. If there is anything that catches my attention, I will let others know, and I hope others will do the same. I hope to help create that kind of atmosphere.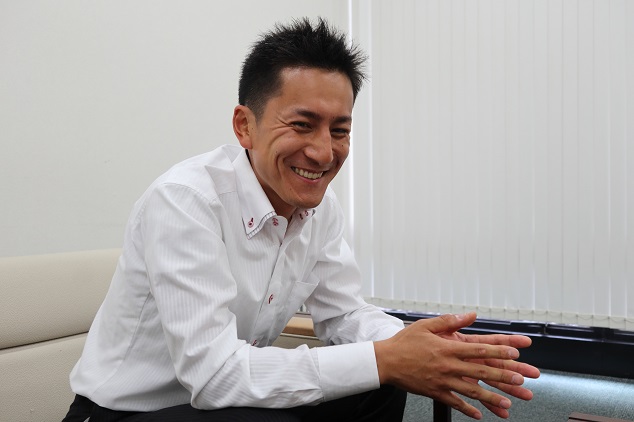 Nawa: I've been in the boy scouts since I was very young so one of my strengths is my ability to adapt to outdoor environments. I love camping. I've tent-camped in Chile, Brazil, Thailand and Korea so I won't have any problem with the food in different countries. Also, I'm originally a mechanic, but since I currently work at the front desk, I think there are things that I can only notice from my perspective as a front desk worker. So I hope to make good use of all of my experience.
Ishizaki: I think I'm physically and mentally fit enough to not get too caught up in the nerve-racking atmosphere when the going gets tough. Not much good comes out of low morale as a team, and my strength would be to stay energetic and inspire others to stay positive.
― In closing, what does the Dakar Rally mean to you?
Oda: A great cause. Calling it an aspiration doesn't do it justice. It's become a cause for me. That's what the Dakar Rally personally means to me.
Nawa: A dream and a challenge. I'm here today because of the work I've put in taking on different challenges. All that's left to do is to get this done, and get it done right.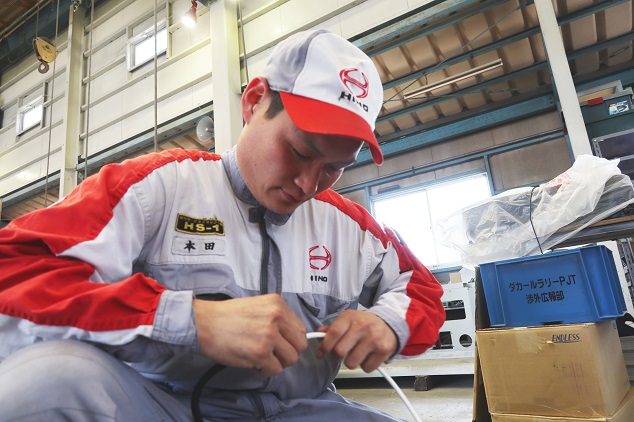 Honda: It will be the most interesting experience of my life. I look forward to enjoying this experience.
Ishizaki: It strikes me as a challenge. It's been something that I'd aspired to for many years, and it's also a challenge that has come true thanks to the work I've put in over the years. So I would like to test myself even as I relish each moment of this challenge.