HINO TEAM SUGAWARA to Race Silk Way Rally 2018!
HINO TEAM SUGAWARA will be entering the Silk Way Rally 2018 which is scheduled to run from Jul. 20 thru Jul. 27, 2018 in Russia. The team will be fielding Car 1 driven by Yoshimasa Sugawara, and Car 2 driven by Teruhito Sugawara. This will be Yoshimasa Sugawara's first entry in the Silk Way Rally. Teruhito Sugawara will be taking on the vast terrain of Russia in a new Car 2 that has received major upgrades to its stability.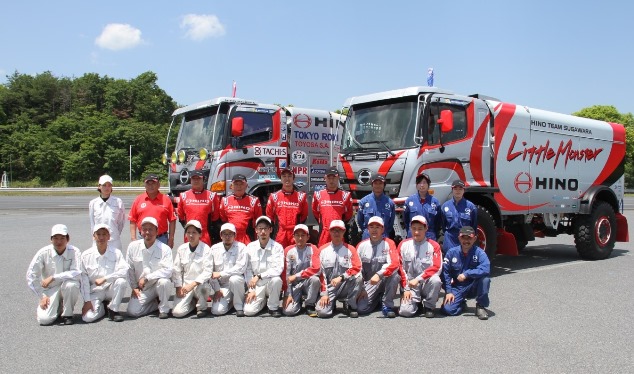 This will be HINO TEAM SUGAWARA's third appearance in the Silk Way Rally. Whereas in its two previous entries the team had entered only one truck -- Car 1 driven by Teruhito Sugawara -- this year they will be entering two trucks for the first time. With a team setup that closely resembles its setup for the main event, the Dakar Rally, the team aims to polish the skills of their drivers and mechanics as well as enhance the team's solidarity.
Having completed their test runs last month, we recently had a chance to meet with driver Yoshimasa Sugawara, navigator Ahito Sakurai, driver Teruhito Sugawara and navigator Mitsugu Takahashi, and hear what they had to say about their aspirations for the Silk Way Rally.
Yoshimasa Sugawara, Driver (Car 1): We made Car 1 lighter by reducing the number of its suspension leafs. As expected, the truck is handling softer now, so we are hoping that these upgrades will lead to good results in the Silk Way Rally. Also, we have increased the number of mechanics on our team, so HINO TEAM SUGAWARA will be taking on this rally with a much more powerful team setup. I would like for all of our new mechanics to experience all the different aspects of rally racing.
Ahito Sakurai, Navigator (Car 1): I will be navigating for Car 1 that Yoshimasa Sugawara will be driving. This will be my first stint in a rally outside of Japan, so I will make sure to maintain close communication with the driver and provide good navigation to make this an experience that we can build on going into the Dakar Rally in January next year. I am looking forward to enjoying this experience.
Teruhito Sugawara, Driver (Car 2): Our new Car 2 has turned out to be a truck that can maintain its stability even after continuous racing at high-speeds, and it feels like we will be able to improve our time. In our test runs in June, we were able to verify that the truck is driving the way we intended it to. During the Silk Way Rally, I will be checking how much of that performance we can actually deliver.
Mitsugu Takahashi, Navigator (Car 2): Our new Car 2 has better driving performance over rough terrain and produces less pitching. With this quality, I think we are well positioned to aim for a high ranking. I have also navigated for Teruhito Sugawara in Dakar Rally 2018 January this year, and this will be the second time for me to team up with him. I will make sure that we stay in sync as a team and give it all I've got.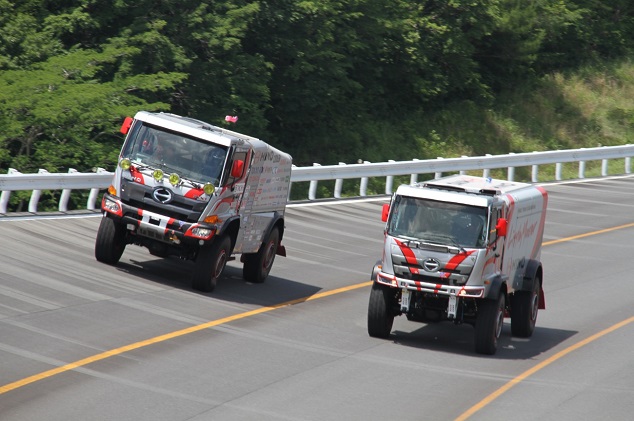 Announcement of Changes to the Silk Way Rally 2018 Format and Our Team Setup for Entry
Silk Way Rally organizers have announced the latest rally route. According to this new format, all stages of the rally that were initially scheduled to be held in China will be canceled and the entirety of the rally will be raced in Russia. The following is the format of this rally and our team setup.
■ Silk Way Rally 2018 Format
Dates: Jul. 20-27, 2018
Host country: Russia
Distance: Special stages: 2327.16 km
       Liaison segments: 1242.39 km
       Total distance: 3569.55 km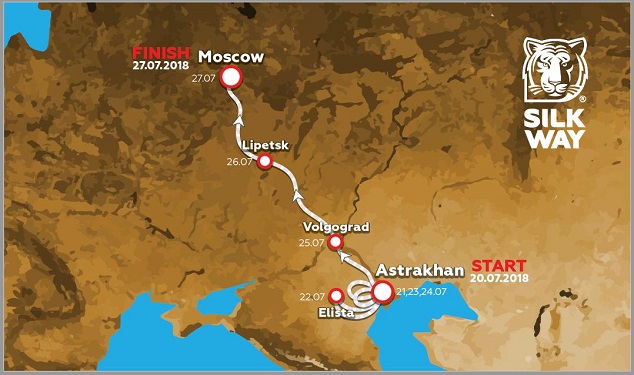 <Dates>
You can scroll horizontally
Date
Stage
Start
Goal
Liaison
segments*
Distance*
Total distance*
Fri,July 20
Starting ceremony
Astrakhan
0
0
0
Sat,July 21
Stage1
Astrakhan
Astrakhan
51.78
311
362.78
Sun,July 22
Stage2
Astrakhan
Elista
118.09
365.5
483.59
Mon,July 23
Stage3
Elista
Astrakhan
154.28
332
486.28
Tue,July 24
Stage4
Astrakhan
Astrakhan
54.16
366.03
420.19
Wed,July 25
Stage5
Astrakhan
Volgograd
108.93
443.78
552.71
Thu,July 26
Stage6
Volgograd
Lipetsk
449.63
317.15
766.78
Fri,July 27
Stage7
Lipetsk
Moscow
305.52
191.7
497.22
1242.39
2327.16
3569.55
*until: km
■ Team Setup
Racing trucks
HINO500 Series truck Cars 1 and 2; Total: Two trucks
Support vehicles
Two HINO700 Series ZS, two Hilux, and one other support car; Total: Five vehicles
Drivers and Navigators
Car 1:Yoshimasa Sugawara (JRM)※1, and Ahito Sakurai (Rule!MOTO)
Car 2: Teruhito Sugawara (JRM) ※1, and Mitsugu Takahashi (JRM)
Mechanics
Hideaki Takatori (Hino Motors); Leader support: Shintaro Suzuki (Hino Motors) Wataru Takahashi (Hino Motors), Yuji Mochizuki (Hino Motors), Shinji Kitagawa (Hino Motors), Kazuki Ishida (Hino Motors), Fuminori Ishizaki (Ibaraki Hino Motor), Yu Honda (Aichi Hino Motor), Daisuke Nawa (Gifu Hino Motor), and Hironobu Oda (Mie Hino Motor)
Technical advisor
Seiichi Suzuki (JRM)
Support members
Koji Tanaka (JRM), Mayumi Kezuka (JRM), Rumi Ando (JRM), Duinkharjav Bayar chuluun, Sandag Sanchir, Yura Munkhbaatar, and Nyamdash Batbaatar
※1JRM = Japan Racing Management Co., Ltd.