HINO500 Series Car 1 and 2 are currently racing the Silk Way Rally!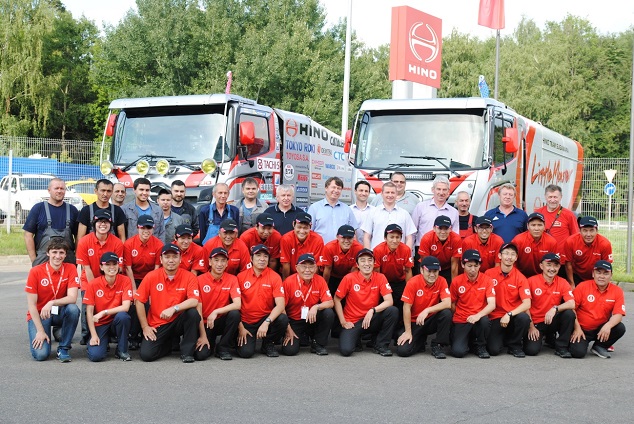 HINO TEAM SUGAWARA is currently racing the Silk Way Rally 2018 (Dates: July 20-27) that is underway in Russia with a team setup designed with its' sights on the main event -- the Dakar Rally that they will be racing next year. In this issue, we will be reporting on the team's arrival in Moscow, their truck servicing operations, and the start of the race.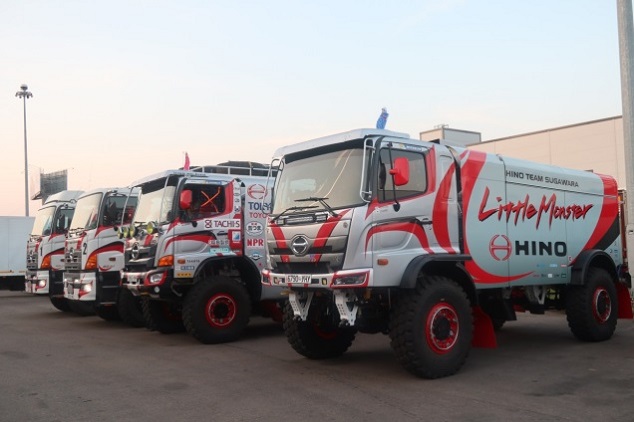 Jul. 12
Team members arrived in Moscow this day and began servicing their trucks at Hino Russia. While the mechanics felt a bit disoriented at first with the language barrier, the differences in the tools that they used, and having to service their trucks in a foreign country, they were able to complete all their servicing tasks and have their trucks fully ready for the race.
Jul. 17
The two HINO500 Series trucks and two support trucks leave Moscow for Astrakhan, which is the starting point of the Silk Way Rally 1,500 km from Moscow.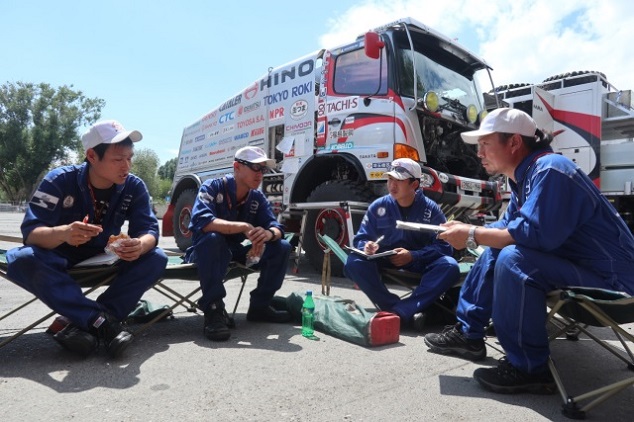 Jul. 18
The HINO500 Series trucks and support trucks arrive at the servicing park in Astrakhan. As soon as the trucks arrived, the mechanics who had flown in earlier wasted no time in checking with the drivers and navigators on any adjustments that might be needed and began their servicing work.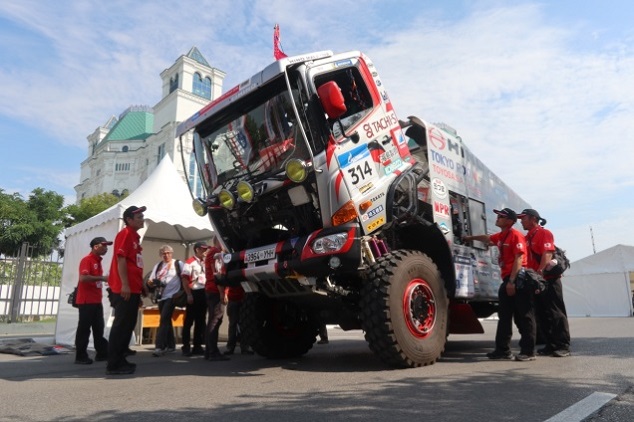 Jul. 19
This day, entering teams underwent documentation checks and vehicle inspections at the historic Opera and Ballet Theatre in Astrakhan. Both HINO500 Series trucks passed these inspections without any glitches, and were driven to the Parc-Fermes, a vehicle storage area where they will be parked under the organizer's control. This team has 11 new members including dealership mechanics and Hino mechanics who joined in mid-May. While most of them may have been slightly tense at first, they were all relieved after their trucks passed the inspections.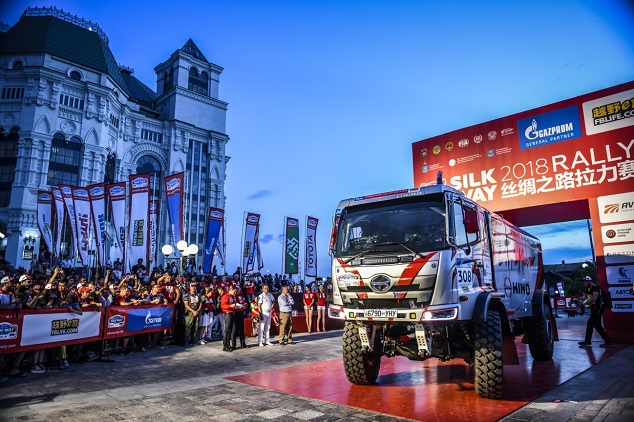 Jul. 20
This is the day before starting day. The starting ceremony kicked off late in the afternoon, and the crowd cheered loudly when the HINO500 Series trucks Car 1 and 2 were introduced to the podium.
Jul. 21
The Silk Way Rally kicked off this day amidst wild cheering from the crowd and rally associates.
As of Jul. 25, Car 1 and 2 are racing the vast terrains of Russia without any problems. Please keep an eye on the progress of our HINO500 Series. The following are what team members had to say going into the race.
Yoshimasa Sugawara, Driver, Car 1
Car 2 is a completely new truck so we were relieved that it passed inspections without any problems. We've also made some upgrades to Car 1, the truck that I will be driving, and our goal is to make solid adjustments to both of these trucks as we head into the Dakar Rally. Mr. Sakurai, my navigator, is feeling a bit nervous but we don't have any problems in how we work together. Our goal for this rally is to make a solid finish. As long as we finish, I think the rankings will follow. Our team roster is larger this year, and it looks like there have been a few surprises from being in a foreign country for our new members. Surprises equal learning opportunities, so I think they are learning a lot.
Ahito Sakurai, Navigator, Car 1
We are finally off to a week of adventure. My job is to navigate this truck, built and serviced by our mechanics, safely back to the finish line. I am committed to working with Mr. Yoshimasa Sugawara on the vast terrains of Russia and making it to the finish line.
Teruhito Sugawara, Driver, Car 2
In addition to building a new truck and having more members on the team, a lot went on leading up to this event. The organizers changed the starting point of the rally, and we had to make last-minute changes to the transport destination of our racing trucks and parts. So given these conditions, I am relieved that we were able to pass the vehicle inspections without any problems. Car 2, which I will be driving, is a new truck and is noticeably faster than our previous truck. What remains to be seen is its durability and reliability under racing conditions, so that is what I will be checking for. We built this new truck from scratch so it is not an evolved version of any of our previous trucks. There are a lot of unknowns regarding its potential, so I hope to identify all the points that we could improve on before the Dakar Rally.
Mitsugu Takahashi, Navigator, Car 2
I was unusually nervous during vehicle inspection, mainly because this was a new truck. From checking the routes on the route book that we received from the organizers, I got the impression that we will be driving on stages that could put tremendous strain on our trucks right out of the gate on the first day. That being said, I don't expect any problems as both crews are very careful and our mechanics perform solid servicing.
Seiichi Suzuki, Technical advisor
I am hoping for Mr. Teruhito to hold nothing back in putting our new truck through its paces in this rally.
Hideaki Takatori, Mechanic leader
I will do my best as mechanic leader to make sure that everyone is able to work smoothly.
Shintaro Suzuki, Mechanic leader support
It's very hot over here, but since we are all pumped it feels even hotter than it actually is. I will keep an eye on safety to the very end.
Wataru Takahashi, Mechanic, Car 1
While there were many other trucks that completed their vehicle inspections before we did, our HINO500 Series trucks were featured at the very front row at the podium. This gave me a true feel of the organizers' respect for our trucks. Camera crews followed our drivers Yoshimasa and Teruhito Sugawara everywhere they went, and they were being inundated with requests for interviews. That made me nervous that we might not be able to finish our vehicle inspections on time, and also made me realize how much attention our team and trucks are receiving. It looks like Mr. Sakurai who will be navigating for Car 1 is as nervous as I am so I intend to back him up as best as I can.
Shinji Kitagawa, Mechanic, Car 2
Leading up to this event, when I was checking the weather in Astrakhan where this rally starts off and found out that the temperature here was above 40ºC, I was a bit concerned if I would be able to do my work properly. But I think I was able to complete my work without any problems just as I do at home, even with the changes in our working environment such as at our servicing park and during vehicle inspections. I intend to continue to keep a steady mind when I work once the rally is on too.
Yuji Mochizuki, Mechanic, Car 2
With this being the rally's starting point, the entire city of Astrakhan has been engulfed in amazing excitement, and I have also been waiting for it to start with mixed feelings of excited anticipation and some anxiousness. During the race, I intend to keep a passionate heart and cool mind. I look forward to all of us working together as a tightly-knit team.
Kazuki Ishida, Mechanic, Car 1
The race is about to kick off so I intend to live up to my responsibilities as Car 1 mechanic and give it all I've got, also to make this a meaningful step leading up to the upcoming Dakar Rally next year.
Fuminori Ishizaki, Mechanic, Car 2
This was the first time I've serviced a truck in another country and interacted directly with people from other countries, so it has been a great experience for me. I was a bit anxious because everything was a surprise for me, but here I am thanks to the help I got during our preparation from other team members and staff members from Hino Russia and IRALAUTO. The Silk Way Rally is about to start and I'm sure there will be a lot of things happening during the rally, so I'm going to give it my all so that we are all able to work together as a solid team!
Yu Honda, Mechanic, Car 1
This is my first time outside of Japan, and I haven't been able to adjust during this long stay, but I get by with the support I get from other people. Just keeping myself hydrated can be an ordeal since there aren't things like convenience stores or vending machines around, things that I can find just about anywhere in Japan. The language barrier is big, and I find it difficult to communicate what I want to say, but it's a great feeling when I am able to get my intentions across using gestures and body language. This is what's so great about being in another country! I think the best way to thank the people who have worked hard to make sure that I can be in this race is to put in a good, problem-free performance. I will give it my best to do everything that needs to be done as an integral part of the team to keep it running smoothly so that the driver and navigator can comfortably drive the truck!
Daisuke Nawa, Mechanic, Car 2
Servicing our HINO500 Series truck in that unfamiliar environment with all the racing vehicles and servicing cars arriving at the servicing park was an exciting experience. Now that the document check and vehicle inspections are over, I realize that the race is about to start, and I can't contain my excitement when I think of the camp traveling that waits for us ahead. I will give it the best I can with the limited amount of time, space and tools that we have.
Hironobu Oda, Mechanic, Car 1
Now that the document check is over, my name is officially on the roster as a mechanic of HINO TEAM SUGAWARA. I will give it all I've got so that we can all work together as a solid team to bring both Cars 1, which I am in charge of, and Car 2 back to the finish line in Red Square.
Koji Tanaka, Support car driver (Japan Racing Management)
I will be driving in unfamiliar territory, but as a support car driver, I will make sure to transport the mechanics safely. Also, we have one more heavy-duty support truck starting with this race so I hope to provide as much support as I can to help our HINO500 Series trucks deliver their best performance.
Mayumi Kezuka, Support member (Japan Racing Management)
This will be my second stint in a rally after Dakar Rally 2018, so in addition to supporting our drivers, I intend to offer my best support for new mechanics so that they are able to perform their servicing tasks stress-free.
Rumi Ando, Support member (Japan Racing Management)
This is the first time on the team for me. I will be working as a support member, and so far I have been liaising with the organizers and making preparations to enter this race. I received a lot of advice from my seniors in working through this schedule change as well as filing all the paperwork for entering this rally. I am very relieved now that we were able to pass the vehicle inspections without any problems. During the race, I will do my best to help the drivers and mechanics!
Bayar Chuluun, Support car driver (Japan Racing Management)
We have a new HINO500 Series truck, so I hope everyone is able to put in their best performance and also check the differences between our previous truck as they do so.