Hino Motors Employee Named Navigator!
Monday, Jun 3, Hino Motors, Ltd. (hereafter referred to as "Hino") announced the new team setup for Hino Team Sugawara. The team also announced a variety of different steps for achieving higher rankings, one of which was to increase the "number of racing crew members" on their trucks. Whereas trucks were previously manned by crews of two―one driver and one navigator―the team has decided to include a third crew member with extensive mechanic experience, one of whom is a Hino Motors employee. In this article, we would like to introduce you to this new navigator who was on the team as a mechanic in the previous rally and will be joining the team in the upcoming event as a member of its racing crew.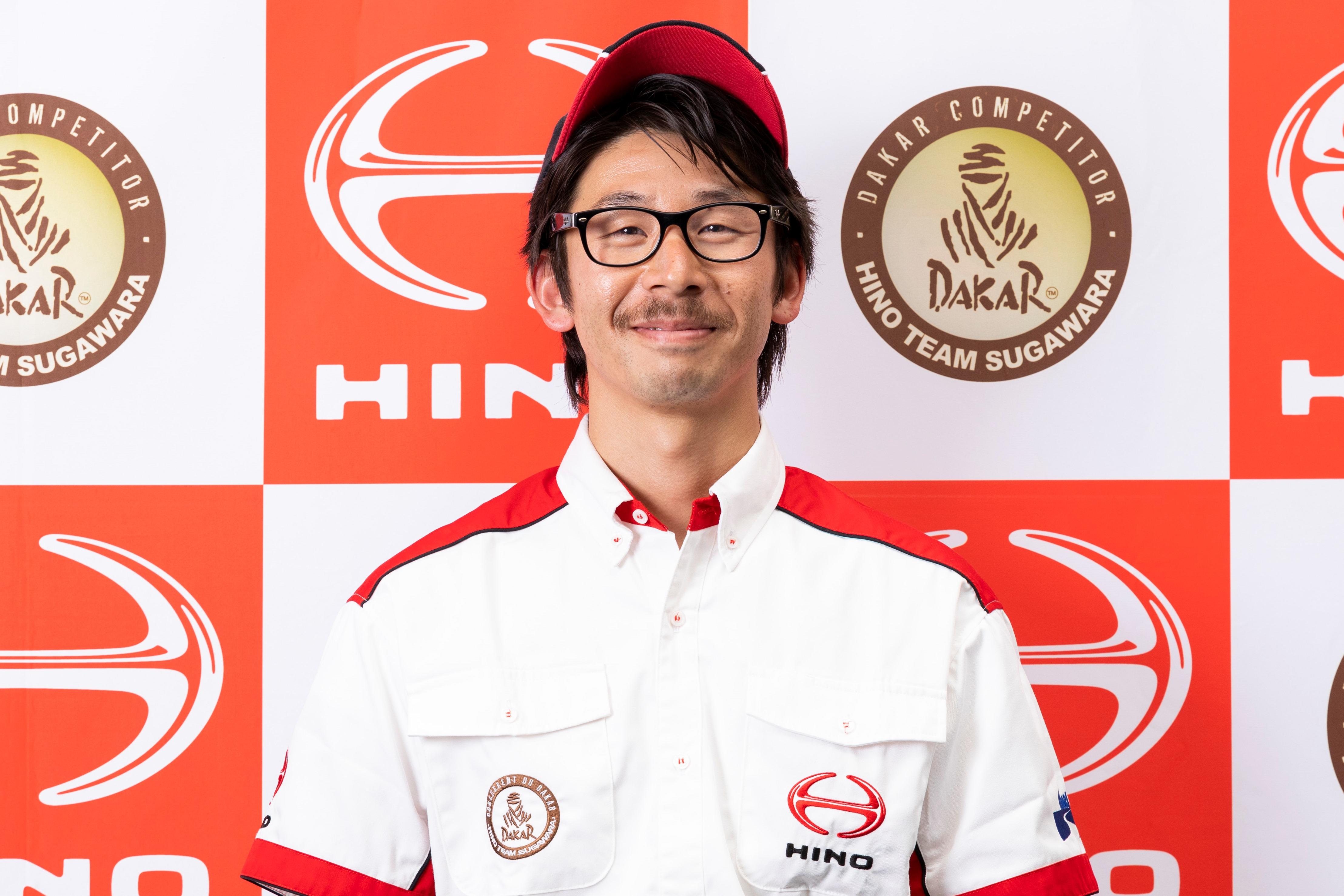 Yuji Mochizuki, Navigator (age 34)
Public Affairs Div., Hino Motors
Mochizuki joined the company in 2003 and was assigned to the Power Train Evaluation & Engineering Div., and was primarily engaged in evaluations for engine development. In 2018, he was transferred to the Public Affairs Div. and worked on Hino Team Sugawara as a mechanic. Among other things, he was instrumental in boosting morale and maintaining good motivation among the mechanics largely thanks to his positive nature and matter-of-fact personality, and has now become an indispensable member of the team. He is now counting down the days to the realization of his dreams which was to join the Dakar Rally team as a racing crew member.
Crews to be expanded from two to three. Hino employee is named a racing crew member for the first time in 20 years.
By adding a third member with extensive mechanic experience to its racing crews, the team aims to boost their readiness for trouble situations and deliver aggressive racing performance to achieve their objective of finishing at high overall rankings. Mochizuki says, "What we've learned from experience in real-world rally settings over the years is that the navigators' workload has been increasing year by year. So I think the addition of a third member is a natural and necessary development. On top of that, I feel very honored to be able to play that role. This is essentially the same path that driver Teruhito Sugawara took. Like him, I've also built up my experience in the previous rally in my capacity as mechanic, and now I will be contributing to the team as a navigator so I intend to make the best of my previous experience."
"Come what may, we have to get the truck back to the bivouac where our other team members wait"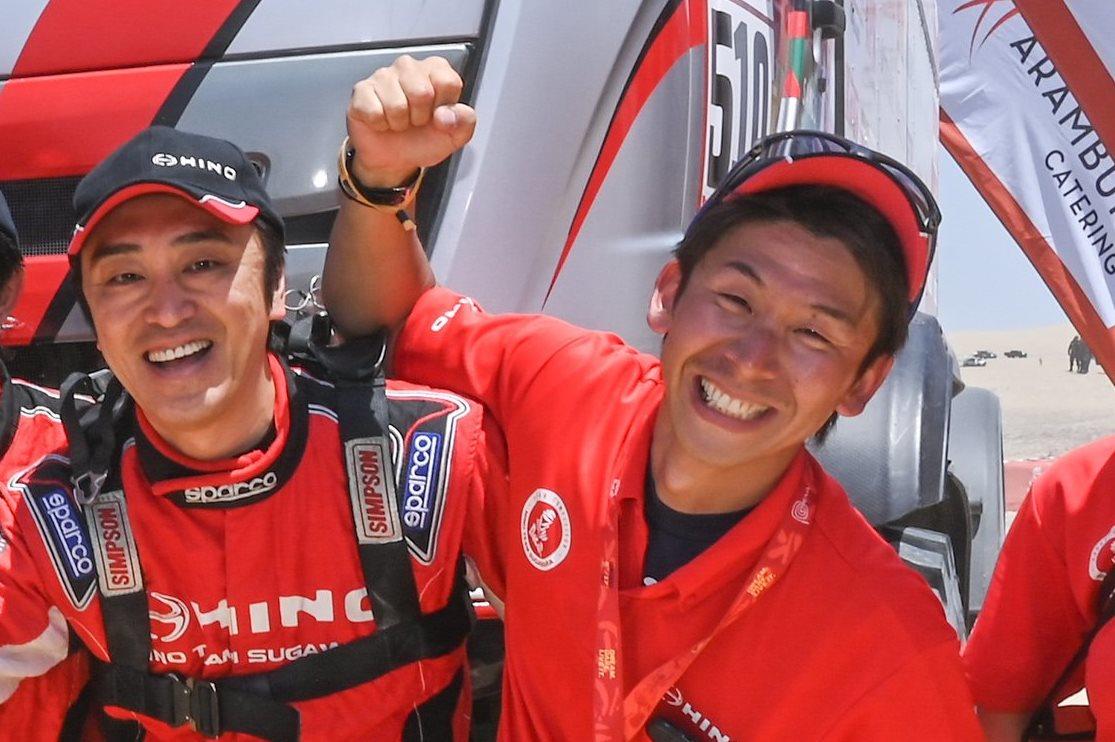 Mochizuki and driver Teruhito Sugawara hit it off at the Dakar Rally 2019 goal line
Mochizuki looks back emotionally at Dakar Rally 2019 held in January earlier this year saying, "I know this is going to be a bit of an 'if only' kind of statement, but I was absolutely mortified when I thought of the steering system problem that chairman (former team director) Yoshimasa Sugawara had on his truck on day two and how he may not have been forced to retire had there been a mechanic on site who could respond appropriately to the situation. That's where I'm coming from, so I feel a great sense of mission. This year again, I've been involved in preparations starting from the truck building stage so I can say that I know the truck that I will be navigating inside and out. I am committed to respond quickly to any problems the truck may face during the race, and come what may, get the truck back to the bivouac."
Mochizuki was one of the mechanics in charge of Teruhito Sugawara's truck in the previous rally, and this year he will be by his side as navigator. Teruhito Sugawara gives his seal of approval for Mochizuki saying, "I think we've seen what he is capable of from the previous rally so I am comfortable to have him as my navigator."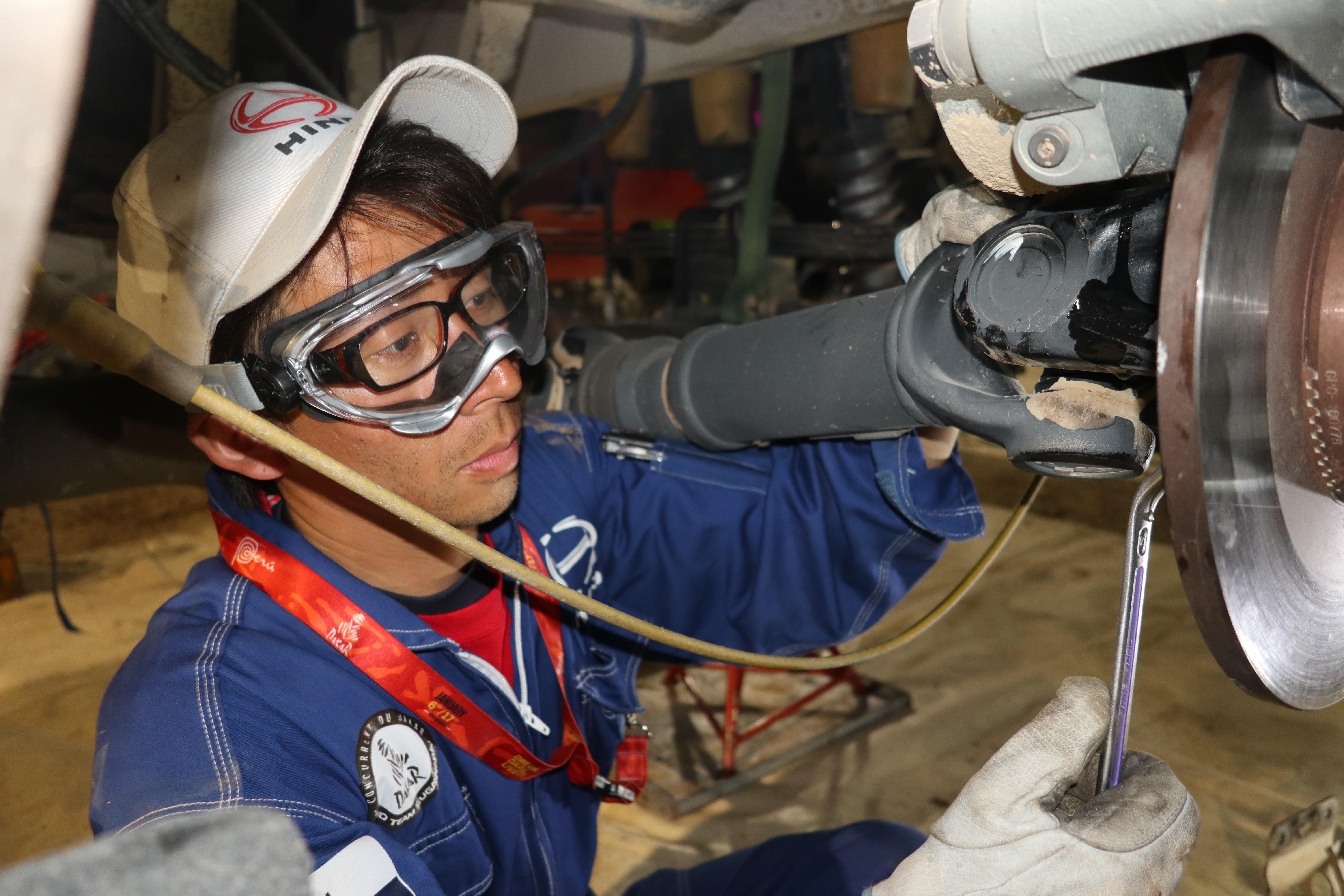 Mochizuki servicing the truck into the wee hours of the night at Dakar Rally 2019
"It's solely because of the professional environment that I'm a part of that I can continue to take on this challenge."
Mochizuki, who was transferred to the Public Affairs Div. last year and assigned to Dakar Rally racing operations, says, "I'm very grateful to my colleagues and superiors at the Power Train Evaluation & Engineering Div. who graciously sent me out last year. I wouldn't be here today if it weren't for their support. After my transfer, I was able to work in an environment where I could concentrate on rally racing operations, so it's solely because of the professional environment that I'm a part of that I can continue to take on this challenge."
Shizuka Oikawa―Power Train Evaluation & Engineering Div. supervisor and Mochizuki's former superior―looks back at the time and applauds him saying, "I remember when he was the first to step forward when we heard the team was looking for mechanics. At the time, I didn't think in my wildest dreams that he would end up as a member of the rally racing crew, but now when I look at him sitting in the middle seat of Car 1, it is starting to sink in that he actually is a part of the racing crew so I feel very happy for him. He will be taking on challenges this year from a completely different position than last year, so I hope he is able to work well with the team and bring the truck back to the finish line safely."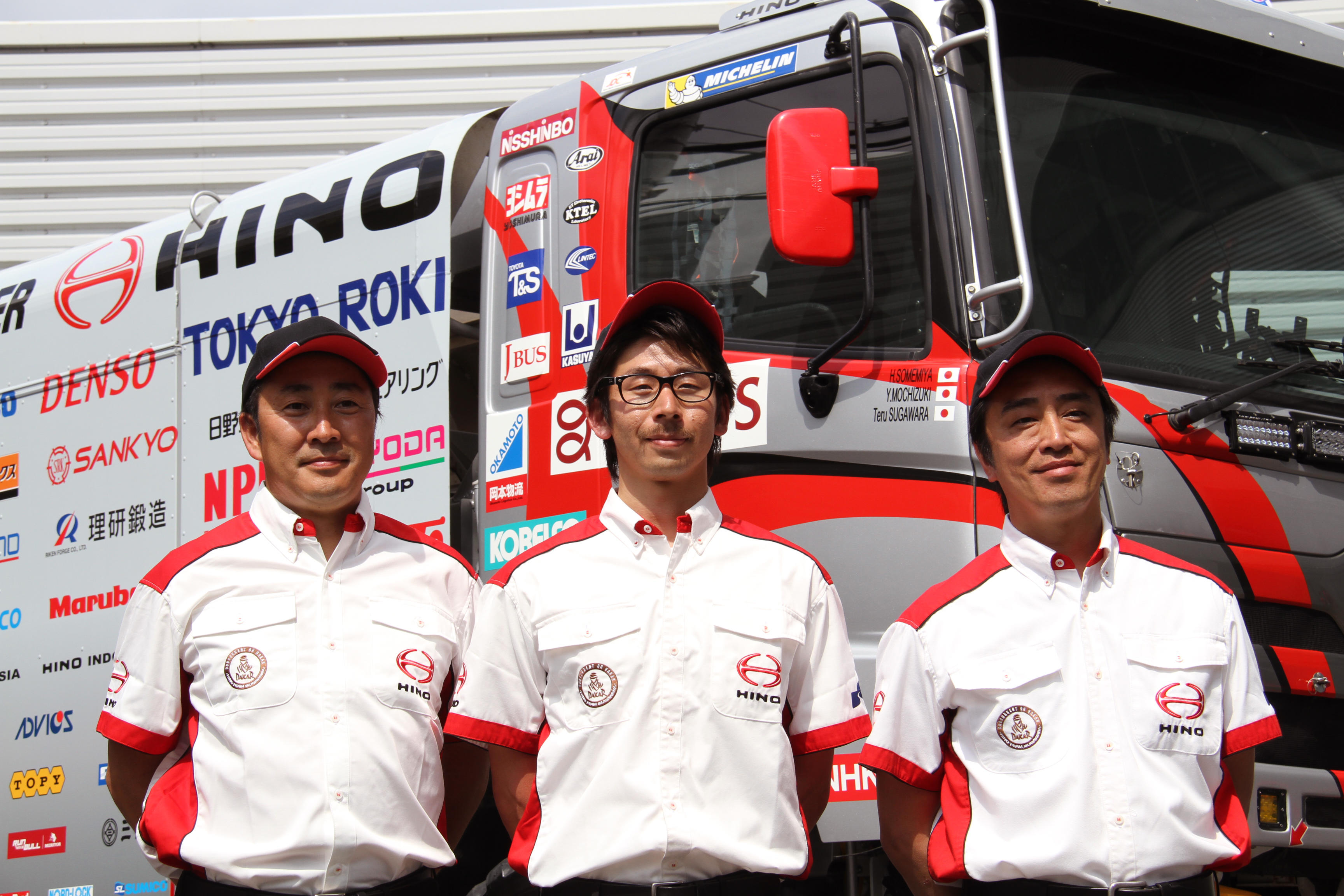 Driver Teruhito Sugawara (very right) and his crew members (from left to right: navigators Somemiya and Mochizuki) (shot June 2019)
Obtaining a license to join the racing crew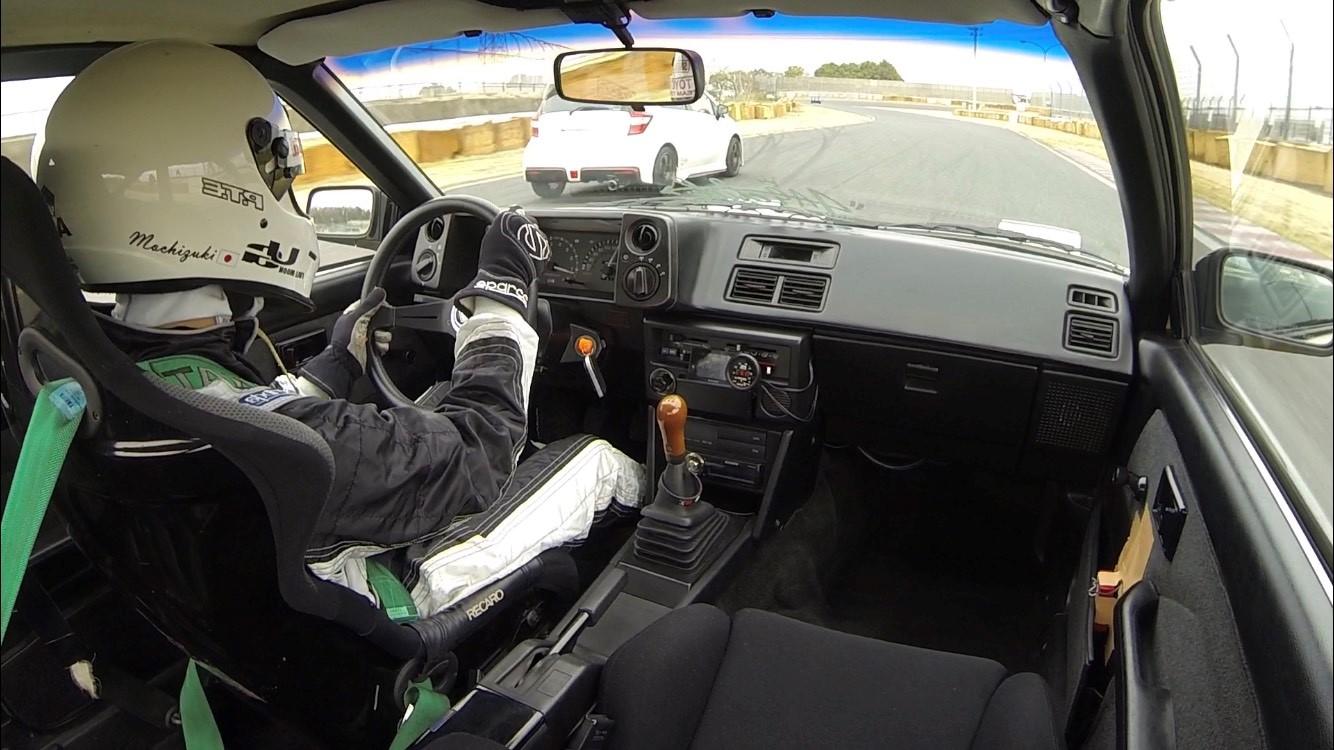 Racing on his reverse-imported car
To join the rally as a navigator, the prospective navigator must enter a race in Japan to obtain a license. Events where Mochizuki could qualify for his license ahead of the fast-approaching Silk Way Rally2019 had already been scheduled, but tight schedule constraints did not keep him from earning his license―his ticket to join the race as a member of the racing crew.
Another side of navigator Mochizuki
Mochizuki is a camera hobbyist with numerous awards under his belt from contests held in Japan and a skill set that would put many pros to shame. Many of his photos were used in previous Dakar Rally news articles so he has had a part to play in publicity as well. His delicate photographic works―which may seem to be worlds away from his day-to-day work as a mechanic―is perhaps an expression of his more sensitive side.
The Silk Way Rally 2019, where Mochizuki will be making his debut as navigator, will be held for ten days from July 6 thru 16. Throughout the rally, the team will be uploading their latest race reports on the Dakar page on the official Hino site. Thank you for your support for the newly reorganized Hino Team Sugawara and navigator Yuji Mochizuki!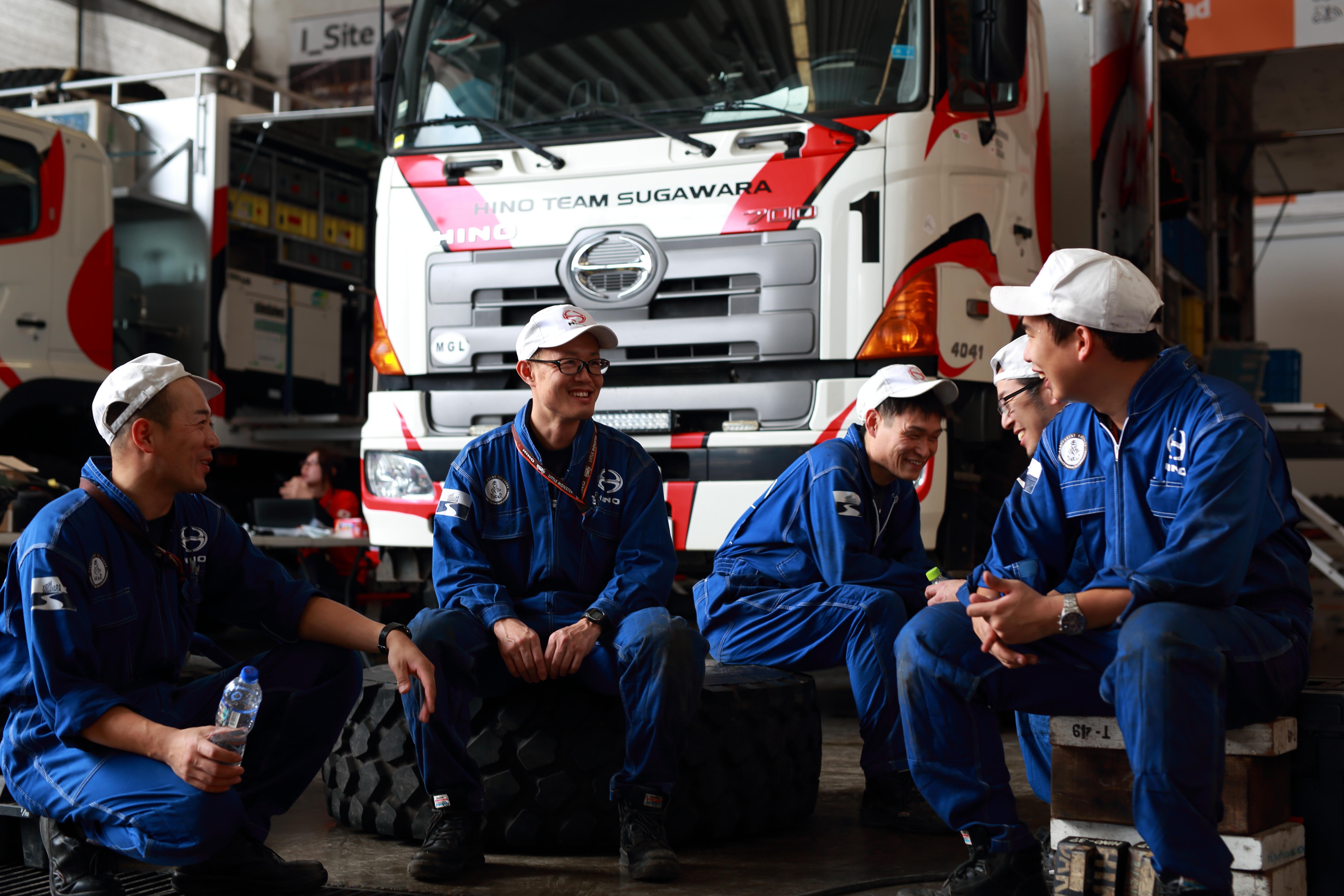 Mechanics take a break by their assistance truck (shot by Yuji Mochizuki at Dakar Rally 2019)