[Start ceremony] Sat, Jul 6, 2019 "Silk Way Rally 2019" Kicks Off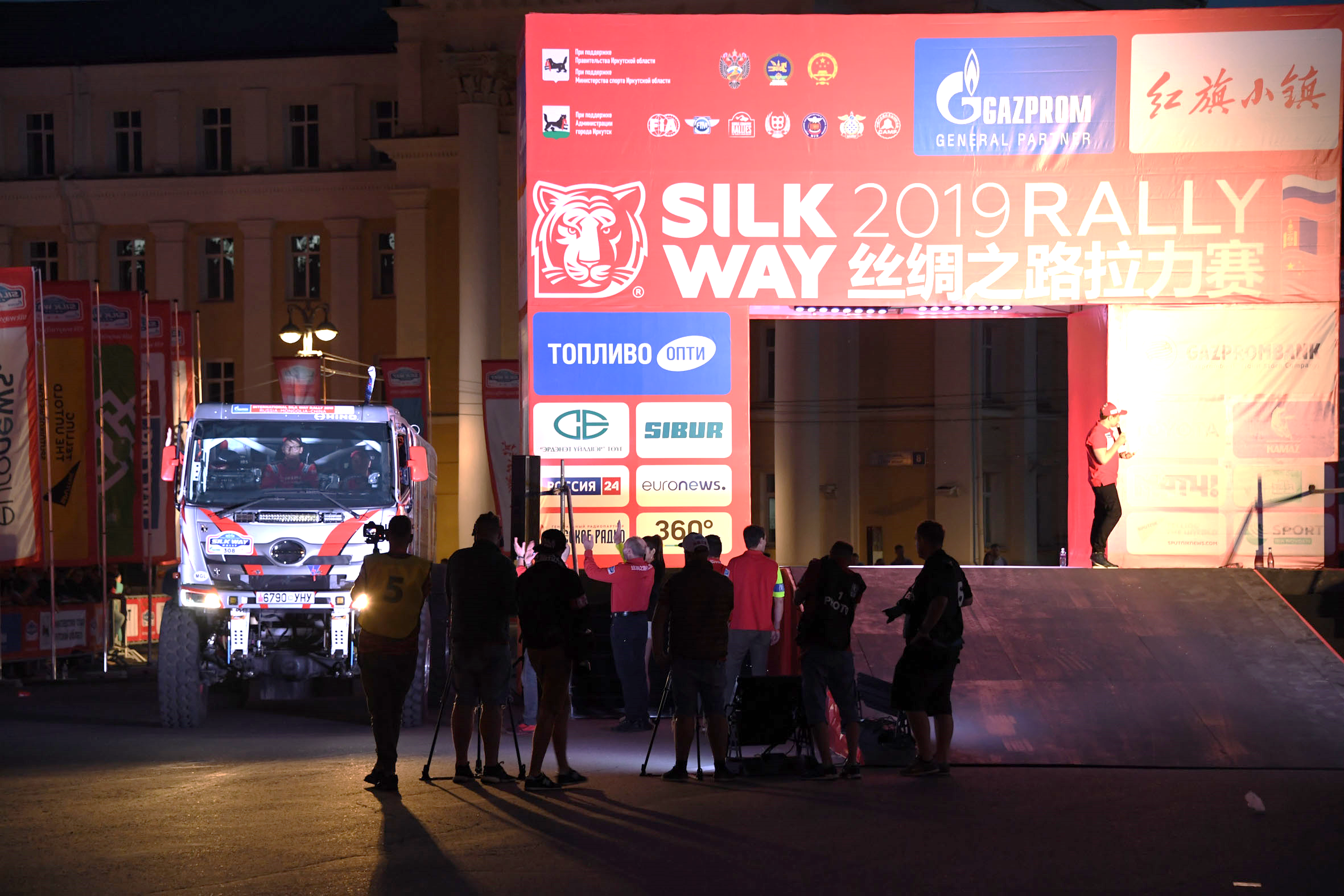 The start ceremony was held on July 6. Car 1 appears at the podium amidst cheering fans.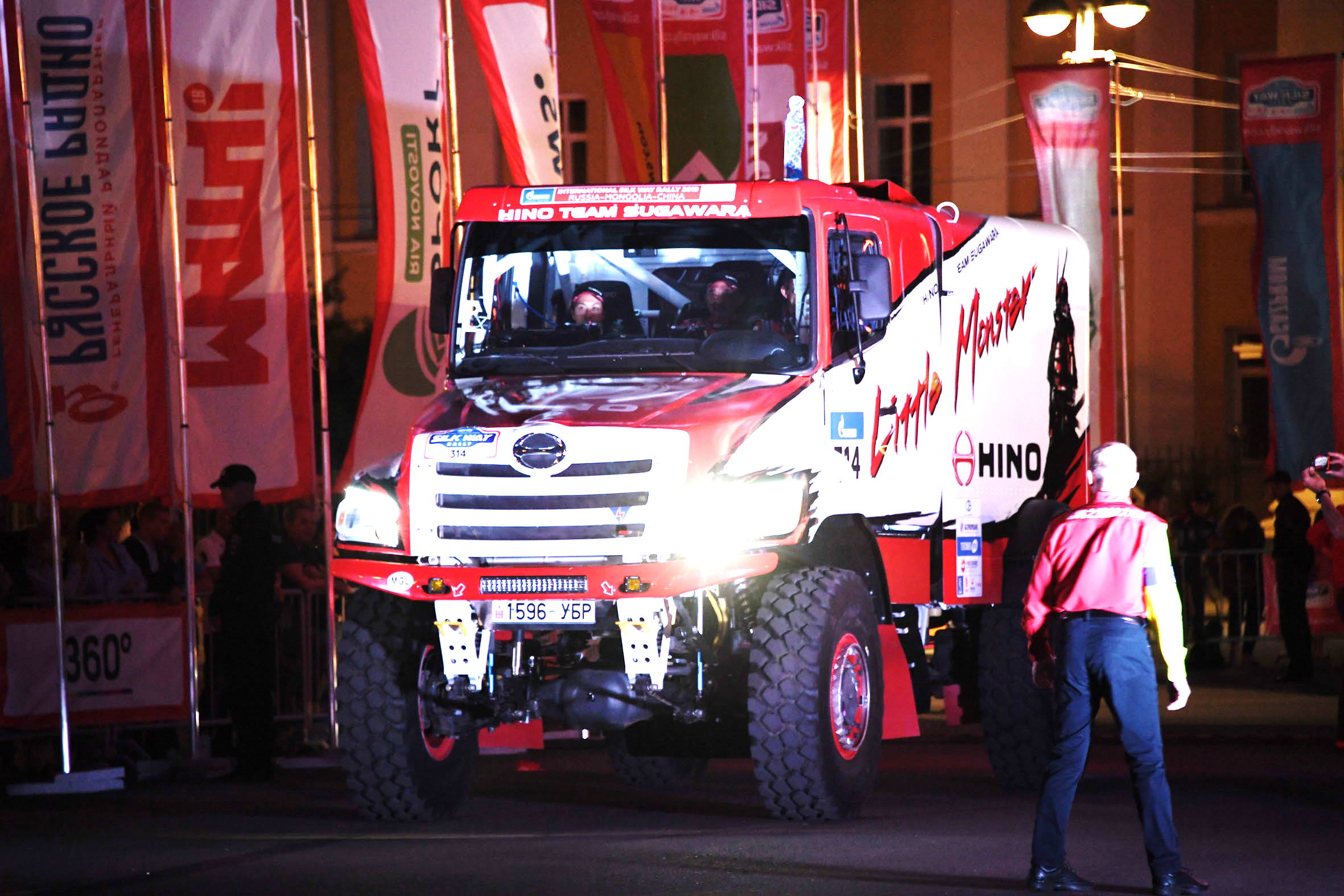 Car 2 leaves the podium after the ceremony.

The start ceremony for Silk Way Rally 2019 was held in Irkutsk, Russia―where the race will be starting off―at 7 pm on Saturday, July 6 local time. Both Hino Team Sugawara trucks―Car 1 based on the HINO500 Series truck and Car 2 based on the North America-exclusive model―appeared at the ceremony and the team came together to bolster their commitment going into the race which is to start on Sunday the 7th.
The team arrived in Irkutsk in late June and has been busy preparing for the race ever since. Both trucks passed the organizers' vehicle and document inspections on Friday, July 5 without any problems. The two racing trucks are now at the parc-fermes (vehicle storage area) adjacent to the start ceremony venue, waiting for the race to kick off.
A huge crowd gathered in Speransii Square in Irkutsk where the start podium was set up. The only event of the day was the ceremony, which meant that the racing vehicles that arrived at the podium returned to the parc-fermes after their appearance, ready to head out for the first stage in Baikal on Sunday morning the 7th.
A total of 97 racing vehicles―24 bikes, 3 quads, 54 cars, and 16 trucks―appeared at the podium. And even though it was nearly 10 pm by the time the Hino Team Sugawara's two trucks appeared by the podium (trucks arrive beside the podium because the podium cannot take their weight) the crowd cheered wildly as the team was introduced as one of the accomplished teams in the trucks category.
This year, the race will kick off in Irkutsk and take the racers through Ulan Bator, Mongolia before reaching the finish line in Dunhuang, China. With a total travel distance of 5007km and 2593km of special segments, this rally can be seen as a preliminary lead-up to the Dakar Rally. Among other things, the main racing grounds in the rally's Chinese stages have been set in dune areas making this the perfect run up to the Dakar Rally, and Hino Team Sugawara will be fighting this ten-day race with an eye on finishing in the top group in the trucks category of Dakar Rally 2020.
Teruhito Sugawara (Driver, Car 1):
I am excited to start this ten-day race since our preparations went very well and our trucks performed well in our final tests. This will be the first race for this team so I hope we can all gain experience and build on what we learn for future races.
Hirokazu Somemiya (Navigator, Car 1):
We are about to begin a long ten-day rally. While this will be my first rally and there are things that I'm not familiar with, I intend to make the best of my past experience and deliver solid performance. We are all communicating very well as a team and I hope to maintain this momentum for the whole ten days.
Yuji Mochizuki (Navigator, Car 1):
While there are many things that I'm not familiar with as this will be my first time navigating for a racing vehicle, I intend to learn everything about the race down to every detail. It would be ideal for the truck to not encounter any problems, but even if it does, I intend to do my best to make sure that our truck makes it back to the bivouac.
Ikuo Hanawa (Driver, Car 2):
We are doing very well so far. The first thing on my mind is to get used to the truck and the rally raid because it was only at the shakedown last month that I first actually drove the truck. I will be paying attention to the truck as we head for the finish line. I hope this race will be one that we can build on as we prepare for the Dakar Rally.
Yudai Hanawa (Navigator, Car 2):
I'm feeling a lot of excitement as well as nerves going into this ten-day race. I don't have a lot of experience in rallies or navigating so I would like to take this opportunity to learn. I will keep my mind on how I can help to make the driver drive comfortably and contribute to the team.
Seiichi Suzuki (Navigator, Car 2 and Technical Advisor):
I'm relieved for now since we completed the vehicle inspections without any problems and are ready to start the race. This is the first time we are racing an automatic transmission truck so our agenda for this race will be to see if it can perform well over dunes. This is a new truck so I will make sure that it makes it to the finish line.
Koki Seino (Mechanic Leader):
This will be the first Silk Way Rally for me. I intend to service the trucks to make sure that the drivers and navigators are able to race with peace of mind.
Hideaki Takatori (Mechanic):
There are some unknowns because we are racing Car 2 for the first time, but I intend to give it my best even if we come across any problems.
Masataka Nishiyama (Mechanic):
I have been involved with Car 2 from the prototype stage so I would like to check how this truck performs in the rally.
Shinji Kitagawa (Mechanic):
This will be my third rally so I would like to support our first-year mechanics and make sure that both of our trucks make it to the finish line.
Ryo Ishii (Mechanic):
This is my first rally so there is a lot that I'm nervous about, but I would like to learn from my senior mechanics and contribute to the team.
Yasunori Nagata (Mechanic):
This will be my first rally but I think we will be able to deal with any problem because we already have solid teamwork.
Keisuke Watanabe (Mechanic):
This is my first rally so there is a lot that I'm not familiar with but I intend to service our trucks to make sure that they can both finish the rally.
Yasufumi Watanabe (Mechanic):
This is my first rally and a part of me is feeling a bit frantic, but I would like to gain more experience as I contribute in my own way.
Koichiro Hoshijima (Mechanic):
This will be my first time on a rally team and I intend to perform my servicing work to a tee. I hope to enjoy everything, including the pressure.
Koji Yoshikawa (Mechanic):
I only joined the team in June so I would like to learn as much as I can about the Dakar Rally.
Iwao Kimura (Managing Officer, Hino Motors):
There is a lot of excitement since we're taking on this challenge with new trucks and a new team. Although it goes without saying that we want both trucks to finish the rally, we also hope that everyone will take on this challenge to the limits to achieve the lofty goals that we have set.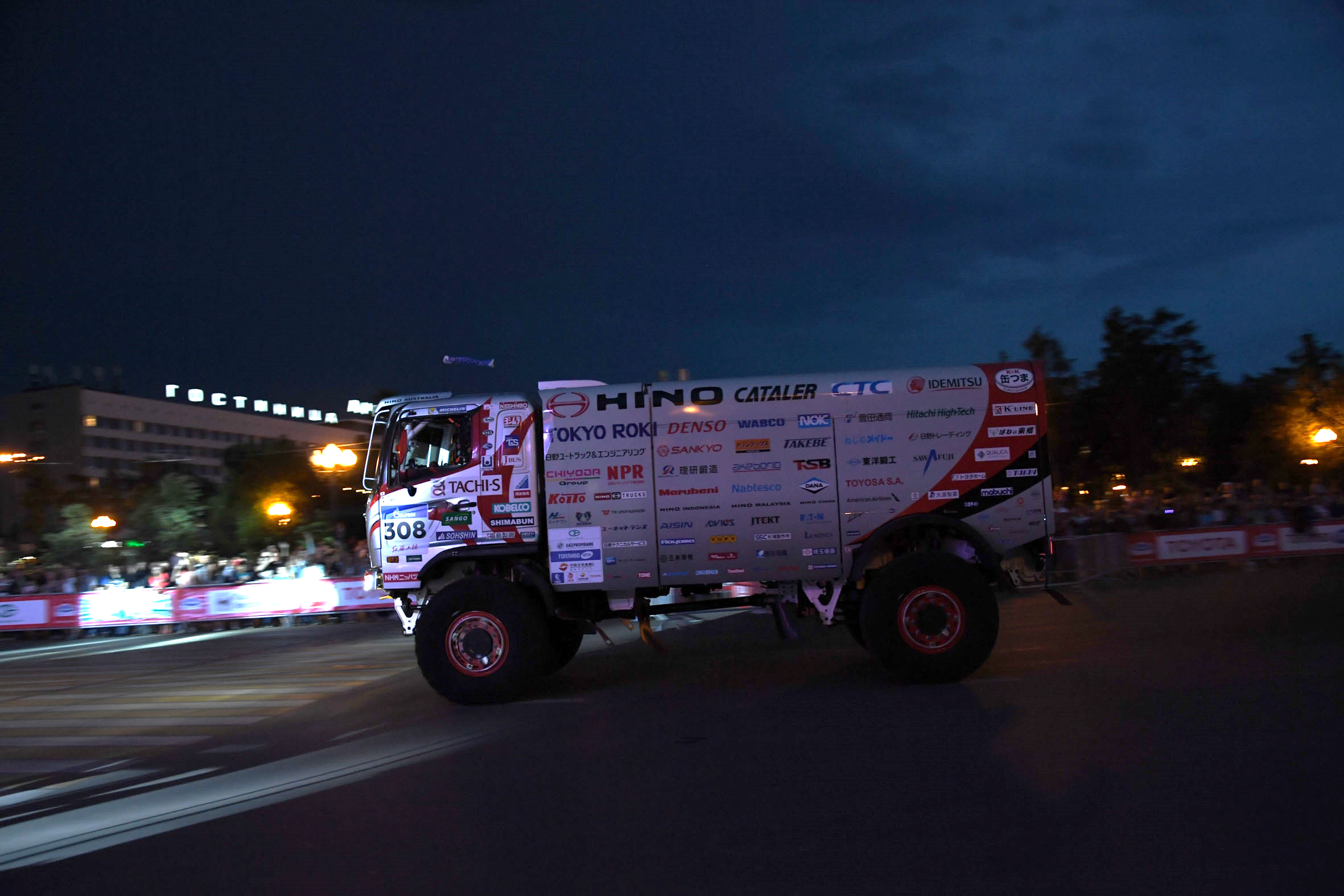 Car 1 heads out to the parc-fermes after the ceremony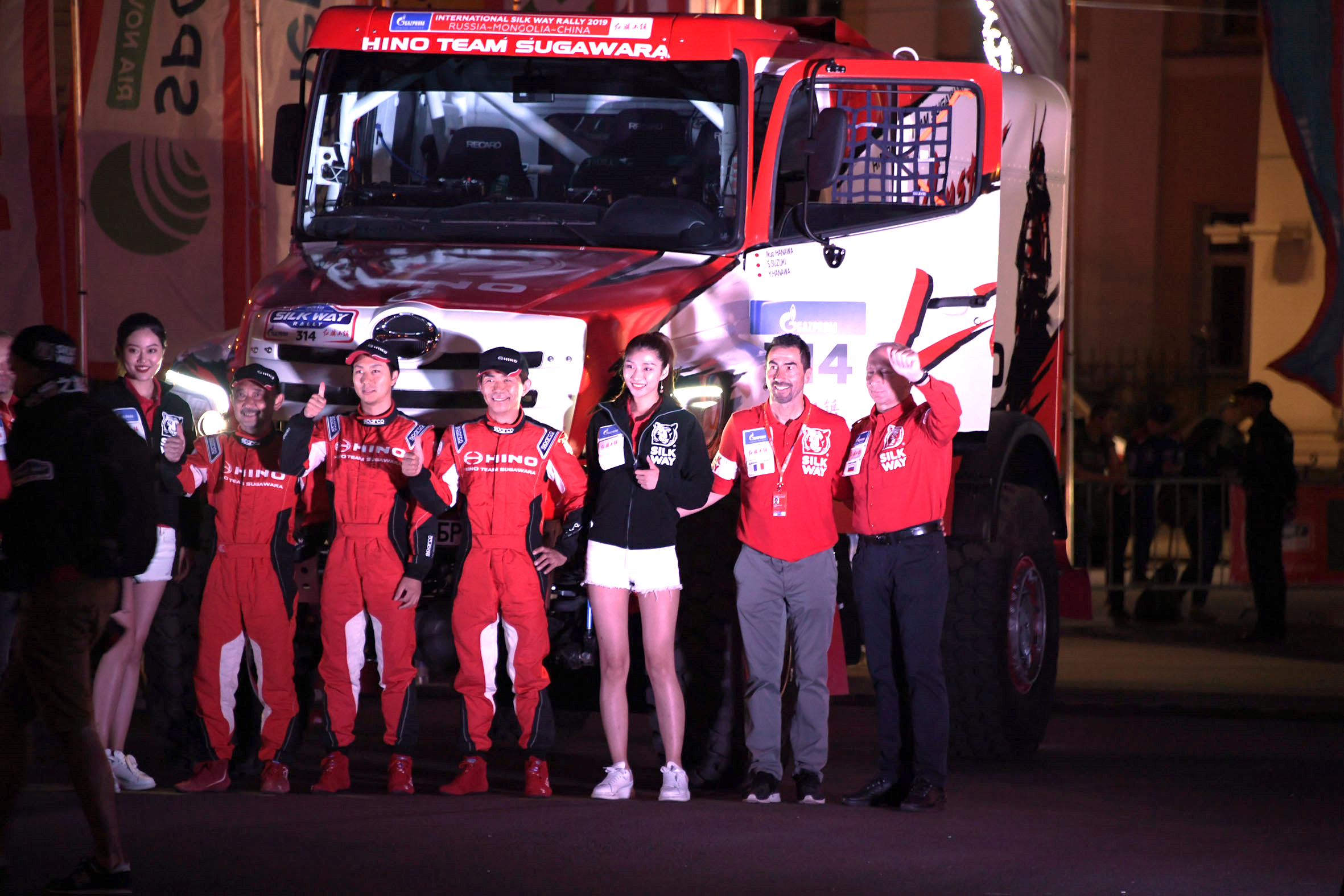 The Car 2 crew line up for a photo shoot during the start ceremony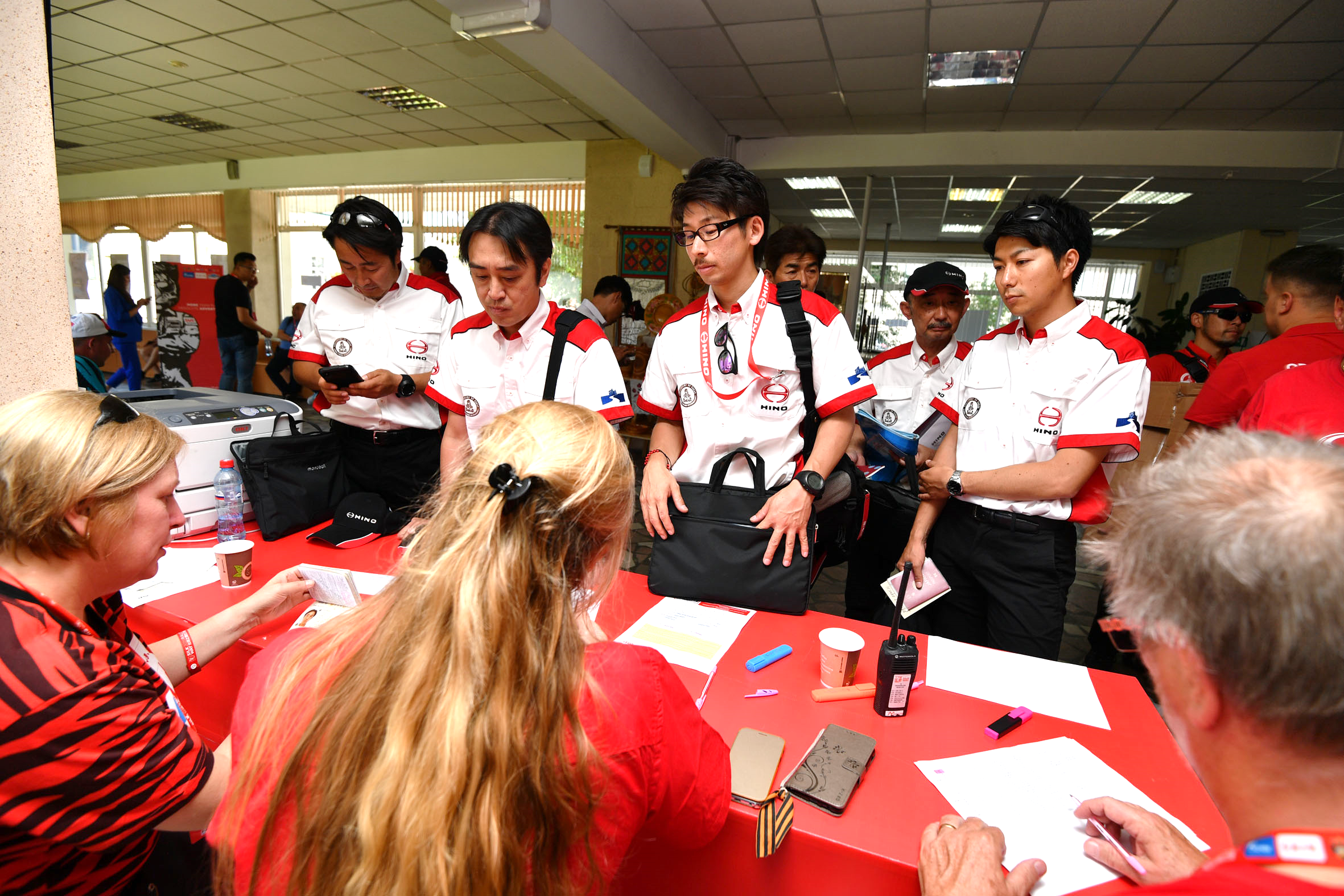 Friday, July 5: Crew members and other staff underwent document checks, or the so-called "personal inspections."
Helmets and other equipment were also subject to inspection during the vehicle inspection on Friday, July 5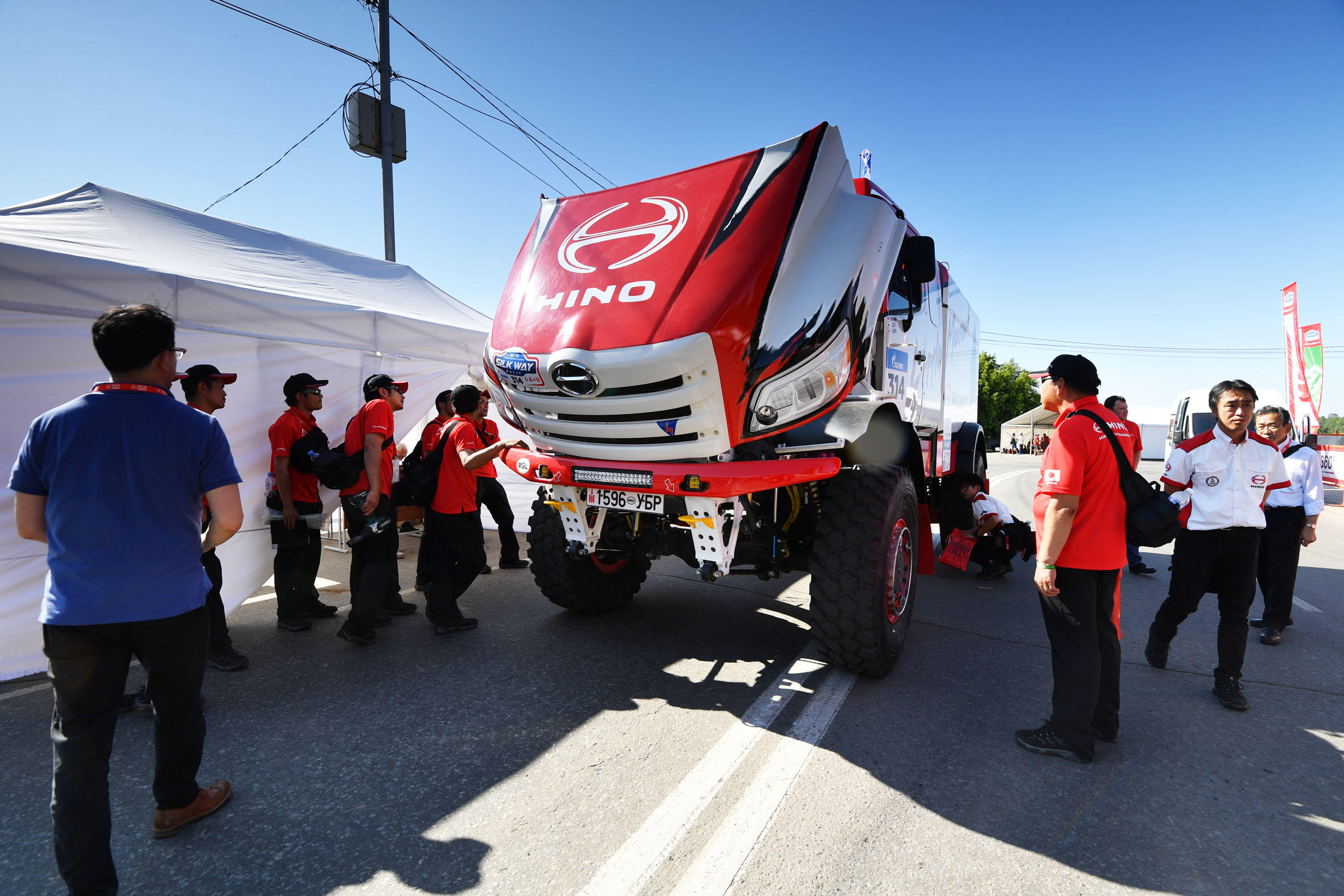 The racing machines were checked down to their details during vehicle inspection Mechanics carry out the instructions given by the officials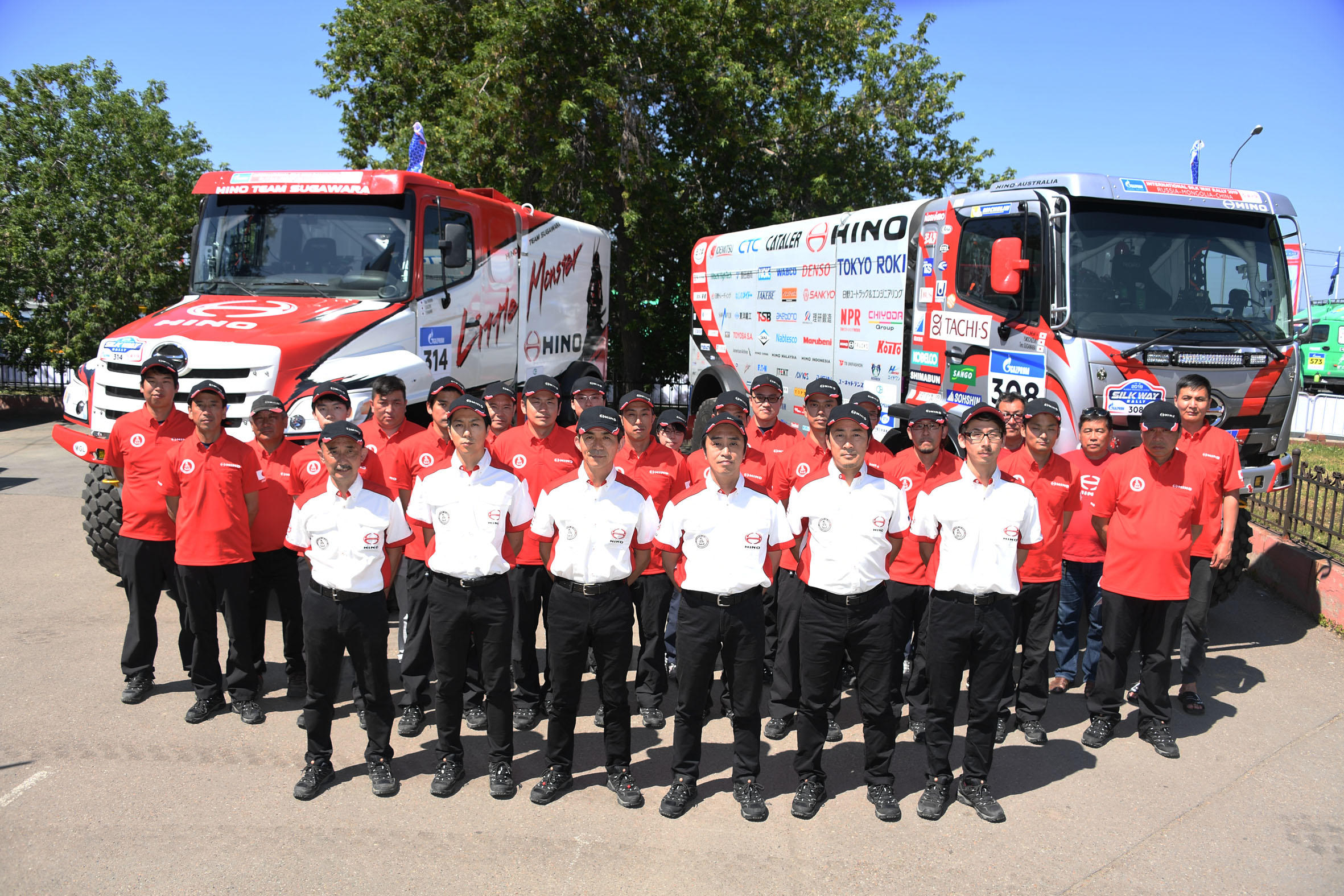 The entire team lines up for a group photo before vehicle inspections Team vows their solidarity going into the ten-day battle starting on July 7