STAGE10:13th Place Finish After Smooth Racing in Intermountain SS. Team thoroughly inspects truck for the last long SS of the event.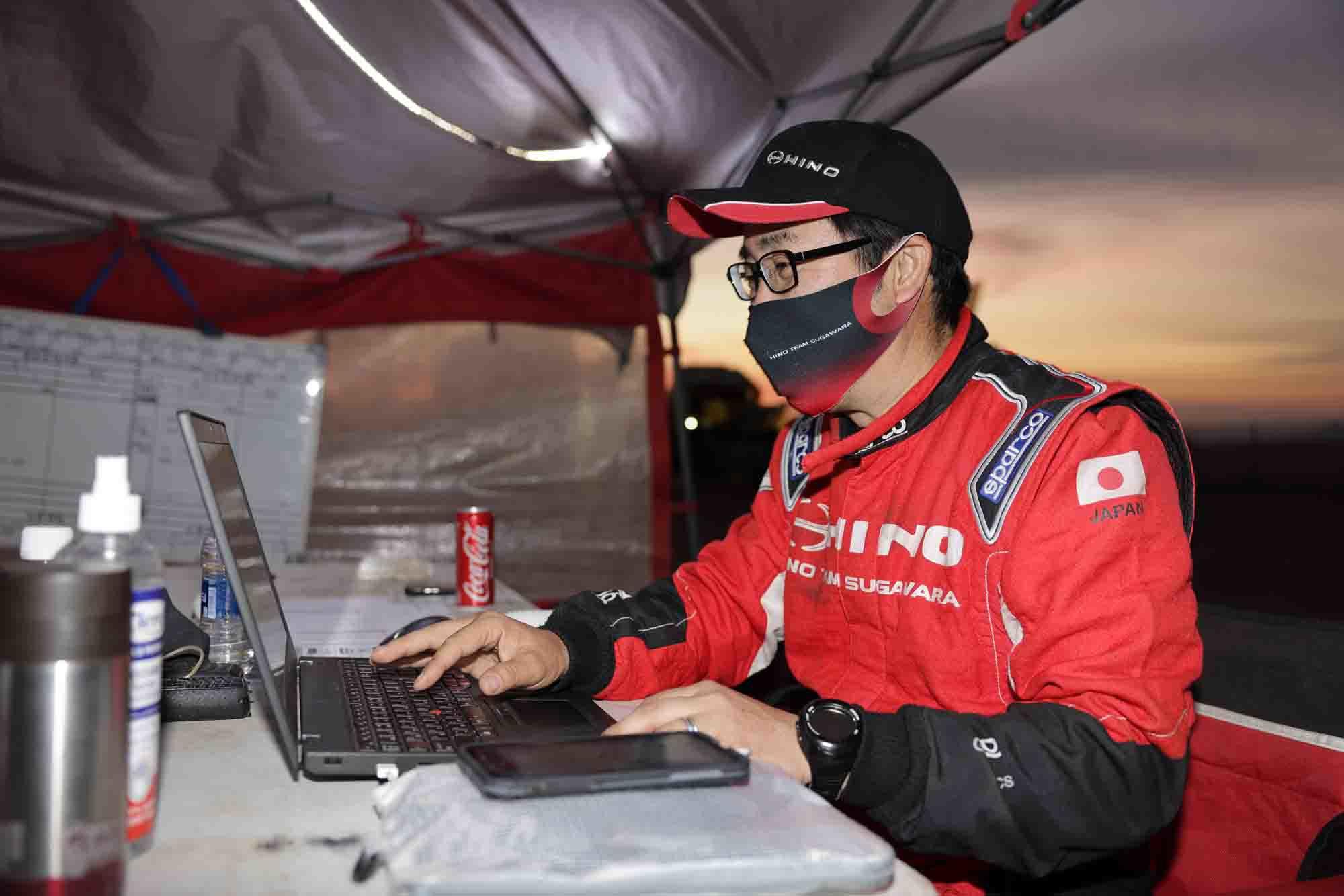 Hirokazu Somemiya goes over the route they will be racing on tomorrow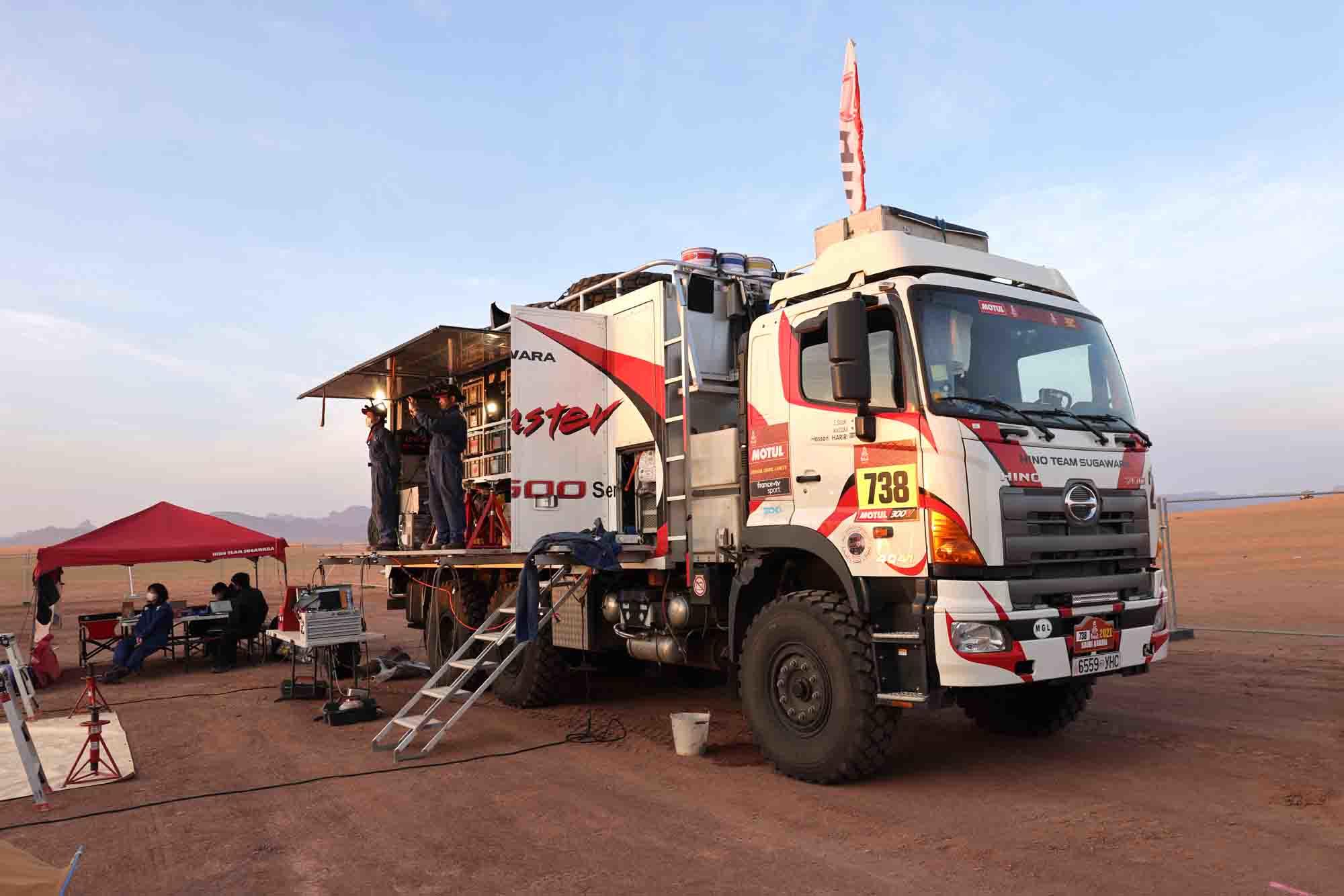 Team's support squad waits for the HINO500 Series truck to arrive at the AlUla bivouac
 The stage on Jan 13 took contestants from Neom to AlUla. Upon finishing a day of smooth racing in an intermountain area that was also a part of last year's event, HINO TEAM SUGAWARA's HINO500 Series truck crewed by Teruhito Sugawara, Hirokazu Somemiya, and Yuji Mochizuki came in at 13th place overall in the Truck Division with a time difference of 32 minutes and 45 seconds behind the top position truck.
 This day, contestants took a 83-km liaison out of Neom on the Red Sea coast to a hilly region in the interior where a 342-km SS started off, taking them in a south-southeasterly direction along a range of mountains. Elevations ranged between 1100 and 200 meters, and road surfaces were nearly equally split between sand and gravel. While some sections kept racers from picking up much speed -- sandy surfaces with grassy outcrops and hilly or rocky sections -- the latter half of the stage featured longer courses that allowed for smoother racing than had been expected.
 The HINO500 Series truck crew continued to race the SS at full steam and crossed the finish line not that far behind the leading group. Having encountered no tire punctures or other major problem, the truck and crew concluded the timed section in good shape. After the SS, the crew took another liaison 159 km long to the bivouac in AlUla. Surrounded by mountains in all directions, the camp was located on a terrace at an elevation of 600 meters where temperatures would become quite frigid at night. The HINO500 Series truck arrived at the bivouac at just about dusk minutes past 6:00 pm.
 For tomorrow, Jan 14, officials have cut short the last portion of the scheduled 511-km SS -- the longest SS of the event -- by 47 km due to bad road conditions caused by inclement weather in the area. As a result, racers will be competing on a 466-km SS. According to some sources, the SS will be confronting crews with dunes over long distances. Mechanics went to work performing thorough inspections and servicing on the truck.
 Dakar 2021 is finally on its home stretch. As of the end of competition this day, HINO TEAM SUGAWARA was ranked at 13th place overall in accumulated standings in the Truck Division, and maintained their top position in the Under 10-litre Class with a huge lead over other trucks in the Class. With only a few more stages to go, team members rolled up their sleeves to aim for a higher standing.
Teruhito Sugawara
We were prepared for bad roads like what we had yesterday, but these sections were actually rather short so things didn't get that tough. While we are currently not in direct competition with any particular truck in terms of time, we will continue to push and drive as fast as we can each day.
Hirokazu Somemiya
There were sections early in the day where we had to branch off from areas where a lot of ruts ran in parallel, and it was difficult to match these branches with the cup (bearing) instructions I was seeing in the roadbook. Other than that, it was business as usual.
Yuji Mochizuki
To the extent that the distance was short today, things were easier for me physically. But we did come across tough road surfaces including wadi (dried riverbed) sections and sections with lots of rocks.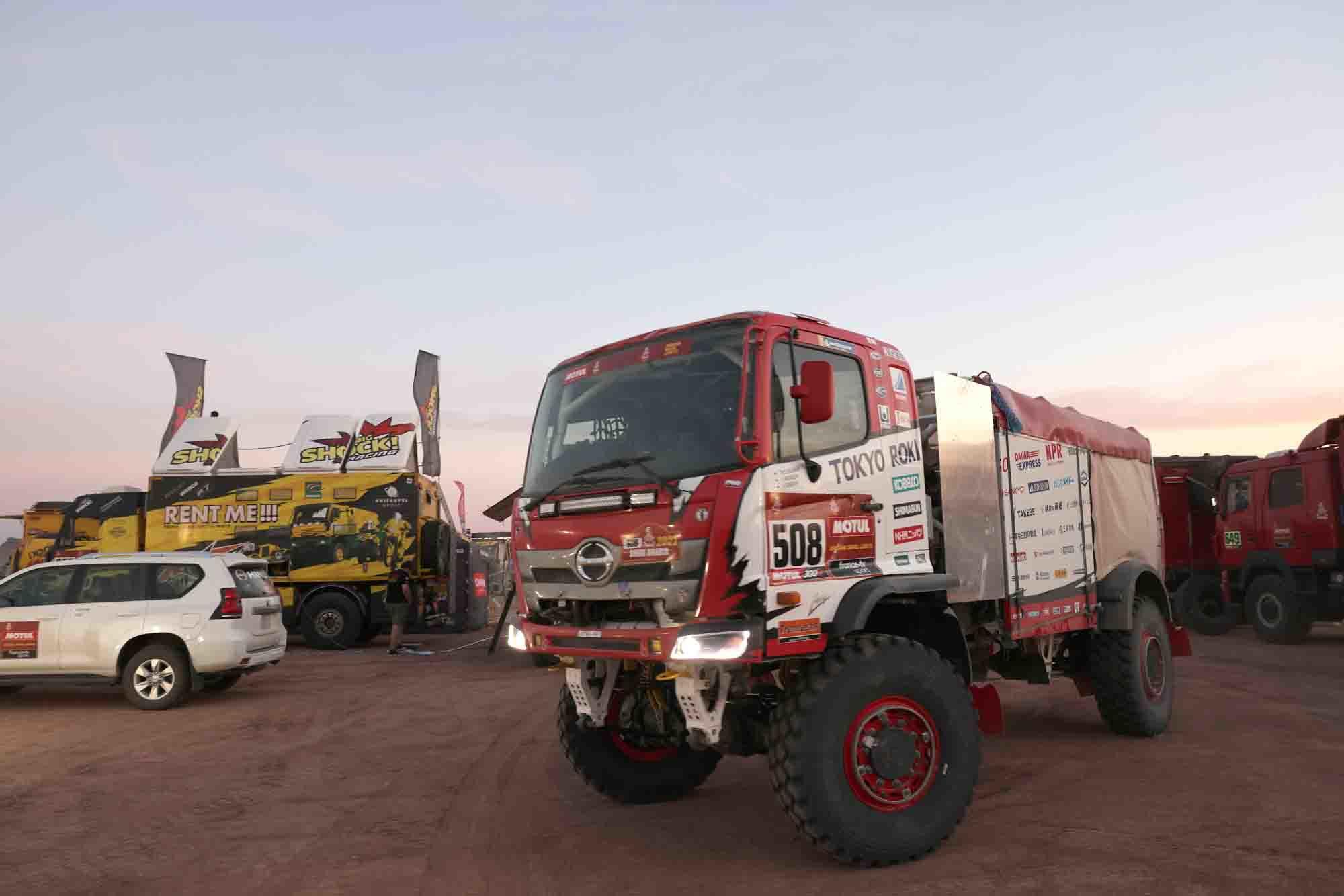 It was dusk by the time the team's HINO500 Series truck arrived at the bivouac in AlUla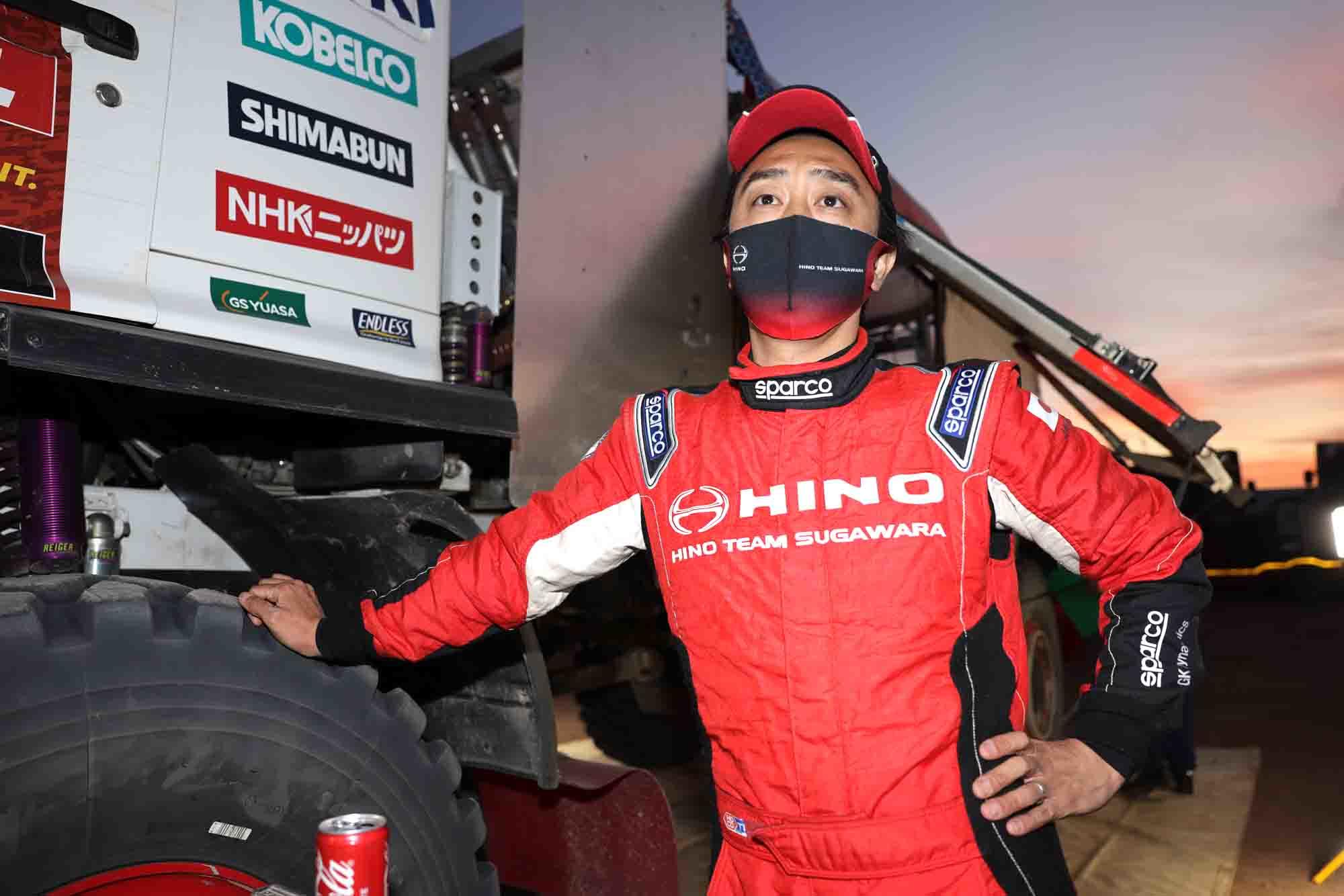 Teruhito Sugawara looks back on the SS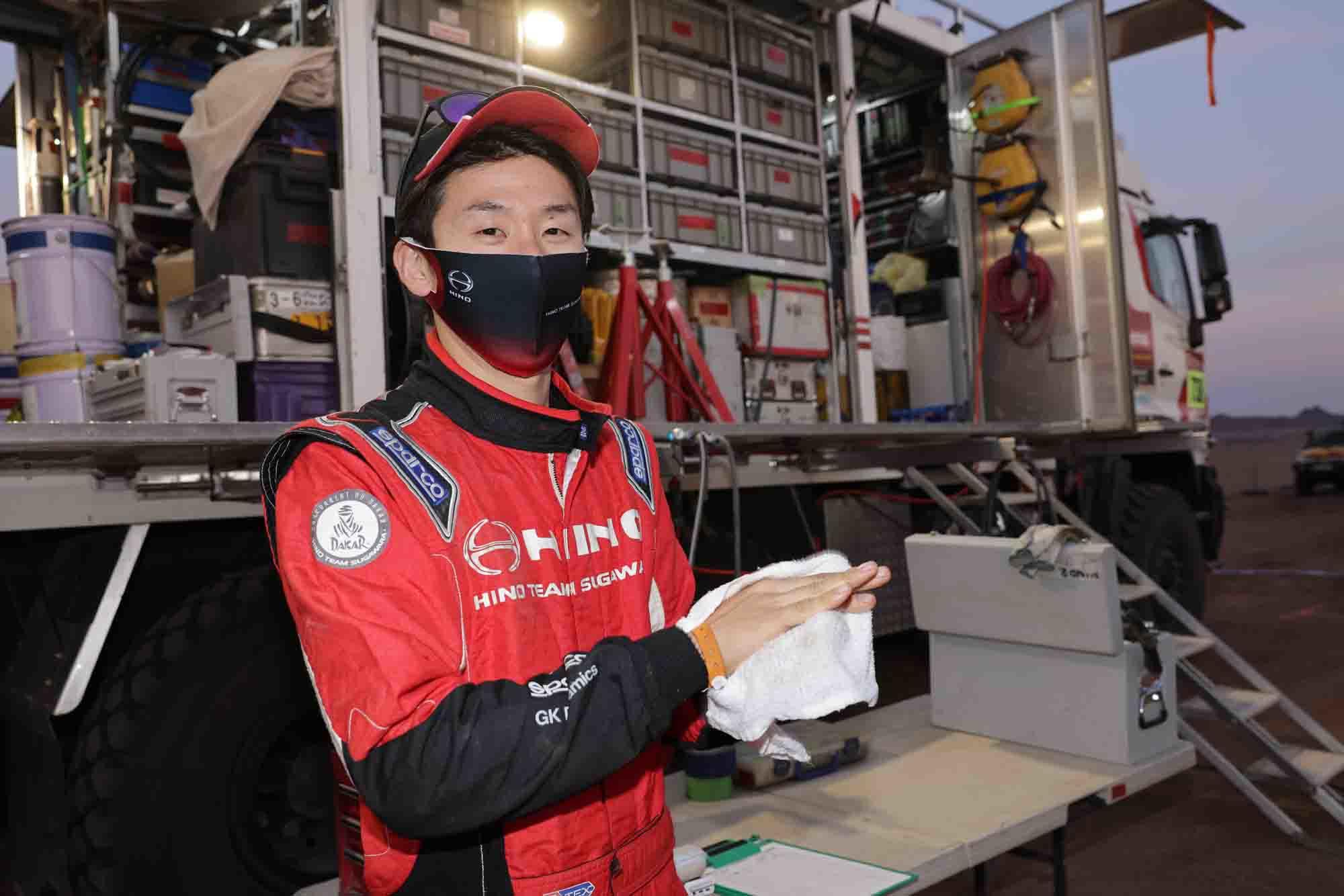 Yuji Mochizuki takes a breather after the SS