Hino Motors Races Dakar Rally 2018 and Sets Three New Records:
Ninth straight win in its class, 27th consecutive finishes, and 35 consecutive starts for Yoshimasa Sugawara
Team also finishes 6th in overall rankings in the trucks category, higher than last year
Hino Motors, Ltd. (hereafter referred to as "Hino") entered two HINO500 Series trucks in the trucks category of Dakar Rally 2018 which ran from Jan. 6 thru 20, 2018 across host countries Peru, Bolivia, and Argentina. In this year's event, driver Teruhito Sugawara (45 years of age) won the championship in the Under 10-litre Class in the trucks category, extending the team's winning streak in this class to nine, making this a team record. With the leading pack mostly dominated by larger trucks powered by 10 litre-plus engines, the team made the best of the mobility of its HINO500 Series medium-duty truck as well as Teruhito Sugawara's driving skills and extensive rally experience, finishing at 6th place, higher in rankings than 8th of last year.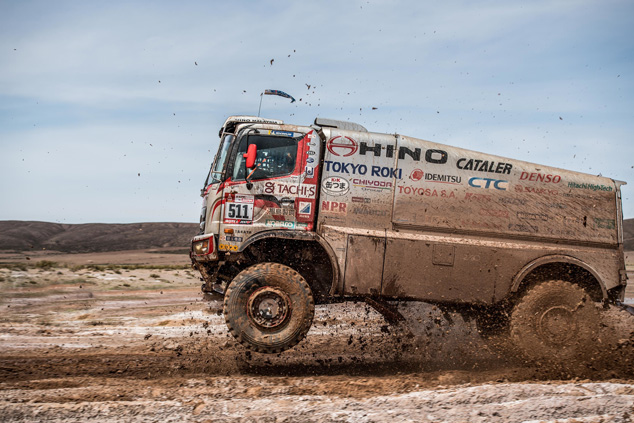 Looking back on this year's rally, Teruhito Sugawara says, "The course designs were much tougher than we expected and lots of the teams were having trouble. So I think our ranking position was not by virtue of any luck or mistakes made by the competition, but a demonstration of how well our truck has evolved. This was the 20th Dakar Rally for me personally, and I'm glad that we were able to finish with these kinds of results. I'm satisfied as I think we were able to fully exploit our current potential.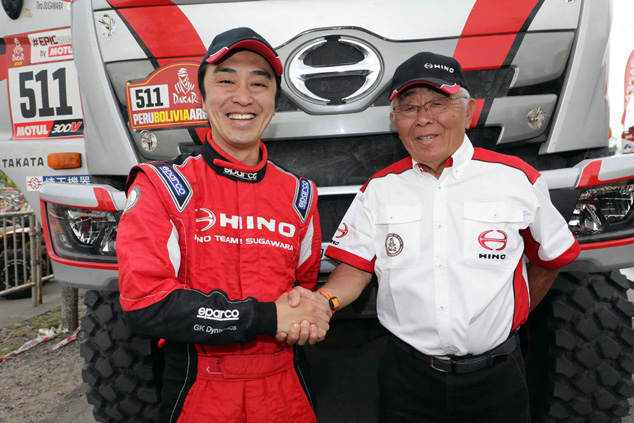 Driver Yoshimasa Sugawara (76 years of age), aka the "Ironman of Dakar," also rewrote the world record for the most consecutive starts in the Dakar Rally to 35 from the time he first entered the then Paris-Dakar Rally in 1983 in the motorbikes category. While he was forced to exit this latest rally after his truck got stuck in a dune in stage 2 early in the rally, he says, "I've always maintained that the Dakar Rally is the 'school of life.' It appears that the god of Dakar Rally doesn't want me to graduate just yet. I am going to leave all of that behind and get to work for next year's rally. Teruhito did really well considering how the course designs were very difficult this year," congratulating his son for his stunning performance and asserting his own determination to enter next year's event.
This year also marked the 27th consecutive finish for Hino since it became the first Japanese maker of commercial vehicles to enter this rally in 1991. On January 20, Hino chairman, Yasuhiko Ichihashi, who was present at the goal ceremony in Córdoba, Argentina remarked, "Listening to team members on how the rally was going, I was reminded that the Dakar Rally truly was the 'world's most grueling rally.' Given these conditions, I think the fact that Hino has finished this rally for 27 years straight, Mr. Teruhito has extended the team's class win to nine, and our medium-duty HINO500 Series trucks fought neck and neck against much larger trucks finishing at 6th overall are things that we can be proud of as a truck maker from Japan. We are committed to work with Messrs. Yoshimasa and Teruhito Sugawara, and continue with our challenge as 'Team Hino.'"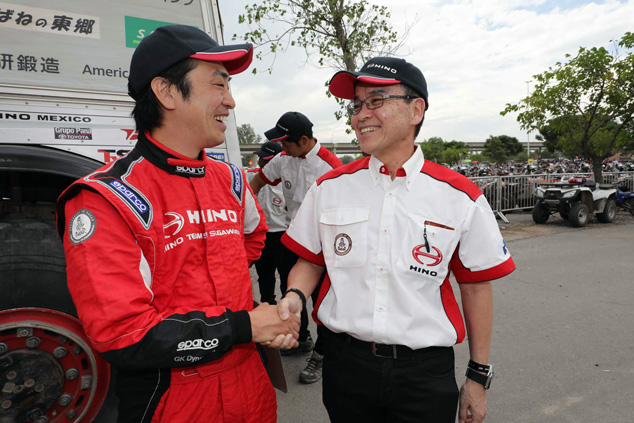 By taking part in the world's top level race, Hino aims to share the excitement of racing with customers and motor sport fans around the world, and build on the spirit of challenge and technological capabilities honed through this experience to deliver products and services that benefit our customers around the world.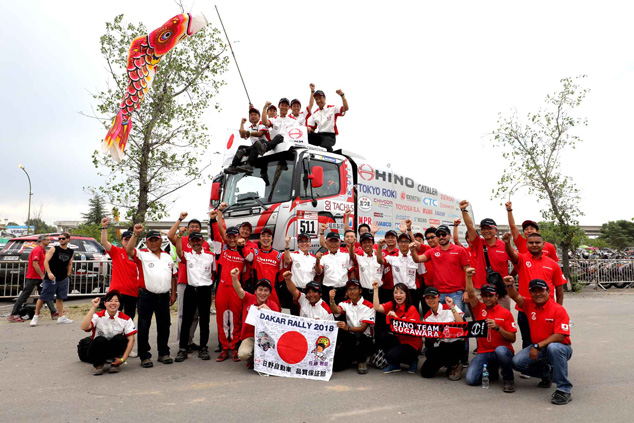 Please visit our official web site for information on Hino Motor's activities in the Dakar Rally and details on this year's event.
https://www.hino-global.com/corp/dakar/
Photos included in this release are available for download at the site.