Hino Motors Develops World's First Emergency Driving Stop System (EDSS) for Commercial Vehicles To be launched on the Hino S'ELEGA this summer
Products & Technology
May 21, 2018
Hino Motors, Ltd. ("Headquarters: Hino, Tokyo; President and CEO: Yoshio Shimo; "Hino") has developed an Emergency Driving Stop System ("EDSS") which assists in causing the vehicle to stop in the event that the driver is incapacitated by sudden illness or other cause. This system is scheduled to be introduced as standard equipment on "Hino S'ELEGA" large sightseeing coaches this summer and will be the world's first(*1) such system to be equipped on commercial vehicles.
*1: As of May 21st 2018, according to Hino's survey
At Hino, we are engaged in the development of safety technologies based on our aim to actively contribute to concept "Zero traffic accident casualties". In recent years, we have seen a number of accidents resulting from sudden deterioration in driver health, and we have been developing technologies to handle this issue.
In accidents that result from an onset of sudden driver illness or other incapacitating condition, the vehicle will continue traveling uncontrollably and this can potentially lead to secondary accidents such as the vehicle veering into the opposite lane or crashing into guardrails. An effective way to reduce such risk would be to bring the vehicle to a stop as soon as possible after the onset of the problem. Because many of our customers also told us that they wanted a system that would stop the vehicle during these emergencies, and we, as a commercial vehicle manufacturer, felt that we should strive to provide as quickly as possible technologies that would help prevent such accidents, we have commercialized EDSS(*2) which is designed to stop the vehicle when the emergency brake switch is pressed. We will be launching this system this summer as standard equipment on our large sightseeing coaches "Hino S'ELEGA."
We will keep on carrying out ongoing functional developments and continue to work towards enhancing safety function.
*2: Complies with "Emergency Driving Stop System" technological guidelines set forth by the Ministry of Land, Infrastructure, Transport and Tourism
Primary functions
This system is designed to stop the vehicle when the driver is incapacitated due to a sudden illness or other reason. When the driver or other crew member presses the emergency stop switch located at the driver's seat, or a passenger presses a switch located above the passenger seat, the vehicle begins braking to gradually slow down until it comes to a stop. During this process, an emergency buzzer sounds and lamps built into the switches flash, and the red flashers flash to alert passengers inside the vehicle of the emergency. The system also sounds the vehicle's horn and flashes its brake lamps and hazard lamps to alert other road users of the problem.
System function schematic

Emergency braking switch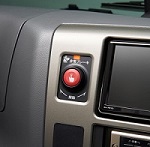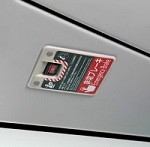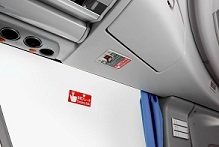 Red flashers