Hino Motors Holds Grand Opening Ceremony for its New Plant in West Virginia, USA
On Aug 21, Hino Motors, Ltd. (Hereafter "Hino." HQ: Hino, Tokyo. President: Yoshio Shimo), Hino Motors Sales U.S.A. (Hereafter "US Hino Sales." HQ: Novi, Michigan. President: Shigehiro Matsuoka), and Hino's production subsidiary Hino Motors Manufacturing U.S.A. (Hereafter "US Hino Manufacturing." HQ: Novi, Michigan. President: Takashi Ono) held a grand opening ceremony for the company's new plant in Mineral Wells, West Virginia. Those present at the ceremony were distinguished guests including state governor Jim Justice, West Virginia senators Joseph Manchin and Shelley Moore Capito, West Virginia congressman David McKinley, representatives from dealerships and suppliers, as well as Hino CEO Yoshio Shimo, US Hino Sales president Shigehiro Matsuoka, and US Hino Manufacturing president Takashi Ono.
The entire Hino group has been working together to bolster our business structure in ways that enable us to provide ongoing value to our customers and societies under our "Challenge2025*1" initiative. In order to strengthen our foundations in the US, and to grow our markets in the Americas, including the US, into our third pillar along with Japan and Asia, we have continued to expand our product line-up in the US and moved forward with production localization. As part of these efforts, we have relocated and consolidated our existing production processes at the new West Virginia plant to achieve even greater efficiency improvements. Moving forward, we plan to transfer the production of truck cabs for the North American market--which is currently being done in Japan--to this plant. We have also shortened product delivery lead times, established organizational setups with a view of increasing sales going forward, are taking actions to further improve our competitiveness, and the plant has begun full-fledged operations in June of this year. Additionally, we will also begin the delivery to customers of our high-horse-power medium-duty truck model (XL series) from the end of this August.
Hino CEO Yoshio Shimo announced, "Hino is committed to building its trucks and products in the market it operates in. We have committed 100 million dollars in our US operations--which includes the construction of our new West Virginia plant--and create 250 jobs. Today, I am excited to announce an additional commitment of 40 million dollars in investment to meet increased demand and product configurations and 250 additional jobs, as part of our effort to enhance the foundations that will underlie our further growth in the US. Hino remains committed to taking active actions that will enable us to contribute to the growth of the US and the state of West Virginia."
State governor Jim Justice responded, "Hino has been a tremendous partner to the state of West Virginia since 2007. With this additional investment and hiring, they continue to be one of the West Virginia's biggest employers. We thank Hino for their continued investment in the great state of West Virginia."
To achieve our vision embodied in our slogan "Trucks and buses that do more," Hino focuses on our Three Directions, namely, "Best-fit products incorporating safety and environmental technologies," "Total support customized for each vehicle," and "New activity areas." In order to provide our customers and societies with these values on an ongoing basis, we are committed to taking on every challenge.
*1:Announced on Oct 30, 2018.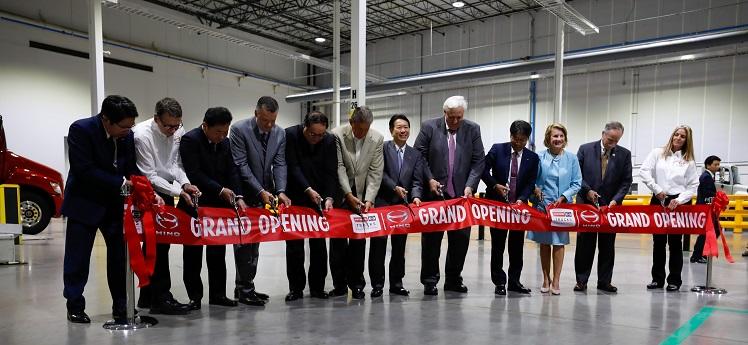 <Overview of the new plant>
| | |
| --- | --- |
| Name | West Virginia plant, Hino Motor Manufacturing U.S.A. |
| Location | Mineral Wells, West Virginia |
| Area | Approx. 378,000㎡ |
| Function | Production of Hino vehicles for the US market |
| Products produced | Medium-duty trucks |
| Operations launched | June 2019 (vehicle assembly) |
| Production capacity | 24,000 units per year (with two-shift) |
| Employees | Approx. 470 (as of Aug 2019) |
| Investment | Approx. 140 million dollars |