Hino Motors Philippines Holds Opening Ceremony for New Total Support Core Facility to Support Customers' Businesses
On September 5, Hino Motors, Ltd. (Hereafter "Hino." HQ: Hino, Tokyo. President: Yoshio Shimo) and the company's sales and manufacturing subsidiary in the Philippines, Hino Motors Philippines Corporation (Hereafter "HMP." HQ: Kanruban Industrial Park, Calamba City. President: Mitsuharu Tabata) held an opening ceremony for their "Technical Support and Training Center (TSTC)."
As part of our effort to bolster our business structure in ways that enable us to provide value to our customers and societies under our "Challenge2025※" initiative, we are committed to enhancing our "Total Support" operations which underlie our efforts aimed at supporting our customers' operations. In recent years, new unit sales in the Philippines--situated in the ASEAN region which we position as our second pillar after the Japanese market--has been growing particularly robustly, and the increase in the number of units owned has increased the need for us to provide our Total Support in a more finely tuned manner. Hino Philippines positions the TSTC as its core facility for driving Total Support, and this has been the impetus for this latest upgrade.
With a "workshop" that features the latest facilities, a "training center" that supports HR training programs that cater to a diverse range of needs, and a "parts warehouse" with its improved working efficiency, the TSTC, which was newly built on HQ premises, offers enhanced Total Support in both the hard and soft aspects. With optimized traffic lines on the workshop's premises, and roof-top solar panels that are slated to provide its power, the site is designed with safety and the environment in mind.
Mitsuharu Tabata, president of HMP, had this to say at the opening ceremony," Putting our top aftersales service in the front line, it is our goal for every partner to experience quality aftersales service and a dedicated service team. As HMP's answer to governments call of establishing inspection system, HMP has also built a Motor Vehicle Inspection System or MVIS.TSTC is not only about maintaining your vehicles, but it also offers training and development to our partners. This is to make sure that every mechanic in the Hino Dealer Network is equipped with proper training to provide quality service."
Hino chairman, Yasuhiko Ichihashi remarks, "For further contribution to society, besides providing better product, we have announced the idea of "Total Support". Since unit in operation also have increased to about 13,000 units with sales growth, it will become important to satisfy customers demand for aftersales services. Hino Motors will help customers business and contribute to develop Philippine society through continuous support to HMP. "
Hino is focused on the Three Directions that it defines in its "Challenge2025" initiative --"Best-fit products incorporating safety and environmental technologies," "Total Support customized for each vehicle," and "New activity areas." In order to provide our customers and societies with these values on an ongoing basis, we are committed to taking on every challenge.
*" Published on Oct 30, 2018
<The TSTC exterior>

<The overall site>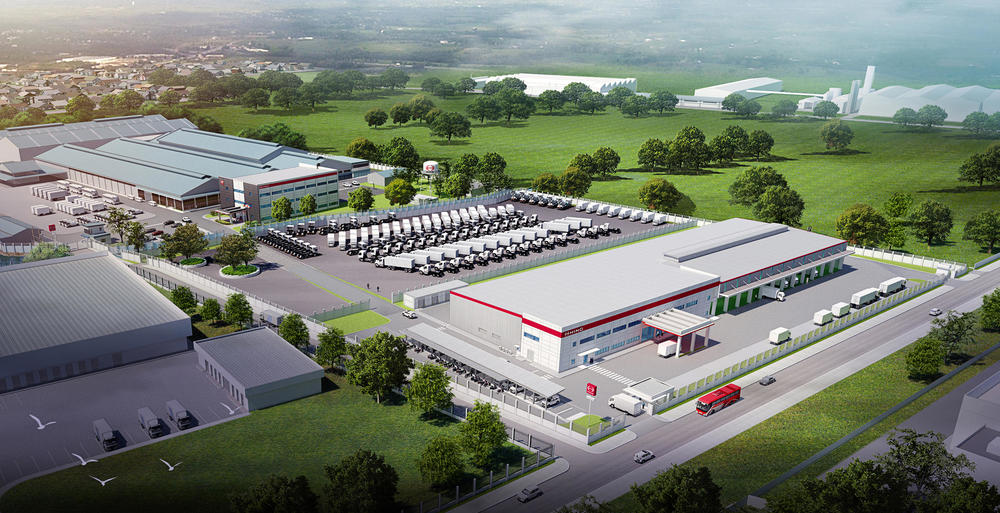 <TSTC overview>
Name

Technical Support and Training Center

(TSTC)
Location
Kanruban Industrial Park, Calamba City, Republic of the Philippines
Site area
Approx 15,900㎡
Facilities and functions
Workshop, training center, parts warehouse
Operations launched
Jul 29, 2019
<Overview of Hino Motors Philippines>
Name

Hino Motors Philippines Corporation

(HMP)
Location
Kanruban Industrial Park, Calamba City, Republic of the Philippines
Site area
Approx. 57,000㎡
President
Mitsuharu Tabata (Hino)
Capitalization
900 million pesos
Capital composition
Hino 70%, Marubeni 20%, PMI 10%
Business operations
Import, assembly, wholesale, retail, and truck/bus bodywork of vehicles (heavy-, medium-, and light-duty trucks and buses), components, and spare parts.
Models produced
Light-duty trucks and buses
Production capacity
Approx. 1,000 units/year (one shift)
Sales performance
2,877 units in 2016, 4,030 units in 2017, 3,928 units in 2018, 4,350 units in 2019 (projected)
Employees
900 (as of Aug 30, 2019)
End of release