Hino Motors to Showcase a Concept Model and Other Exhibits that Enable Super Versatile Optimization of Lifestyles at the 46th Tokyo Motor Show 2019
Event Products & Technology
Oct 9, 2019
―Our rich and sustainable future as envisioned by Hino to be expressed in an animation―
Hino Motors Ltd. (Hereafter "Hino" HQ: Hino, Tokyo, President & CEO: Yoshio Shimo) will be exhibiting a concept model that will enable us to super versatilely optimize our lifestyles, as well as the "HINO Profia Hybrid" truck equipped with the world's first technology released this year in June at the "46th Tokyo Motor Show 2019" (organized by the Japan Automobile Manufacturers Association) held at Tokyo Big Sight (Koto-ku, Tokyo) from Thursday, October 24th thru Monday (holiday), November 4th.
Hino Motors' exhibition theme is "Transporting Every Happiness". This embodies our to desire to transport happiness to all people in all corners of the world, and expresses the prosperous and sustainable future envisioned by Hino with concept models and animations. In addition to introducing "advanced technologies that will lead to the future", our booth will also display the "HINO 500 Series" Dakar Rally 2019 racing truck. The Hino stand is located in Aomi Exhibition Hall A, Tokyo Big Sight.
【Main exhibit contents】
■A super-versatile mobility concept that optimizes our lives "FlatFormer" [World Premiere·reference exhibit]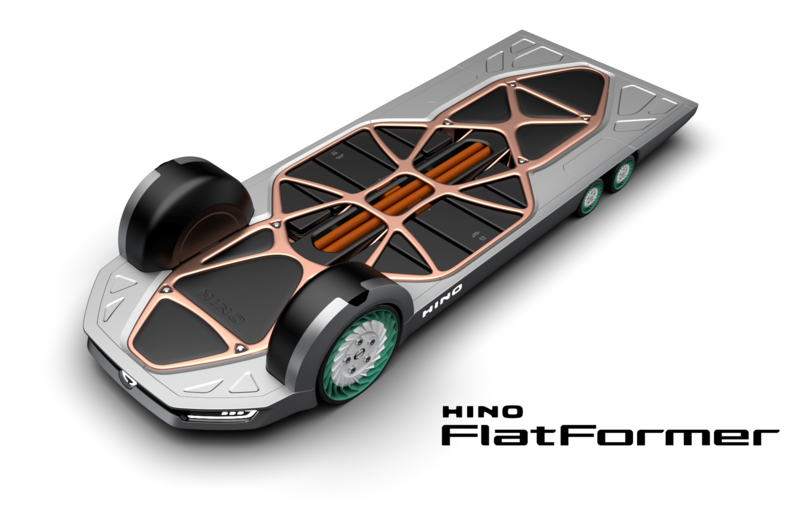 FlatFormer will change the concept of mobility forever. Not only will it bring greater efficiency to the mobility of people and goods, but it will evolve mobility into a space where value is provided to people through services. While there are diverse range of services that enrich our lives, mobility, the provider of these services must also be "super-versatile." The elements that bring super-versatility into reality are mobility platforms that maximize usable space, and service platforms that ensure the optimal use of these spaces. With FlatFormer, services themselves become mobile. By sparking metabolism of old and new in our lives and communities, FlatFormer can dynamically vitalize our urban areas and create prosperous and sustainable societies where people can connect with each other and each individual is able to achieve happiness.
FlatFormer main specifications
| | |
| --- | --- |
| Model | FlatFormer |
| Dimensions (length × width × height, mm) | 4,700 x 1,700 x 335 |
| Drive type | 6×6 |
| Battery Type | Lithium ion |
| Battery capacity (kWh) | 50 |
| Motor output (kW) | 170 |
■HINO Profia Hybrid [Production vehicle]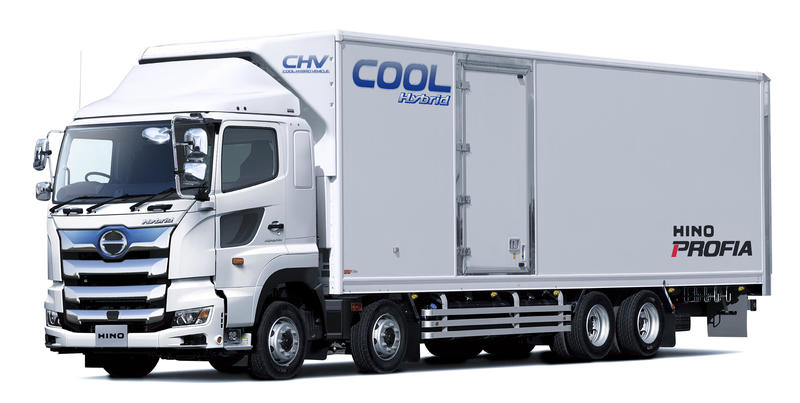 Based on GPS, onboard sensors, and 3D map information, the truck's system predicts gradients up to 100 kilometers away. It is equipped with the world's first technology where AI predicts driving load and performs optimal hybrid control. This helps reduce the environmental footprint while minimizing power consumption and maximizing fuel economy.
HINO Profia Hybrid main specifications
| | |
| --- | --- |
| Model | HINO Profia Hybrid FW1AXHH |
| Engine model | A09C |
| Displacement (L) | 8.866 |
| Transmission type | AMT 12 speeds |
| Injection system | Common rail system |
| Fuel consumption rate (km/l) | 4.75 |
| Gross vehicle weight (kg) | 24,912 |
| Fuel | diesel |
| Dimensions (length x width x height, mm) | 11,990 x 2,490 x 3772 |
| Drive type | RWD(8×4) |
| Total vehicle weight (Kg) | 12,800 |
| Seating capacity | 2 |
■Automatic roadside evacuation type Emergency Driving Stop System [Technical exhibit]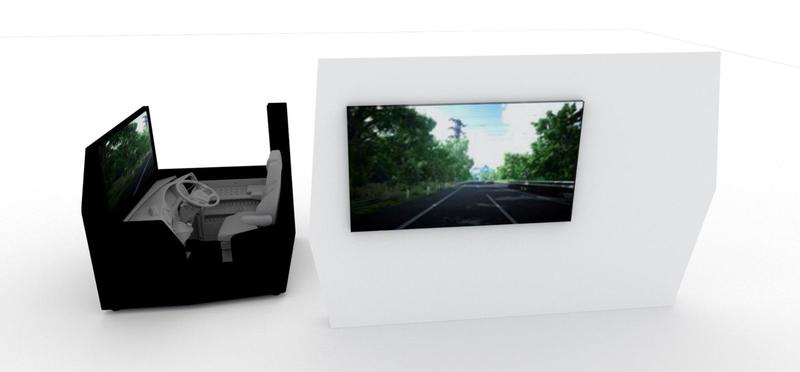 The Emergency Driving Stop System (EDSS) detects driver problems and helps to stop the vehicle. When a problem is detected, this automated driving technology, which is currently under research, checks for safety around the vehicle and turns it out to the roadside. This simulator allows guests to experience this for themselves as the bus driver. This is your opportunity to get a glimpse at how Hino is aiming toward zero traffic accident casualties and experience our latest safety technology currently under development.
■The racing truck that competed in the Dakar Rally race [reference exhibit]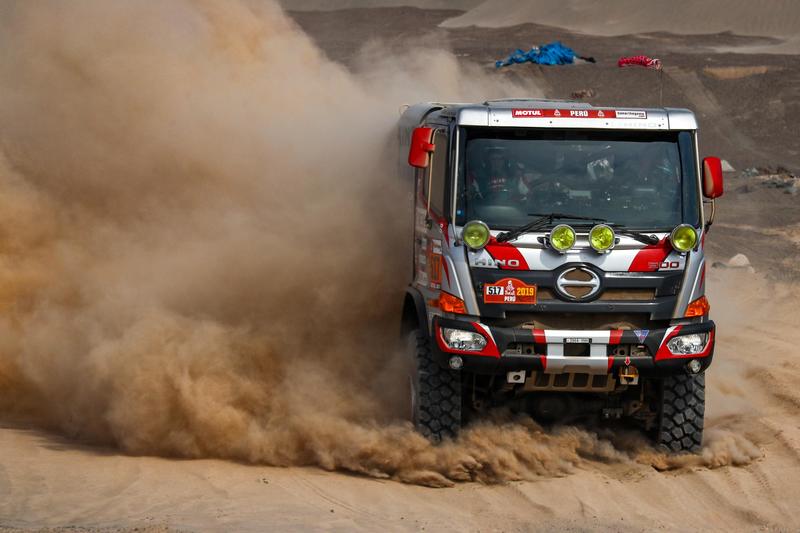 There will be an exhibition of the actual racing truck that competed in the Dakar Rally race held in January 2019. In 1991, Hino became Japan's first truck manufacturer to compete in the Dakar Rally. The 2019 race marked Hino's tenth consecutive victory in its class. Visitors can get inside the rally truck and take pictures. Come see the dynamic rally truck that weighs a total of seven tons. It was developed based on the medium-duty truck, HINO Ranger.
HINO500 Series main specifications
Model
HINO500 Series
Engine model
A09C-TI
Displacement (L)
8.866
Transmission type

MT

(6-speed forward, 1-speed reverse)
Injection system
Common rail system
Gross vehicle weight (kg)
7,300
Fuel
diesel
Dimensions (length × width × height, mm)
6,290 x 2,500 x 3,150
Drive type
AWD(4×4)
Seating capacity
2
■"HINO CONNECT", a connected service that connects Hino with customers and society
All new trucks and buses* launched in Japan and after 2017 come standard with ICT service terminals, and HINO CONNECT supports safe and secure operations, as well as fuel-efficient driving. Come check a real-time operation status on a monitor at the venue and see how Hino is "connected" with trucks and buses.
※HINO Profia, HINO Ranger, HINO Dutro, and HINO SÉLEGA
■Kids Corner "Future Mobility Lab"
In this area, children can tap into their boundless creativity and use blocks to create their versions of the future of mobility. Take a picture of the final piece in the photo booth and enter a contest.Before participating:Children elementary school and above can participate.Children must be accompanied by a guardian.Numbered ticket is required.
【Animation】
Embracing those Emotions Forever
Transporting Every Happiness
I want to convey my emotions, no matter how far you are.
What will define happiness in the future?
Hino Motors collaborated with SUNRISE,
a company that has depicted the future through animation.
From the designing of mobility services to social structures,
we used our expertise to come up with what happiness means in the future.
HINO × SUNRISE
Director: Takahiko Kyogoku
Original Character Designer: Atsuya Uki
Character Designer & Animation Director: Marie Tagashira
Music: Tokyo Karankoron
Produced by: SUNRISE INC.
【Organizer's program】
This is a program that is headed by Tokyo Motor Show organizers and in which Hino participates. Please see the official Tokyo Motor Show 2019 website for details.
■Hino Safety Technology VR Simulator
@FUTURE EXPO(MEGA WEB)
Experience a total of six advanced safety features in VR such as the Scanning Cruise III, which automatically controls the distance between vehicles, and the PCS* system, which helps a driver avoid collisions with vehicles and pedestrians.
*PCS (Pre-Collision Safety) system: A registered trademark of Toyota Motor Corporation.
Before participating:You must be 13 years old or older to participate.
■The 1964 Hino Contessa 900
@OPEN ROAD Vehicle exhibitions
This is the first purely domestic automobile that Hino designed, engineered, and manufactured. It was a rear-engine rear-drive car that was built from 1961 to 1965. Being lightweight improved its engine performance, helping it beat foreign cars to win the First Japan Grand Prix C-III Class (700-1,000 cc touring cars) in May 1963. It's an indispensable automobile in the history of Hino Motors.
■Truck Producing Experience
@Out of KidZania TMS2019 
As a staff member of a Hino dealership, children will listen to a customer's various requests, select a suitable module, and experience producing a truck. They can also learn about a wide variety of trucks and their roles.
Before participating:Reservation is required.
Opened the "Tokyo Motor Show 2019 Special Website" on the Hino website.
http://www.hino.co.jp/tokyomotorshow2019/en/
End of release