Hino Motors to Entry in Dakar Rally 2020
-- Teams to race in first-time host country, Saudi Arabia --
From Jan 5 to 17, Hino Motors, Ltd. (Hereafter "Hino." HQ: Hino, Tokyo. President & CEO: Yoshio Shimo) will be racing as HINO TEAM SUGAWARA (director: Teruhito Sugawara) in Dakar Rally 2020, the first event since its relocation to Saudi Arabia.
Mr. Yoshimasa Sugawara, who has directed the team for roughly 30 years, has retired from the Dakar Rally at the end of the previous event. Mr. Teruhito Sugawara, who succeeds him as the team's new director, will drive an upgraded and matured Car 1 (based on the Hino 500 series), and Mr. Ikuo Hanawa, who was called in to succeed Mr. Yoshimasa as driver, will drive the team's new Car 2 (based on the Hino 600 series, developed specifically for the North American market) that features a bonnet-type cab and automatic transmission.
Both vehicles will be converted from two-seaters--the layout used up until the previous season--to three-seaters to allow an experienced mechanic to ride along with the driver and navigator. This will help boost the crews' ability to respond to problems and race more aggressively.
The team has matured both of their trucks after their real-world testing in Silk Way Rally 2019 this July. In taking on this Dakar Rally 2020 in Saudi Arabia, which will be in uncharted territory, the team will also be reinforcing their roster of mechanics and support members.
■ Racing trucks (Photographed Oct 2019: Car 1 on the left and Car 2 on the right in both photos)
Car 1

Driver: Teruhito Sugawara

Car 2

Driver: Ikuo Hanawa
Base truck

Hino Ranger

(HINO500 Series)

North America-exclusive model

(HINO600 Series)
Engine model
A09C-TI (w/Turbo intercooler)
Engine type
6-cylinder, 4-cycle inline diesel
Displacement
8.866L
Max output/rev
750PS/2600rpm
Max torque/rev
236kgm/1200rpm
Drive type
Full-time 4WD
Transmission

MT

(6-speed forward, 1-speed reverse)

Torque converter AT

(6-speed forward, 1-speed reverse)
Transfer
w/Hi-Lo range switching, w/Center differential lock
Tires
XZL+14.00R20
Gross vehicle weight
7,950kg
8,200kg
Length
6,700mm
6,620mm
Width
2,500mm
Height
3,000mm
3,100mm
Wheel base
4,170mm
Fuel tank
760L
■ "HINO TEAM SUGAWARA" members (taken in Oct 2019)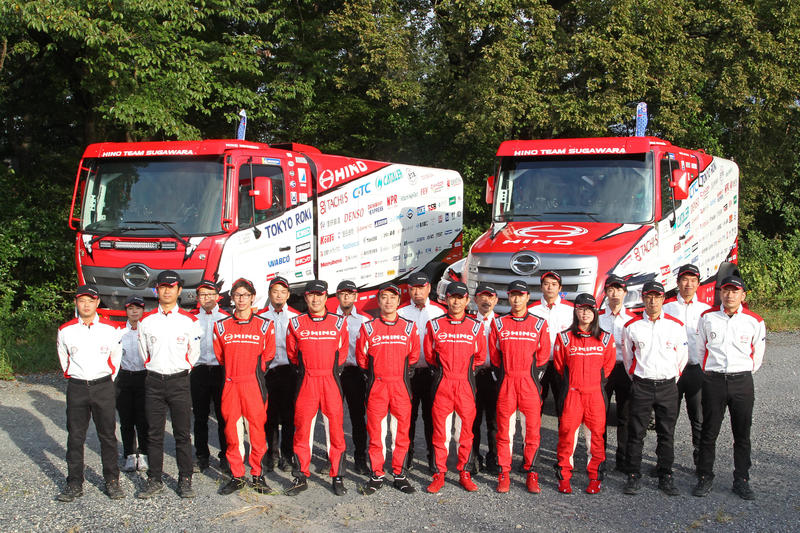 <List of members> (20 members as of the end of Oct 2019)
Position
Name
Affiliation
Team director and Driver
Teruhito Sugawara
Japan Racing Management CO., LTD.
Driver
Ikuo Hanawa
Summit Racing Promotions
Navigator
Hirokazu Somemiya
RallyStream inc.
Yuji Mochizuki
Hino Motors, Ltd.
Yudai Hanawa
Summit Racing Promotions
Mayumi Kezuka
Japan Racing Management CO., LTD.
Mechanic
Seiichi Suzuki
Japan Racing Management CO., LTD.
Koji Yoshikawa
Japan Racing Management CO., LTD.
Kengo Takasugi
Ken.Factory
Koki Seino
Hino Motors, Ltd.
Masataka Nishiyama
Hino Motors, Ltd.
Shinji Kitagawa
Hino Motors, Ltd.
Ryo Ishii
Hino Motors, Ltd.
Yasunori Nagata
Higashi Hokkaido Hino Motor Ltd.
Keisuke Watanabe
Gunma Hino Motor Ltd.
Yasufumi Watanabe
Tokyo Hino Motor Ltd.
Koichiro Hoshijima
Okayama Hino Motor Ltd.
Support Member
Rumi Ando
Japan Racing Management CO., LTD.
Shun Konnai
Japan Racing Management CO., LTD.
Kazuki Ishida
Hino Motors, Ltd.
End of release