Hino Indonesia Marks 500,000 Unit Production Achievement
On March 6th, PT. Hino Motors Manufacturing Indonesia (HMMI) (Headquarters: Purwakarta, West Java; President Director: Masahiro Aso), the Indonesian manufacturing subsidiary of Hino Motors, Ltd. (Hino) (Headquarters: Hino-shi, Tokyo; President & CEO: Yoshio Shimo), announced its achievement of producing a total of 500,000 Hino vehicles at a commercial vehicle expo held in Jakarta. Ever since starting manufacture in 1985, HMMI has grown alongside Indonesian businesses, supporting customer operations and developments. In addition to meeting domestic needs, it has also engaged in vehicle and component export activities in and around the ASEAN region since 2011.
In a ceremony during the GAIKINDO Indonesia International Commercial Vehicle Expo (GIICOMVEC) 2020, HMMI President Director Masahiro Aso celebrated Hino's presence in Indonesia for the past 37 years since the company's establishment in December 1982. He voiced his deep appreciation, saying the 500,000 unit achievement was only possible with all the support and guidance from the "Government Institution, suppliers, predecessors, seniors, and employees." He also stated that the achievement is clear proof of how Hino's existence is accepted by the Indonesian market because of its high quality products and customer service, and that he hoped the company would continue to grow alongside and contribute to Indonesian customers and society.
Indonesia is the biggest sales market for Hino after Japan. In 2009, HMMI started producing light-duty trucks in addition to medium-duty trucks. In 2011, it began exporting truck and bus vehicles to the ASEAN region and has since expanded its export network to other countries with a total of 15 destination countries. Roughly 13,000 vehicles have been exported in the last 10 years. HMMI also carried out vehicle component export to 17 destination countries. In the future, export volume and value will continue to be increased.
The Hino Group as a whole is implementing initiatives for achieving a sustainable society that is prosperous and comfortable. We strive to help both customers and societies find solutions in our overseas markets as well, upholding the three major aims of delivering "best-fit products incorporating safety and environmental technologies," providing "Total Support customized for each vehicle," and "pursuing challenges in new areas." Since Indonesia is both one of the regional core production bases for Hino's business in Asia and Hino's largest overseas market, HMMI will continue to grow and deepen its Total Support to aid customer businesses. This is a key part of overcoming "Challenge 2025," Hino's mid-term corporate strategy.
The Hino Group will keep challenging itself to become a business partner that all of our customers can depend on.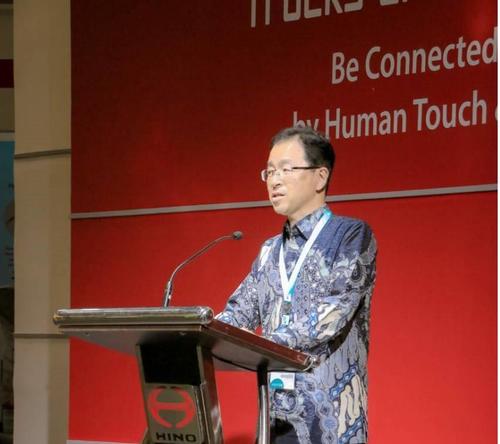 <Reference 1: HMMI overview>
Company Name
PT. Hino Motors Manufacturing Indonesia
Headquarters
Purwakarta, West Java
Representative Director
President Director Masahiro Aso
Founded
December 1982
Shareholder composition
Hino: 90%, PT. Indomobil Sukses Internasional Tbk. (IMSI): 10%
Business

Production and export of Hino brand vehicles and components

Production of Toyota brand light-duty trucks
Area
Approx. 300,000 m2
Manufactured products

Hino brand medium-duty trucks, light-duty trucks, and buses

Toyota brand light-duty trucks
Production capability
75,000 units/year
Number of employees
Approx. 2,300 people (as of 2019)
<Reference 2: The history of HMMI>
1982
PT. Hino Indonesia Manufacturing established
1985
Manufacturing in Indonesia begins
2003

Company name changed to PT. Hino Motors Manufacturing Indonesia.

New factory established to start producing medium-duty trucks and buses
2006
Production of CNG-fueled buses for TransJakarta
2009

Production of light-duty trucks begins

Increased production leads to expanding the one production line to two.
2011
First export of trucks and buses from Indonesia
(to Vietnam and the Philippines)
2012
Machine processing of engine components begins
2013
New production line for propeller shafts
2015

Introduction of modularized medium-duty trucks as the first market best-fit vehicles to meet region-specific demands
(First new model production established overseas)

New assembly line for transmission components
2018
New assembly line for medium-duty buses
2019
Total production reaches 500,000 units