Hino Motors to Enter Dakar Rally 2021
 Hino Motors, Ltd. (hereafter "Hino"; HQ: Hino, Tokyo; President & CEO: Yoshio Shimo) will be racing as HINO TEAM SUGAWARA (director: Teruhito Sugawara) in the Dakar Rally 2021, to be held in Saudi Arabia from January 3 to 15. This will be the 30th Dakar Rally for Hino, keeping its relentless spirit of challenge since 1991 when it became the first Japanese maker of commercial vehicles to compete in the rally.
 In last year's race, which was the first to be held in Saudi Arabia, the HINO500 Series truck driven by Teruhito Sugawara won the 11th consecutive championship in its class. The vehicle used in the 2021 rally will feature various improvements incorporating new developments from lessons learned in the last race, aiming for an even shorter time.
 The top positions of the Dakar Rally truck division are dominated by monster trucks running on engines with 10-litre-plus displacements. HINO TEAM SUGAWARA, working under the motto "small can beat big," has applied its knowledge and skills to boldly take on its opponents and keep up the fight on even terms, rewriting its own records in the process. For this competition, the team will bring together its many years of expertise to compete in what is called the "world's most grueling rally."
■Teruhito Sugawara (Driver, Director)
 Although the coronavirus pandemic shows no signs of stopping, we have decided that we can once again compete in the Dakar Rally as HINO TEAM SUGAWARA. We would like to extend our gratitude to all who have supported our participation in various forms. Many people are curtailing their activities amidst the uncertain future in this pandemic, but we have reconfirmed that our spirit of heading toward the goal without giving up regardless of the hardships is why so many have supported our activities for so long, and therefore we will humbly move forward with our preparations. While we were not able to do overseas tests and other proper testing, we were able to spend more time than ever conditioning the truck and analyzing data, resulting in a vehicle that we as drivers are even more satisfied with than in previous years. We will continue to work together as a team to conquer the widely-varied terrain of Saudi Arabia and finish in the upper realms of the trucks category for the 30th consecutive time. Please keep watching us.
■Racing trucks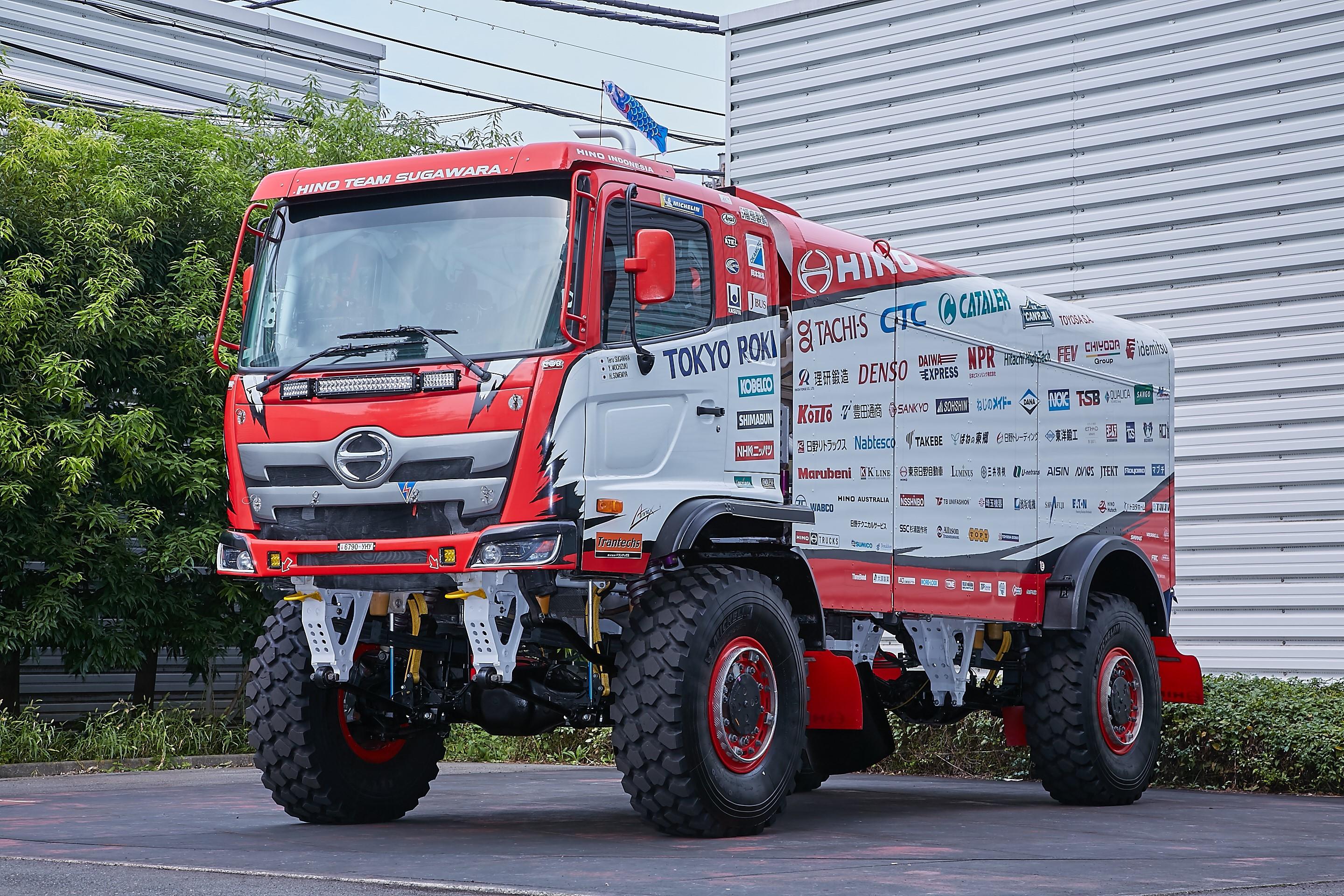 <Truck Specs>
Driver: Teruhito Sugawara

Base truck

Hino

Ranger(HINO500 Series)

Engine model

A09C-TI (w/Turbo intercooler)

Engine type

6-cylinder, 4-cycle inline diesel

Displacement

8.866L

Max output/rev

750PS/2600rpm

Max torque/rev

236kgm/1200rpm 

Drive type

Full-time 4WD

Transmission

MT (6-speed forward, 1-speed reverse)

Transfer

w/Hi-Lo range switching, w/Center differential lock

Tires

XS 14.00R20

Vehicle weight

7,875kg

Length

6,700mm

Width

2,500mm

Height

3,000mm

Wheel base

4,170mm

Fuel tank

760L