"Hino Total Support Customer Center" driver training facility for customers in Malaysia
The trucks and buses that Hino delivers throughout the world are continually working hard to serve our customers, and we aim to provide "Total support customized for each vehicle" to keep each of these vehicles in optimum condition so it can fulfill its role.
As part of these efforts, we have developed driver training programs for our customers in a number of locations. In Japan, we established the Customer Technical Center on the grounds of the Hamura Plant in June 2005. The Japan's first ever permanent training facility for customers that is directly owned by a vehicle manufacturer, the goal of the facility is to help customers prevent accidents and cost saving through safe driving classes and fuel-efficient driving classes. We have conducted driving classes overseas as well, in Thailand, Indonesia, Mexico, and other countries, through on-site services and the use of external facilities.
Then in 2015, we built our first overseas customer-focused, permanent driver training facility, the "Hino Total Support Customer Center", in Malaysia. Prior to that we had conducted safety driving and fuel-saving driving training sessions through on-site services, furthermore in response to increasing demand from customers, we established the center as training facility that enables us to provide systematic driver training, from lectures to practical driving lessons. Our mission is to "To continuously foster and build trust with our customers by committing to Two Values "Up Time 100%" and "Minimize Vehicle Lifetime Cost" through providing driver training.", and we work continuously to be the foundation of Total Support in Malaysia.
In the four years since the center opened in February 2015, the total number of users has exceeded 10,000. We see a notable number of repeat customers, and there are also many who, after taking a basic course, move up in stages to more practical training.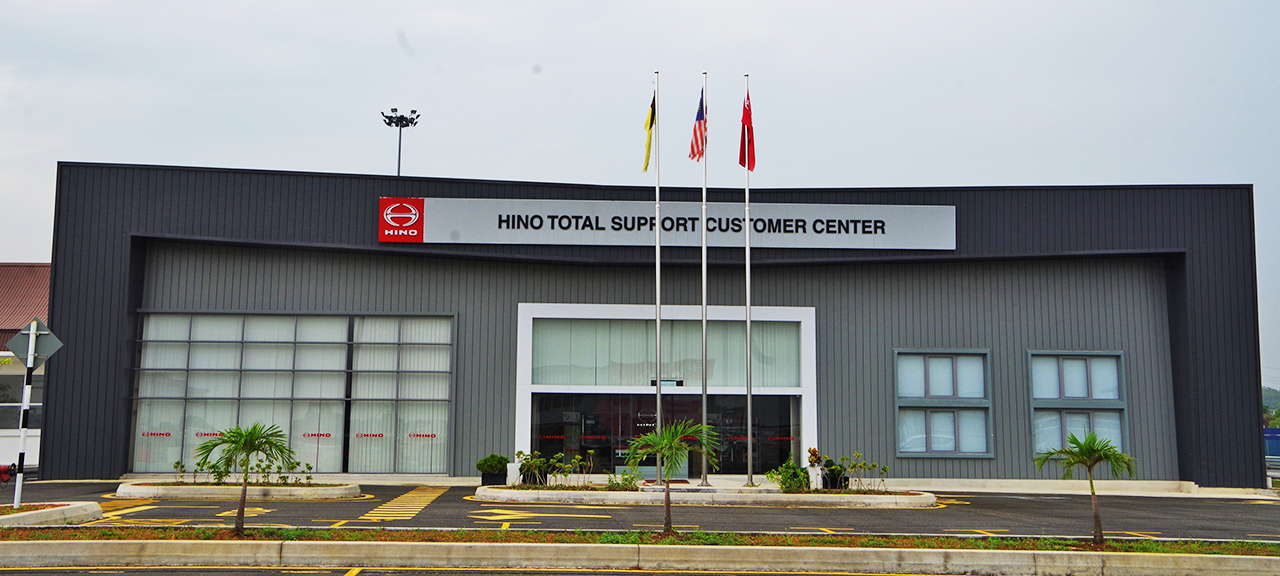 Complete facilities and equipment
The "Hino Total Support Customer Center" covers an area of approximately 39,600㎡, with a dedicated test driving course and training facilities on site. Along with a driving circuit of about 700m in length, the dedicated test drive course has a practical layout that reflects Malaysian road conditions, with features such as roundabouts. A sprinkler installed on part of the course is used to create the kind of wet road surface conditions experienced during squalls in the rainy season, and training includes realistic braking practice.
Our lineup of training vehicles includes medium-duty tractor heads, medium-duty trucks, and light-duty trucks, enabling us to tailor classes to suit each customer's business.
In addition to classrooms for lectures, the training building also features an exhibition room that introduces Hino's philosophy, history, and technology. Furthermore, we take advantage of the facility's location on the grounds of the Hino Motors Manufacturing (Malaysia) plant to incorporate plant tours into various training sessions. More than just a place for customers to come and receive training, it is a facility where they can experience the entire Hino brand, including manufacturing (monozukuri) and Total Support service.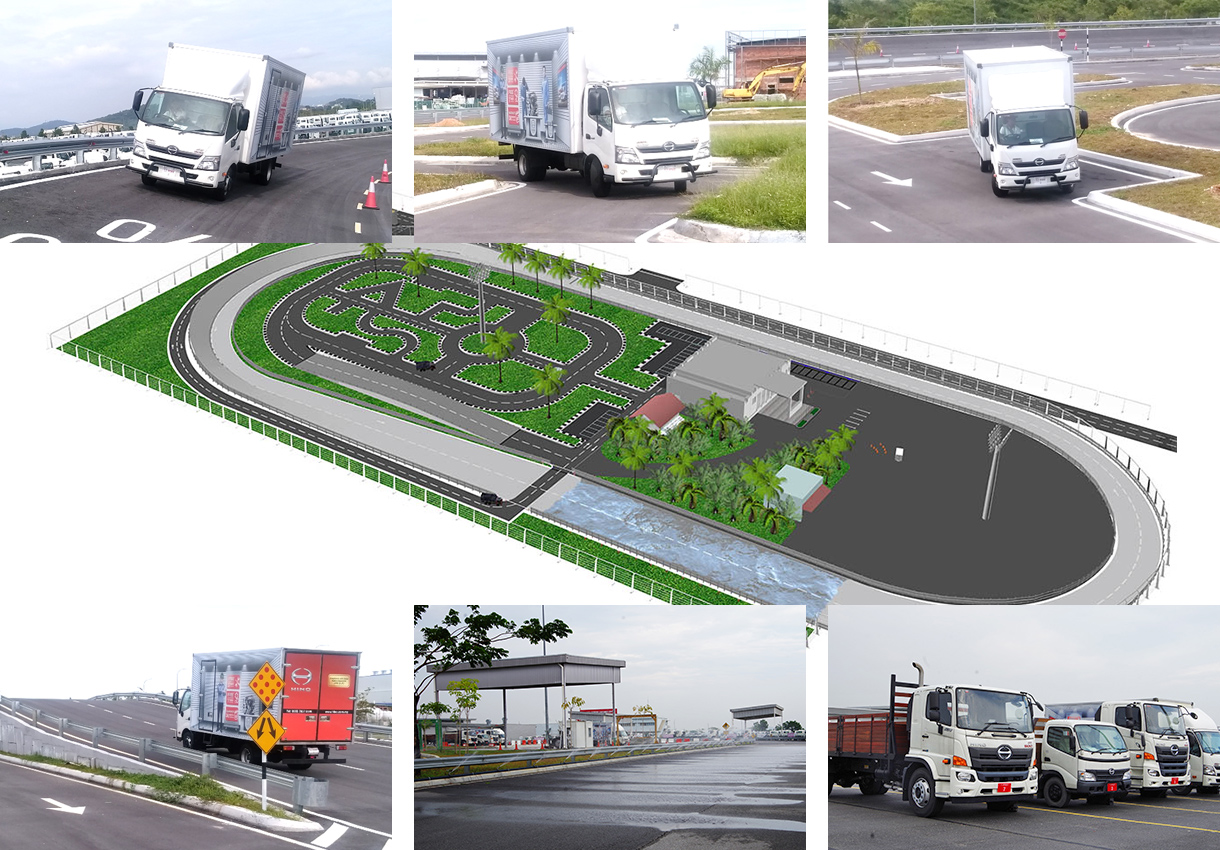 Training program optimized for the needs of Malaysian customers
From lectures on basic vehicle handling to more practical training on safety driving, fuel-efficient driving, and specialized night driving training, the course lineup is optimized for Malaysian traffic conditions and the needs of our customers. Beginning with lectures to give drivers an understanding of truck and bus features and operation tips, the safety driving courses also include lessons on awareness and psychology. After that, drivers head to the driving course to put the knowledge they've gained in the lecture to practical use in vehicle training sessions. Each driver is accompanied by an experienced instructor in the front passenger seat, who gives them one-to-one driving advice. The courses are highly rated by participants, who say that the systematic training method combining lectures with vehicle training is very practical.
New safety driving training program in collaboration with Yamato Transport Malaysia
In March of this year, we added a new program to our menu of much-in-demand safety driving courses. This is a completely new program that combines a driving aptitude diagnosis developed by Yamato Transport and several companies with safety driving training by the Hino Total Support Customer Center. After the drivers undergo a driving aptitude diagnosis that helps them understand their own driving tendencies, instructors then conduct practical driving training based on the results. This helps give drivers better "awareness", which promotes improved knowledge and consciousness of safe driving. In addition, training results are shared with the drivers' managers as an aid to their daily safety driving guidance.
Training Programs
(1) Vehicle Familialization Training
(2) Safety & Eco-cien Driving Training
(3) Safety Driver Training
(4) Eco-cien Driving Training
(5) Accustomed Driver Training
(6) Night Driving Training
(7) Driver Contest
(8) Aptitude Test and Safety Driver Training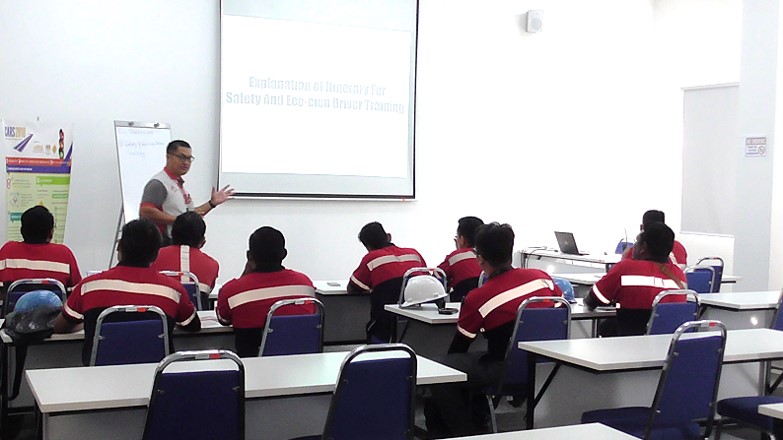 Hino aims to provide "Total support customized for each vehicle" that keeps each and every one of our customers' vehicles in top condition. In addition to vehicle maintenance and prompt and accurate after-sales service in the case of breakdowns, we listen to customer feedback in order to better provide support that meets their needs.
The Hino Total Support Customer Center is the foundation of our Total Support in Malaysia, and we will continue to listen to our customers and evolve in order to contribute to their businesses by enhancing our facilities and training content.